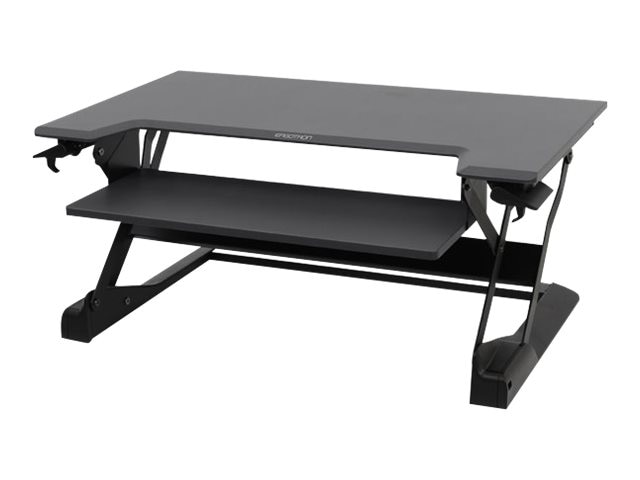 Quick tech specs
Ergonomic
Standing desk converter
View All
Know your gear
Presenting an ultra easy standing desk solution, which quickly converts a tabletop into a healthy sit-stand workstation. Simply place the WorkFit-TL on an open surface and you're ready to work!
Ergotron WorkFit-TL - standing desk converter - gray
is rated
5.00
out of
5
by
17
.
Rated

5

out of

5
by
NavyFixItGirl
from
Back saver
I bought the large sit/stand desk. It's the best thing ever for someone who doesn't like to sit but needs to for work. My back is thanking me!
Date published: 2018-01-18T00:00:00-05:00
Rated

5

out of

5
by
bigfan
from
GREAT product!
I bought the WorkFit-TL Sit-Stand Desk Converter in 2017. BEST decision for my work life. The unit is very sturdy - It's built like a tank. I've shown others in my office building that I can easily raise it/lower it with a full glass of water on the unit without any of the water spilling! It doesn't extend out when you lift it (like another stand up desk converter). Posting this review now because after a month of working at home all day, I realize how much more productive I am and how I feel better when I stand at my desk throughout the day (I'll usually sit down for 15 minutes every 90 minutes).
Date published: 2020-04-27T00:00:00-04:00
Rated

5

out of

5
by
Kjell
from
Great Standup Desktop Addition
I've wanted to have the option to stand or sit while working for some time. This product is a well built functional stand/sit unit. We use dual 23" monitor setups so I also got the add-on dual monitor stand. Setup was quick, the instructions were ok with all of the screws for mounting the monitors provided, however one set of screws were in a separate package that I almost missed. One nice thing was that the kit also provided cable management items including a wrap that for the cables to make all of the cables from the monitors look much neater. I could also mount the monitors low enough so they were below my eye level, an issue I had with setups I've seen on other desktop units. Good ergonomics suggest the monitor should be below the eye line not above. My only issue with the monitor mounting was that I lost 1/3 of the desktop area so I had trouble with Left/Right paper flow since the desktop did not have enough space for 2 or 3 stacks of paper to process them L->R.
Date published: 2018-08-10T00:00:00-04:00
Rated

5

out of

5
by
IronTekky
from
The Standard
These have become our standard standing desks. We really like how functional and well-built they are. We continue purchasing these and plan on staying with Ergotron as long as they keep these around. Price is also very reasonable.
Date published: 2017-11-02T00:00:00-04:00
Rated

5

out of

5
by
jpfold
from
Best option we've found
Ease of use and simplicity make this a go-to purchase for our dual monitor sit-stand needs. had a quality issue with one ( cracked keyboard) - manufacturer was very quick to step up and replaced the whole unit. we've got maybe 15-20 in service and going in service now.
Date published: 2017-12-27T00:00:00-05:00
Rated

5

out of

5
by
AC00
from
This desk is awesome!
Very well built. Solid. Heavier than I thought it was going to be. Came with cable straps to keep from pinching them when lowering. The keyboard tray is stationary. I would have liked to see it slide in and out of the way. I use it for my notebook, glasses, phone, etc. This is why I took a point off of the "Design" rating. Otherwise no complaints!
Date published: 2018-10-25T00:00:00-04:00
Rated

5

out of

5
by
DIavi
from
Super easy
Great product, good work space, very easy up down ability
Date published: 2018-12-05T00:00:00-05:00
Rated

5

out of

5
by
RC5200
from
Great solution for sit to stand accomodations
This sit to stand unit is out of the box ready. It can be placed on a desk without complicated installation. I've purchased two and the employees love them.
Date published: 2018-07-26T00:00:00-04:00
Rated

5

out of

5
by
mdw4
from
Love this sit stand desk!
I got this sit stand desk for my home office and I love it. I have a bad neck and it allows me to stand for half of the day and work which is incredible for my overall health and posture. Thanks Ergotron!
Date published: 2017-05-31T00:00:00-04:00
Rated

5

out of

5
by
olga
from
Excellent product and features
I am the envy of my friends and the office. I am so happy that my employer is concern about our health and this is the best contribution our employer has made towards a healthy lifestyle. Highly recommend employers to invest on this product if you care about your employees well health.
Date published: 2017-11-02T00:00:00-04:00
Rated

5

out of

5
by
alister
from
Excellent stand up desk apparatus for your existing desk
We bought one and ended up getting many more of these because they work very well. It comes as one big assembled desktop that ends up on top of your existing desk. Up and down is simple. Many users have said this helps tremendously with their back issues from sitting all day. Aside from being slightly expensive the only problems we've had are broken plastic trim pieces on the backside. Everything else is put together so well that if they have to skimp on one thing it would be the trim piece. Just watch it so it doesn't run into anything on the way down. I would highly recommend this.
Date published: 2017-11-17T00:00:00-05:00
Rated

5

out of

5
by
Vinny
from
Great Product
We continue to buy more and more for our office as people continue to love the versatility
Date published: 2017-11-29T00:00:00-05:00
Rated

5

out of

5
by
JoinLV7
from
This is easy to set up and use
This has been a welcome relief to be able to stand up instead of sitting all day. Love how easy it is to adjust from standing position to sitting position.
Date published: 2017-07-26T00:00:00-04:00
Rated

5

out of

5
by
Michael
from
Great Option for Home Office
My company provided me one of these at the office, which I've used for the last 3ish years with no issues. With COVID, I haven't been going in and was missing the health/productivity boost from standing. I purchased one for my home office and I couldn't be happier.
Date published: 2020-09-25T00:00:00-04:00
Rated

5

out of

5
by
Shannon
from
Relief has finally come
I have some old injuries that keep me sore most days and I am excited to have the ability to sit or stand. I find myself switching positions about every 60-90 minutes. So glad my employer agreed to buy one and the quality is perfect. I am very happy with our purchase. Thank you to all the employees who help build these desk converters.
Date published: 2020-11-10T00:00:00-05:00
Rated

5

out of

5
by
R2M OC.
from
Happy Employees!!
We started with one WorkFit-TL Sit-Stand Desktop Workstation to see how sturdy and easy it was to operate. It was clear that they were built very well and were easy to transition from sitting to standing. The desktop looks good in both positions and maintains a professional modern look. We recently purchased four more and the staff here couldn't be happier. Thank you Ergotron for making a great product at a reasonable price!
Date published: 2020-02-06T00:00:00-05:00
Rated

5

out of

5
by
Diana
from
Excellent product
I became familiar with Ergotron because I have a different Ergotron desk at work. Since I am now working from home, I decided to buy my own for home use. I couldn't be happier with my purchase. Be aware that the unit is heavy. I needed my husband to help me carry it up two flights of stairs and to unbox. On the plus side, no assembly required! This model offers plenty of room for two monitors. Plus, I have space on top for a few documents or a notepad. The keyboard tray offers ample space for my wireless keyboard, mouse, and mousepad. I love that it's available in white - it looks great in my home office. I'm 5'3" and the setup is so comfortable, I stand most of the day. Ergotron shipped the desk out to me very quickly. I highly recommend this product to anyone looking to upgrade their home office space. It meets my needs perfectly and I am confident that it will stand the test of time.
Date published: 2020-06-22T00:00:00-04:00