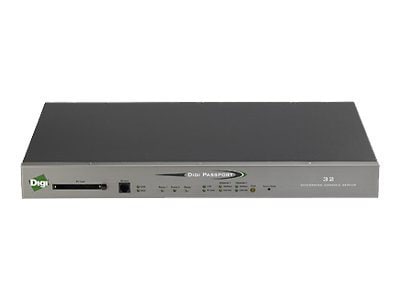 Quick tech specs
port console server with dual power supply
View All
Know your gear
The latest entry in Digi's console management line, the Digi Passport provides secure remote access to the console ports of computer systems and network equipment over Ethernet or dial-up connections. Offering native support for the Intelligent Platform Management Interface (IPMI), the Digi Passport can communicate with virtually any server or device.

With freeKVM, the Digi Passport also provides network-based graphical access to servers, providing a single interface through which to remotely administer systems and run desktop applications without the cost and complexity of traditional KVM over IP solutions.

When combined with the Digi Remote Power Manager, the Digi Passport offers a secure and comprehensive in-band and out-of-band infrastructure management platform. It provides dual Ethernet ports, optional redundant power and connects directly to the serial console ports of Cisco and Sun devices using straight-through CAT5 for hassle-free cabling. Modular adapters are available separately for simple connections to other servers and equipment.

Digi Passport offers:
Intelligent notification features to help administrators monitor and troubleshoot equipment. Configurable email/pager alerts and SNMP traps can be sent when conditions require immediate action.
SSHv2 and SSL/TLS for secure connections and RADIUS, TACACS+, LDAP, Active Directory and Kerberos for centralized authentication.
Advanced auditing and logging capabilities that complement regulatory compliance efforts (i.e., Sarbanes-Oxley and HIPAA).
For existing serial-based applications, Digi's patented RealPort® serial-over-Ethernet driver provides transparent migration to network-based management.
Flexible configuration and management using a simple web-based graphical interface, multi-level menus, or command line.
Automated deployment tools, including Automatic Device Recognition, which allows the Digi Passport to poll monitored devices and auto-configure itself with the device name and OS version, as well as Advanced Discovery Protocol which allows the Digi Passport to be configured over the network.
Contact Sales Assistance
(800) 800-4239
,
Monday-Friday 7am-7:30pm CT