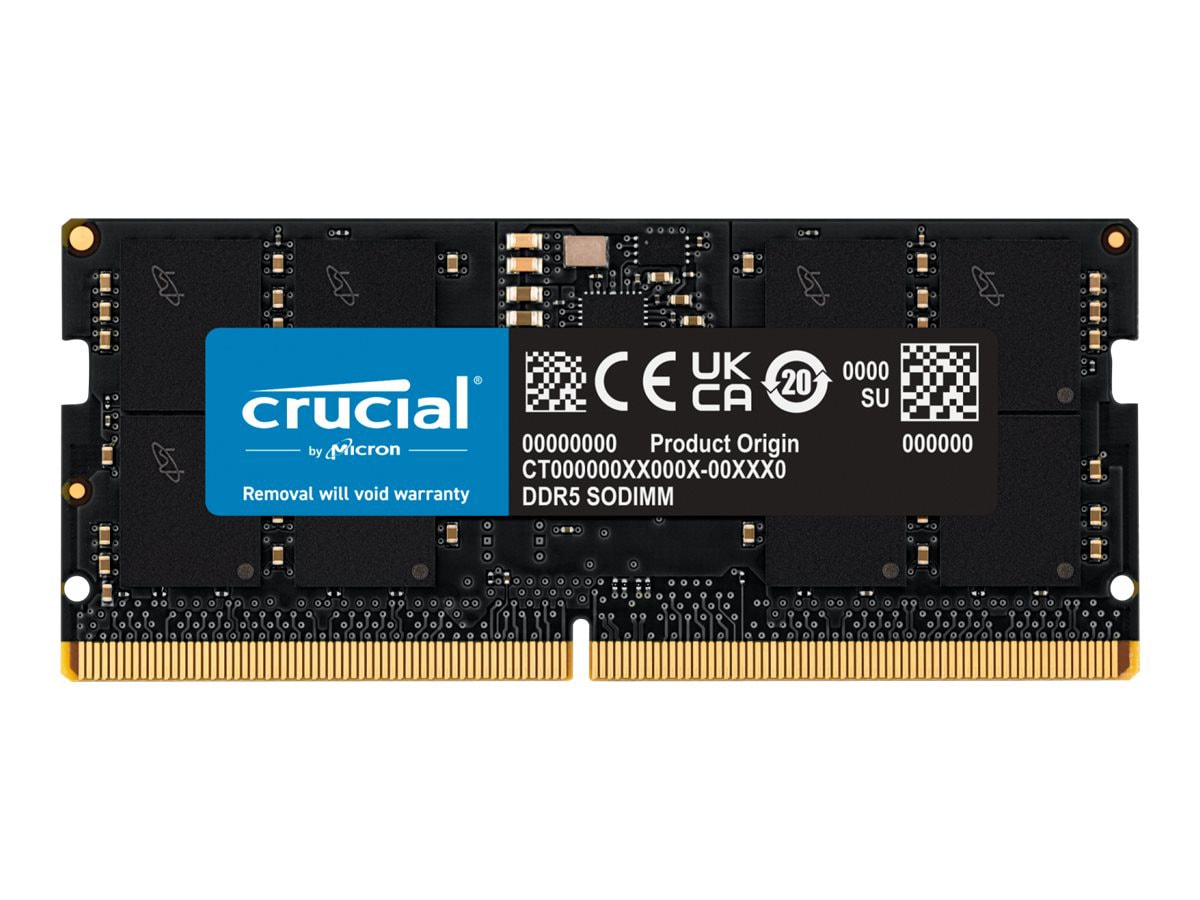 Quick tech specs
module
SO-DIMM 262-pin
CL40
unbuffered
16 GB
4800 MHz / PC5-38400
1.1 V
non-ECC
View All
Know your gear
Crucial DDR5 Laptop Memory has the high speed needed for the next generation of multi-core CPUs, but it's not just faster than DDR4, it's better. This innovative technology empowers your laptop to multitask seamlessly, load, analyze, edit, and render faster - all with higher frame rates, significantly less lag, and optimized power efficiency over the previous generation. Available in blazing speeds of 4800MT/s and densities of up to 32GB at launch, Crucial DDR5 Laptop Memory can enable your laptop to harness the blazing speeds that were once only possible with extreme performance memory.
Crucial - DDR5 - module - 16 GB - SO-DIMM 262-pin - 4800 MHz / PC5-38400 -
is rated
2.80
out of
5
by
11
.
Rated

5

out of

5
by
sam
from
i would not buy anything from crucial. period.
not sure about the product because its been a month and i still haven't gotten it.
Date published: 2023-11-12T00:00:00-05:00
Rated

5

out of

5
by
llsquillace
from
Doesn't work with Dell G15 5520
I've bought two modules of the CT16G48C40S5 Crucial memory but they didn't work inside my Dell Gaming G15 5520, despite mentioning being compatible.
Date published: 2022-12-05T00:00:00-05:00
Rated

5

out of

5
by
Jeff
from
Worked Perfectly - wait a few minutes to pass POST
Worked perfectly in Vostro 7620. Had to wait about 2 minutes on first boot after install (keyboard lights on, screen blank) before it passed POST and continued to boot.
Date published: 2022-12-02T00:00:00-05:00
Rated

5

out of

5
by
RR908
from
Crucial DDR5 16GB works well with new Dell laptop
Use in laptop.
Date published: 2023-10-07T00:00:00-04:00
Rated

5

out of

5
by
BixiSLO
from
Not compatible with HP Zbook Power G9 (69Q67EA)
2 identical laptops, both with the same symptoms - BSOD couple a of times a day. Doesn't matter of RAM combination (HP+Crucial, Crucial+Crucial, only Crucial) - if Crucial is in, failure is imminent.
Date published: 2023-08-08T00:00:00-04:00
Rated

5

out of

5
by
P360 Lenovo Ultra User
from
P360 Ultra Lenovo
Compatibility was confirmed on site but this RAM did not work and stopped the computer from booting up. Inserted fine and but I tried this on two different computers but neither one of the purchased memory cards worked
Date published: 2022-11-26T00:00:00-05:00
Rated

5

out of

5
by
Lukasz
from
Not working on Dell Precision 5570 or Dell XPS 9520
I have read the producer's comment about waiting 2-10 minutes, and I confirm that if the RAM would be compatible - this would happen. Unfortunately, with this RAM, Dell Precision 5570 doesn't do that, and I have waited plenty, tried different RAM combinations, different ports - nothing works. This RAM is not compatible :-(
Date published: 2023-01-21T00:00:00-05:00
Rated

5

out of

5
by
WickedTek
from
Upgraded Vostro 7620 from 8GB to 24GB No Problems!!
I added 16GB to a brand new Dell Vostro 7620. Very easy install, you do need to be patient the first boot after installing the RAM, it needs to do check the RAM. Just ordered another Vostro 7620 for another user, just ordered another CT16G48C40S5! If you think the install failed, just be patient, the k/b lights up but nothing for a few minutes, then it boots just fine!
Date published: 2023-01-21T00:00:00-05:00
Rated

5

out of

5
by
rik
from
It worked like a charm.
It worked like a charm on my HP Elitebook 845 G9. Initially i was skeptical if it will work on my latest Elitebook or not. It's fast DDR5 RAM. For all negative reviews, their motherboard may have some issue
Date published: 2023-03-10T00:00:00-05:00
Rated

5

out of

5
by
Gizmo
from
16GB (nor 32GB) not compatible with my Vostro7620
Added 32GB DIMM (CT32G48C40S5) and Dell Vostro 7620 would not pass POST. After DIMM removed, laptop boots fine. Ordered 16GB version of the DIMM, same problem. Returning both DIMMs.
Date published: 2022-08-17T00:00:00-04:00
Rated

5

out of

5
by
Jason
from
It works
Works! I already know what my laptop takes so I know what to get. However the to asus I can do a higher frequency but I know My laptop can't handle that. I got the 4800 ddr5. Glad it has the irx8 so it's faster and keeping the cas low is more beneficial. I purchased for 2 laptops
Date published: 2023-02-23T00:00:00-05:00