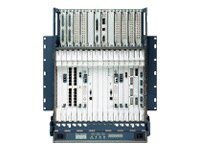 Quick tech specs
View All
Know your gear
Telecommunications service providers, as well as enterprise customers are constantly in search of new solutions for satisfying their users demands for higher bandwidths, more reliable services, and lower costs. As the leader in evolutionary optical networking, the Cisco Optical Networking Group family of products continues to develop solutions to better fulfill these requirements. The ONS 15454 leverages Synchronous Digital Hierarchy (SDH) technology to support the need for network reliability while integrating Gigabit Ethernet service interfaces for high bandwidth transport and a lower interface cost versus current TDM and POS interfaces.

The innovative design of the ONS 15454 SDH Multiservice Provisioning Platform (MSPP) enables an extraordinary level of integration. Unlike traditional ADMs that use separate DXCs as a point to interconnect networks, a single ONS 15454 SDH MSPP performs both digital cross connect and add/drop multiplexing functionality. This enables it to handle conversion of signals from electrical to optical in one box - dramatically simplifying optical transport networks by eliminating many separate pieces of equipment. The result is a single element that costs much less than legacy devices and uses less floor space and power.

The Cisco ONS 15454 SDH MSPP brings all the functionality of multiple SDH multiplexers, optical networking, and switching network elements together in one easy-to-use platform. The beginning of the ONS 15454 SDH MSPP broad portfolio is its ability to support flexible topologies such as: point-to-point, linear add/drop, rings, and mesh. This evolutionary platform supports a broad variety of service interfaces, including TDM (E1, E3, DS3), data (10/100-Mbps and Gigabit Ethernet), and optical (STM-1, STM-4, STM-16, STM-64) and DWDM. All optical bandwidth and optical services are deployed on demand by exchanging interface cards.

With non blocking cross-connect capacity (VC4-Xc initially, growing to VC-12/3-Xc bandwidth management later), and packet/frame switching functionality, the Cisco ONS 15454 SDH MSPP also serves as a distributed bandwidth manager, reducing the need for digital cross connect at every central office.

With this carrier-class platform, system operators can terminate multiple rings or linear systems on a single chassis; mix and match the service interfaces that enable a unified data, voice and video transport network. The ONS 15454 SDH MSPP supports unprecedented high-order bandwidth management integration from a single chassis.

The ONS 15454 SDH MSPP also maximizes service density by packing wavelengths with multiple services, enabling service providers to get new services up and running faster and more efficiently - opening new market opportunities.

With the ability to fit seamlessly in Synchronous Digital Hierarchy Network (SDH) networks today and to evolve networks to other forms of optical transport as needed, the Cisco ONS 15454 SDH MSPP instantly transforms today's rigid, time-division multiplexing (TDM)-based transport networks into the flexible data-intensive superhighways of the future. Combining PDH/SDH, Ethernet, dense wave division multiplexing (DWDM) with optical service delivery - in a single platform - -the Cisco ONS 15454 SDH MSPP gives service providers unrivaled optical transport options and virtually unlimited bandwidth expansion capabilities.

The Cisco ONS 15454 SDH MSPP allows multiple Ethernet circuits to share the same network-side bandwidth, allowing for the efficient use of the transport bandwidth. User-side I/O ports on the cards, either 10/100BASET or Gigabit Ethernet can be linked, either individually or in groups, to network side bandwidth in VC-4-2c/4c increments. Utilizing Institute of Electrical and Electronics Engineers (IEEE) 802.1Q virtual LAN (VLAN) capabilities, the multiple Ethernet ports or circuits can be logically segregated into user groups while maintaining complete separation of user traffic. High-priority, real-time traffic can also be given priority through incorporation of the IEEE 802.1P protocol.

The ONS 15454 SDH MSPP's flexible systems architecture and multiservice interfaces enable service providers to terminate multiple rings or linear systems on a single chassis and to mix and match interfaces to enable a unified data, voice and video transport network.

The Cisco ONS 15454 SDH MSPP aggregates data, and voice services and efficiently concentrates it for optimal transport across the transport network. Any service, including TDM, IP, Ethernet, and video transport, is easily handled in any of the Cisco ONS 15454 SDH MSPP's multiple general-purpose card slots. Various data streams can be carried separately or together and can be transported in a one-for-one dedicated bandwidth mode or in a concentrated mode with no limit on the over-subscription ratio.

The ONS 15454 SDH MSPP also offers Layer 2 switching, providing provisionable data bandwidths and selectable bandwidth sharing - both dedicated - low latency networking and shared - maximum backbone bandwidth utilization, along with simple virtual LAN (VLAN) and packet priority provisioning.

The Cisco ONS 15454 SDH MSPP delivers Internet solutions that meet these demanding network requirements. To deliver the goal for fail-safe operations the ONS 15454 SDH MSPP has built-in redundant common equipment, G.811/812 internal timing, two timing inputs, Synchronous Status Messaging (SSM), and dual power input feeds.

Multiple protection mechanisms give service providers additional peace of mind. The ONS 15454 SDH MSPP supports 2-Fiber/4-Fiber Multiplex Section Shared Protection Rings (2F/4F MS-SPRings), unidirectional and bi-directional multiplex section protection switching (MPS), Sub-network Connection Protection (SNCP) rings and meshed network protection, and spanning tree.

When you deploy the ONS 15454 SDH MSPP, your business can realize the radical economics promised by Cisco Internet scale, carrier class optical networks. This platform delivers New World services that expand the market and increase your revenues - favorably changing your profitability model.

With state-of-the-art aggregation and concentration of multiple services merged with fully integrated optical transport functionality, the Cisco ONS 15454 SDH MSPP promises dramatically reduced service-delivery costs. The ONS 15454 SDH MSPP is ETSI compliant and 3 systems can fit into a single 300mm x 600mm wide by 2000mm high assembly. The Cisco ONS 15454 SDH MSPP features the highest bandwidth, port density, flexibility, the smallest footprint and lowest lifecycle cost in the industry. The Cisco ONS 15454 SDH MSPP is simple to install, quick to provision, and easy to upgrade. It achieves the lowest life cycle cost and delivers on the promise of next-generation network economics.

The ONS 15454 SDH MSPP features an embedded "network-aware" easy-to-use Java-based, point-and-click craft graphical user interface (GUI) - Cisco Transport Controller (CTC). With CTC the Cisco ONS 15454 SDH MSPP is a powerful, easy to use transport platform. It provides scalable bandwidths, easy switching and grooming, A to Z circuit provisioning, auto network element discover with network topology, and custom bandwidth management, allowing service providers to design transport networks around subscriber needs rather than around equipment limitations. The CTC operates on low-cost PCs, and there's no additional off-board application to purchase.

Additionally, the ONS 15454 SDH MSPP provides OSS/NMS interface simplicity, supporting CORBA and Simple Network Management Protocol (SNMP) northbound interfaces.
Contact Sales Assistance
(800) 800-4239
,
Monday-Friday 7am-7:30pm CT