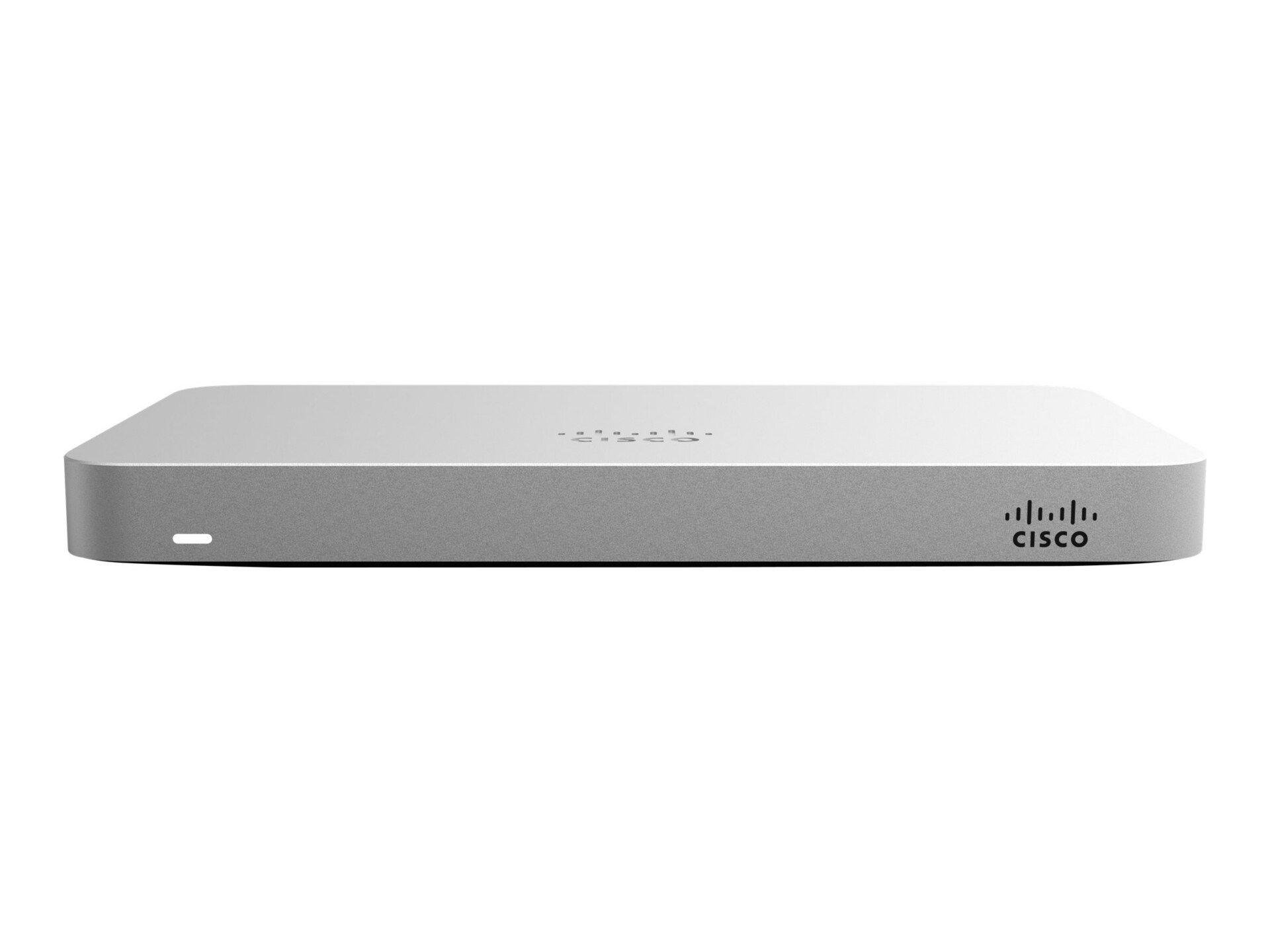 Quick tech specs
Includes the Meraki MX64 Cloud Managed security appliance,2x CAT6 ethernet cables,US power cord and rack mount screws
The Cisco Meraki MX64 Cloud Managed security appliance supports URL web filtering for safe content
Limited Cisco lifetime warranty
IPSec VPN support encrypts data for secure communications
Layer 7 application visibility provides better insights into the end-user processes
View All
Know your gear
Secure your distributed networks with this Cisco® Meraki MX64 Small Branch Security Appliance Bundle. The URL web filtering and safe search capabilities let you restrict access to certain web content. With 3G/4G failover connectivity, the Cisco Meraki MX64 Cloud Managed security appliance keeps your business secure, and the IPSec VPN support encrypts traffic. Four RJ45 ports with Gigabit technology provide internet access to routers and computers. The Layer 7 application visibility delivers clear insights into the end-user processes of your network security device for effective monitoring. IDS/IPS support identifies and mitigates network attacks to prevent network interruptions. This Cisco network security appliance offers cloud-based centralized management for seamless monitoring of users, applications and devices.
Cisco Meraki MX64 Cloud Managed - security appliance
is rated
3.00
out of
5
by
4
.
Rated

5

out of

5
by
gsedam
from
If you need a simple firewall / content filter, maybe...
In my opinion, this firewall allows ANY ANY on internal networks by default, does not have many of the features other firewalls in this price range have, and has limited to no value once your license expires.
Date published: 2017-03-29T00:00:00-04:00
Rated

5

out of

5
by
ADynes
from
Missing Key Features of a Firewall / Proxy
If you need a simple firewall / content filter and are not hosting any services, using a VPN, or doing really anything other then protecting your network from hackers and browsing the web then the MX64 will be fine. Otherwise I HIGHLY recommend avoiding the Cisco Meraki MX product line. To say the Cisco Meraki MX series is missing some essential features of a firewall/proxy box would be a huge understatement. For example one of their big selling points is how easy it is to setup a site to site VPN. It is pretty easy, I will admit that, but once setup some of the key features are either hard to use or missing completely. For example there is a section called "Site to Site VPN Firewall". You would think this is a firewall to restrict traffic between a site to site VPN and you would be right. However the firewall rules have to be written out per IP address and per port. So if you want bi-directional communication between one of your subnets and one of your remote peers subnet for 10 different ports you have to write 20 rules, 10 from your subnet to theirs for each port and another ten the other way. If you have 5 subnets internally and they have 5 subnets those same 10 ports will now take 500 SEPARATE RULES! It doesn't allow you to put in multiple subnets and ports per line. And if you are doing a Site to Site VPN with a Non-Meraki peer then the site to site firewall doesn't work at all. I talked to tech support (January 2016) about this and they said that is true and its not a "feature that has been implemented yet". The problem is this is one of many features that haven't been implemented. For example the client VPN can be setup a single way, L2TP. It uses Aggressive mode IKE with a preshared key, which by the way fails PCI compliance scans. When asked about this I was told that's the only option and they are not looking to change that. Logging is a big missing one also. You can write firewall rules and the interface lets you see "hits" against each rule but there is no way to see what actually was accepted or blocked by a rule. So if you write all your rules and then you have a Deny rule as your last rule, a industry standard, there is no way to actually log what is hitting the deny rule. There is no way to see whats hitting any rule other then a hit counter. When I asked tech support about that (January 2016) I was told "Oh, just put a allow all rule before your deny rule". *smh* These are examples of the shortcomings I've found in the first month of working with the MX units and I've asked my sales person what the return policy is on it. I have both a MX84 and a MX64 and both have the same limitations and issues. I am coming from a Forefront TMG 2010 server which at 6 years old and going end of life this year has twice the features and is easier to use then this device. This really feels like a incomplete product just thrown on the market and touted as "Cloud Enabled" to make it sell but it's a bunch of smoke and mirrors.
Date published: 2016-01-27T00:00:00-05:00
Rated

5

out of

5
by
Allen
from
Aimed at the SMB
The MX64 is perfect for a small-medium business who has a need for advanced security features and capabilities but does not have the size or labor force to be able to afford a full time Cisco trained network engineer. Easy to use and with powerful features: firewall, site-to-site vpn, client vpn, web filtering, traffic capture, automated alerts. The MX64 doesn't have all the features of a full blown solution, but it has 95+% of what you need at 10% of the cost. I'm particularly fond of being able to pre-configuring a via the cloud and sending it to a remote site directly without needing to route it through the home office first.
Date published: 2016-06-29T00:00:00-04:00
Rated

5

out of

5
by
zaccollins64
from
No upgrade path
I have purchased several of Meraki's appliances for 10 offices, but when we tried to consolidate 3 offices in to 1 I wanted to trade in/up 3 smaller MX devices in to a larger unit. NO GO, I had to purchase the larger unit as well as the License key as those are not upgradable. So if you really need to think about where your company is going in the next few years before purchasing this product as you will be left with devices you cannot use.
Date published: 2015-12-03T00:00:00-05:00