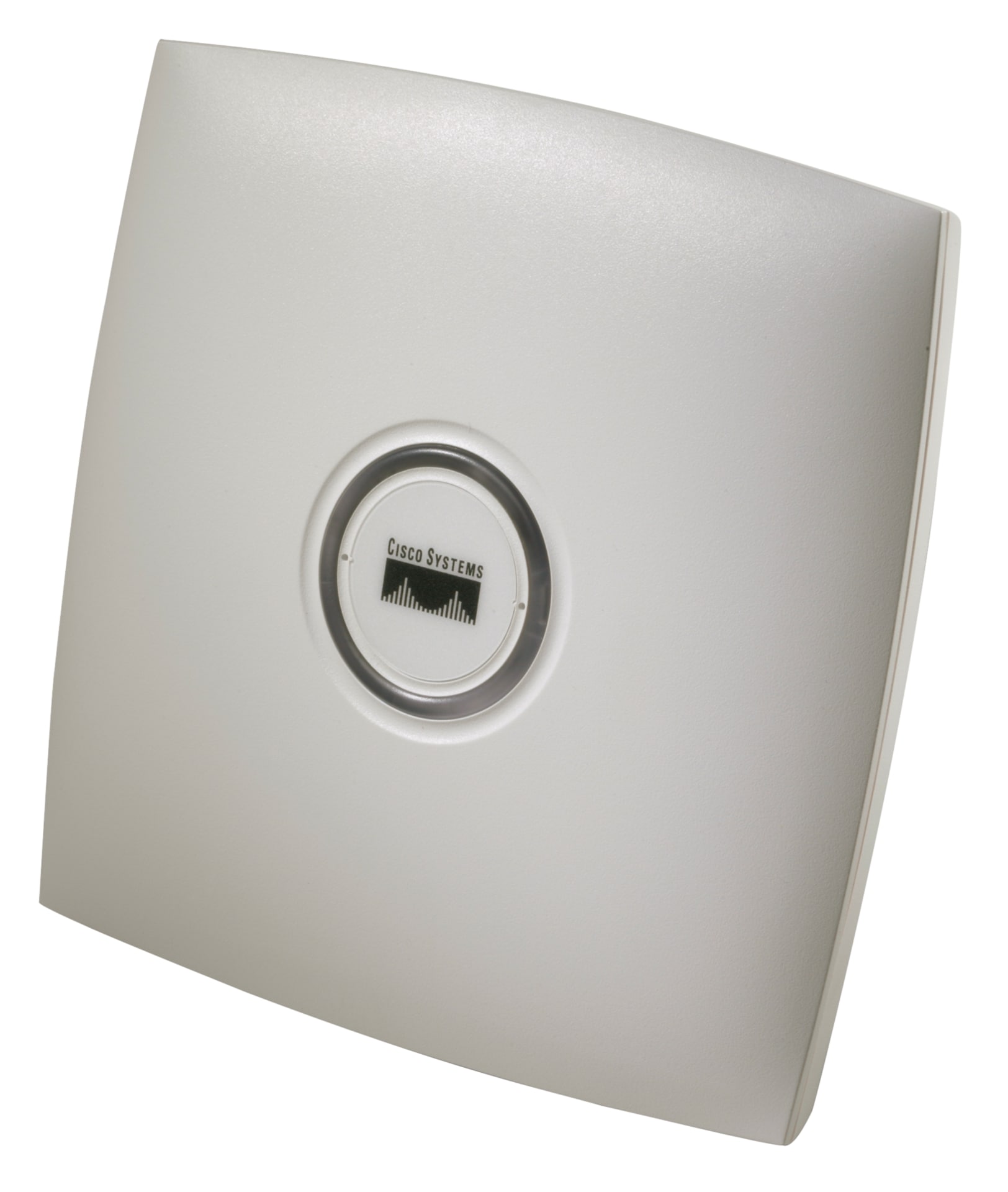 Quick tech specs
108Mbps 802.11a/b/g Wireless 10/100BASE-TX access point
View All
Know your gear
Cisco Aironet 1131AG access points provide high-capacity, high-security, enterprise-class features in an unobtrusive, office-class design, delivering WLAN access with the lowest total cost of ownership. With high-performing dual IEEE 802.11a and 802.11g radios, the Cisco Aironet 1131AG provides a combined capacity of up to 108 Mbps to meet the needs of growing WLANs. Hardware-assisted Advanced Encryption Standard (AES) or temporal key integrity protocol (TKIP) encryption provides uncompromised support for interoperable IEEE 802.11i, Wi-Fi Protected Access 2 (WPA2) or WPA security. Supporting Cisco IOS Software, the Cisco Aironet 1131AG is a component of the Cisco Structured Wireless-Aware Network (SWAN) framework, a comprehensive framework that delivers an integrated, end-to-end wired and wireless network. Using the radio and network management features of the Cisco SWAN framework for simplified deployment, along with built-in omnidirectional antennas that provide robust and predictable WLAN coverage for offices and similar RF environments, the competitively priced Cisco Aironet 1131AG is ready to install and easy to manage, reducing the cost of deployment and ongoing maintenance.
The Cisco Aironet 1131AG Access Point incorporates the next generation of Cisco Aironet radio innovation. Two high-performing radios provide simultaneous support for 802.11a and 802.11g standards, delivering 108 Mbps data rates in the 5 and 2.4 GHz bands to distances surpassing that of previous-generation radios. Operating on 15 nonoverlapping channels today, and 26 nonoverlapping channels with a future firmware release (channel support will depend on country regulations), the Cisco Aironet 1131AG avoids interference in congested airspace, simplifying the deployment of high-capacity networks. For smooth migration, the Cisco Aironet 1131AG takes full advantage of the dual-band capabilities of today's WLAN clients, while providing full backward compatibility for legacy 802.11b clients.
The Cisco Aironet 1131AG is part of the award-winning Cisco Wireless Security Suite, which supports 802.11i, WPA2, WPA and numerous Extensible Authentication Protocol (EAP) types. WPA and WPA2 are the Wi-Fi Alliance certifications for interoperable, standards-based WLAN security. These certifications support IEEE 802.1X for user-based authentication, TKIP for WPA encryption, and AES for WPA2 encryption. These certifications help to ensure interoperability between Wi-Fi-certified WLAN devices from different manufacturers.
The hardware-accelerated AES encryption of Cisco Aironet 1131AG access points supports enterprise-class, government-grade secure encryption over the WLAN without compromising performance. IEEE 802.1X authentication helps to ensure that only authorized users are allowed on the network. Backward compatibility for WPA client devices running TKIP, the RC4 encryption algorithm, is also supported by the Cisco Aironet 1131AG access point.
Driven by Cisco IOS Software, the Cisco Aironet 1131AG is designed for enterprise networks. End-to-end Cisco IOS Software enables intelligent network services, which provide connectivity, scalability, and high availability for advanced enterprise applications. A component of the Cisco SWAN framework, the Cisco Aironet 1131AG extends the security, scalability, reliability, ease of deployment, and manageability available in wired networks to the WLAN.
Contact Sales Assistance
(800) 800-4239
,
Monday-Friday 7am-7:30pm CT