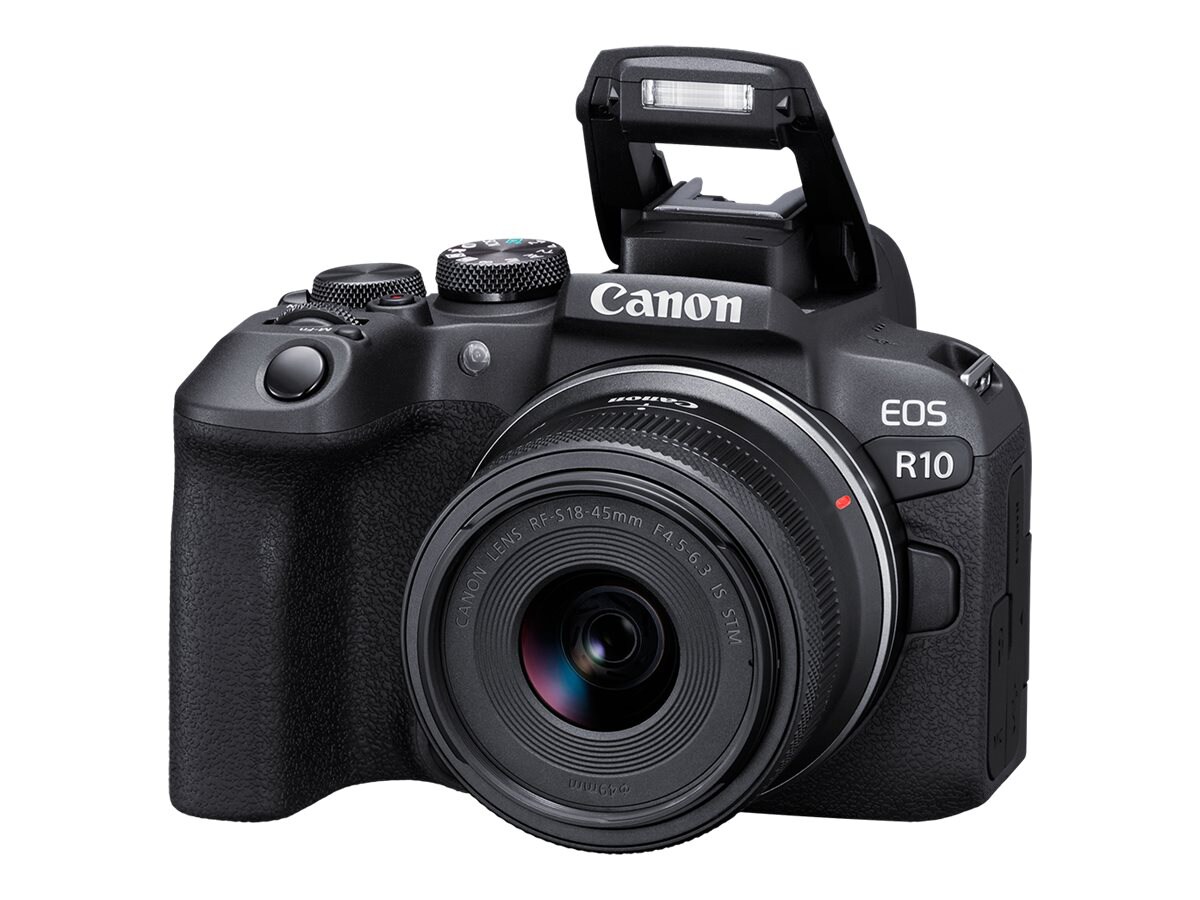 Quick tech specs
Digital camera
24.2 MP
4K / 60 fps
Wi-Fi
mirrorless
APS-C
2.5x optical zoom RF-S 18-45mm F4.5-6.3 IS STM lens
Bluetooth
View All
Know your gear
The EOS R10 is perfect for content creators looking to take their creativity to the next level. Featuring a high-speed shooting 15 FPS mechanical shutter, a 24.2-megapixel CMOS (APS-C) sensor, and lightning fast autofocus, the EOS R10 camera brings some of the best features from the growing EOS R series to a sleek, lightweight design.
Canon EOS R10 - digital camera RF-S 18-45mm F4.5-6.3 IS STM lens
is rated
4.70
out of
5
by
30
.
Rated

5

out of

5
by
Aleksandra1
from
once Canon - always Canon
I will not bother you with all specifications which you can easily check on the page I will tell you my experience of using this camera for a month straight almost every day. as a part of my blogging hobby I need good quality compact camera to produce video and photo content. This camera will easily help you to do so and even more ( if you trying to boost your photographer skills and don't wanna invest in cameras with mirrors this is the best alternative you'll find)! you can mount it to any selfie stick ( of course steady not a cheap one) or use your hand to film vlogs, as well as any type of a tripod and use flipped display to see how good you look. resolution and colors are too wait and juicy and I even thinking that I use pro mirror camera. what about photos - high quality day or night, I prefer portrait mode its such a nice way to make gorgeous product photos and selfies for blog. we own multiple Canon products and every time were buy new one we discover that perfection and Quilty of Canon products on highest level.
Date published: 2022-09-13T00:00:00-04:00
Rated

5

out of

5
by
ken59
from
nice camera
the package came well packaged and was in perfect condition and the camera takes great pictures and is well made the lens can focus on fantastic detail and captures fantastic memories for everyone and is easy to use .
Date published: 2022-09-07T00:00:00-04:00
Rated

5

out of

5
by
Old RN
from
Great smaller digital camera for beginners.
I love my Canon EOS R10 and have been using another model for years. It took the place of the Canon Rebel line but the R10 is a better camera. The colors are exactly what you might expect from a Canon camera. Images are incredibly sharp and even the included kit lens allows very nice pictures. Videos can be recorded in 4k 10bit 4.2.2. The 4k image is of sharp video image quality.The video autofocus is excellent with things like subject tracking.This camera was designed for newbies that are looking to up their game from the old Canon Rebel line as well as creating content for social media like YouTube. The camera is small and compact making it an ideal travel camera.
Date published: 2022-09-07T00:00:00-04:00
Rated

5

out of

5
by
Chelsea
from
The perfect beginner camera!
I've been using the EOS R10 for the past two weeks and it was way easier than I expected my first camera to be! I have to take a lot of pictures for my business, and was intimidated at first, but the manual and built-in navigation tips have made using this so easy. It has excellent subject tracking and autofocus; I primarily shoot my cat, who moves frequently as he's an animal, and with the subject tracking set to 'animal', the autofocus enabled and the shutter speed being as fast as it is, I can get extremely high quality shots of him before he even moves. I would say the autofocus system is the best feature of this camera. I've shot with both the manual and automatic, and both had stunning clear detail. I prefer adjusting it myself, as I like getting the focus specifically on certain things in my shots. My favorite feature involves using the trackpad to move a rectangle over the space you want the camera to focus on. Once that space is circled, tapping the info button zooms into this spot, and then tapping the info button a second time provides an extremely magnified zoom. While zoomed in, you can tune the focus to be as clear as possible. Even while zoomed in, the camera will still shoot the entire original shot, but you'll know for sure that rectangle is as focused and clear as you saw through the screen. Another great feature is that the touchscreen pops out and twists, so you can turn the screen to face who you're shooting, or take pictures of yourself while being able to see how they'll look! Additionally, with the canon app, you can use your phone as a 'clicker' and snap photos without touching your camera. It's the best way to take hands-free group shots! I'm a huge fan of this camera, it really covers all of my needs, even the body is the perfect size to hold, the side is curved perfectly to fit in your hand without it slipping. I've been taking it everywhere with me, and I'm so excited to keep playing with it and get better at photography! The images of my cat are photos I took with this camera.
Date published: 2022-09-09T00:00:00-04:00
Rated

5

out of

5
by
Toddart7
from
Wonderful camera and great lens!
This camera is lightweight and easy to use has a lot of different settings still going through them all. Love the mirror-less capabilities, less chance of stuff breaking. Downside is prior models lenses do not fit as of now so would have to buy all new lenses or hope for some kind of compatible adapter. Easy to use app to auto transfer photos to phone and take remote pictures with the camera.
Date published: 2022-09-23T00:00:00-04:00
Rated

5

out of

5
by
mkr213
from
Nice camera; still learning all the functions
I'm coming from a Nikon DSLR but had been curious about the mirrorless. I am not a professional, but enjoy photography and have taken several photography classes. First thing I noticed is that the body of this is significantly lighter weight than my Nikon and feels good in my hand. I knew that my Nikon lenses would obviously not be compatible, but what I hadn't counted on was the difficulty I would have learning the Canon menus and options after having been so familiar with the Nikon. Also, overcoming the muscle memory from the dial/button/everything placement from my Nikon to the Canon was and is frustrating. This is no fault or shortcoming of the camera, just my experience. If you want really nice pics, as with any camera, you need other lenses than what comes with this. I would assume it would be a relatively easy transition to this mirrorless Canon for anyone who is already in the Canon world. I'm eager to continue learning and using this camera to get some of the same stellar pics I am able to get with my Nikon.
Date published: 2022-10-19T00:00:00-04:00
Rated

5

out of

5
by
StellaBear
from
Amazing camera lots of features
I used to always have a camera on me before smartphones became prevalent. I decided to get a new digital camera & get back to taking pic's, not from a iphone. This canon has so many different features I am trying to familiarize myself with. It is very comfortable & I appreciate the neck strap for when I'm not shooting. I cant wait to explore this camera's features more as I get back into photography.
Date published: 2022-09-14T00:00:00-04:00
Rated

5

out of

5
by
Jennnn
from
Amazing camera
I am not a professional photographer, but I have been interested in taking it up as a hobby and feel that this camera is the perfect in between for both beginners and advanced photographers. Although technically an entry level camera, it includes features that are found in more advanced camera systems which adds to its amazing value. Picture quality is great, including action shots.
Date published: 2022-09-13T00:00:00-04:00
Rated

5

out of

5
by
LFCATX
from
Small pack, big punch!
My first impression of the R10 was that it was tiny compared to my R5. Despite its size it's a perfect entry level camera for someone wanting to get into a new hobby. The lens that it comes with is versatile and travel friendly. I was also surprised that the LCD was touch screen. Perfect camera for vloggers although I did have issues with the autofocus a handful of times, but I'm sure this is something canon can resolve with a firmware update. All my canon glass paired perfectly with the R10 and allowed for more dynamic range. The camera does alright in low light but I wouldn't plan to use it once the sun goes down. (Photos included) The built in flash washes out the photos but that'll happen with any built in flash on any brand. The R10 uses different batteries than the other professional mirrorless cameras so consider that if you want to continue upgrading your gear. I wouldn't buy more than two batteries if this is your first camera and there's a possibility of you upgrading. Overall, I loved the portability and sharpness of the images. The video is crispy but just small issues with autofocus here and there. If canon were to pack all the canon r5 has into the size of the r10 I would easily pay double the price of the existing r5! Something to think about canon!
Date published: 2022-10-18T00:00:00-04:00
Rated

5

out of

5
by
Bbjniles
from
A great introduction to mirrorless cameras!
I have been a professional photographer for over 17 years, and I've used Canon cameras and lenses for my entire career. That said, I've never used a mirrorless camera, so I thought the R10 might be a great way for me to dip my toes in the water. If you're like me, a long time DSLR user, you'll have a lot to experience anew with this system, and I have to say I'm impressed. Professionally I use a Canon 5D mkIV, with a battery grip and flash bracket, and my usual glass is the 85mm L 1.2, the 70-200mm L 2.8, and the 24-70 L 2.8, and numerous other specialty lenses and equipment…I say that to let you know that the R10 and kit lens are quite small and light for comparison. And that was part of the reason I was interested in the R10…I found that I was using my phone for much of my personal pics because my pro rig is just too bulky for casual work. Now with the R10 I can bring my camera along for family outings again. Too, my 5d, as it's currently set up, is too large for a camera strap, but the R10 is light enough that I don't mind wearing it around my neck during a day hike, or exploring the city. I will say, the R10 is quite small, so it can feel slight in your hand, at least initially, but because it's intuitively designed, and has enough of the usual classic Canon organization, it didn't take too long for it to feel natural. The things that take the most to get used to, for me at least, is the lack of a large dial on them back of the camera, and using Live View. I know my 5D has a version of Live View, but I prefer to use the viewfinder, but on the R10, for its size, the Live View seems a better method, and one I need to practice with. Too, I love that the screen can rotate to accommodate any viewing angle. Functionally it handles great, the focus is spot on, and it produces images with plenty of resolution. Personally all my Canon cameras have been able to produce professional images, provided the glass (lens) is quality. I've owned or own the following Canon cameras, the Rebel, the 20d, the 30d, and every iteration of the 5d, and every single one produces images I could sell. I think the R10 could probably do the same, if I were to use L glass on it. Still, that's not what this camera is made for, and I don't intend to spend much money on lenses for it. The included S18-45mm F4.5-6.3 IS STM Lens gets me most of the way toward a decent walking around lens…(I did purchase the Canon R50mm 1.8 as well, but that's just because 85mm is my favorite focal length, and with the crop sensor, the 50mm is actually closer to 75mm.) The S18-45mm F4.5-6.3 IS STM Lens Is amazingly small, provided you're used to DSLR lenses, and gives you a decent focal range to work with. While not exceptionally fast at 4.5, it produces clean images across the frame, with good contrast. Not much bokeh, obviously, unless you are shooting something extremely close to the camera, but typically your images are going to be pretty sharp and in focus deeper than you'd want for portraiture, but for sports or landscapes, this is very usable. Remember as I said before, you have the 1.5 or so crop factor to deal with, so this lens isn't quite as wide as you might think (at 18mm you're really closer to 27mm, and at 45mm you'll be closer to 67mm). There is so much to talk about with this camera, especially as one coming from the DSLR world into mirrorless-land, but I'll try to condense some of my favorite features, and a few things I don't love. I really love the ability to shoot with a completely silent shutter. It takes some getting used to, as you don't have the confirming sound that you did indeed capture an image, but there is much to like about getting real candid pics since your camera's sound isn't constantly announcing itself. I love the weight (or lack thereof), and I love the frames per second you came produce. I generally shoot single shot on my 5D, so it's fun to capture action with the mirrorless R10. I absolutely love the eye detection feature…while not perfect, it something I wish dearly was on my 5D. I love being able to check focus in this way, and it's particularly useful when shooting video. I should say that I'm not a huge video guy…so I haven't put the R10 through it's paces in this regard, but I have played with it, and it certainly is enough for me to make videos of my family…and because the camera is so light, you can do selfie videos which would be impossible with my 5D. One of the main things I was disappointed about was that the flash shoe isn't standard size. For some reason I don't know there was anything other than a one-size-fits-all, so when I took the R10 into my studio to use my studio strobes (or with my Canon 600EX II for that matter) I couldn't test to see how well it and the 18-45mm would look with shaped light and f8, my usual studio aperture. I know there are adapters, but I wanted to use what was included with the kit. I'm not crazy about the battery life, but I'm spoiled by my battery grip of my 5D so that's not a fair complaint. Too, another thing I miss from my 5D is my dual memory card slots. Still these are pro features, and the R10 is a camera to grow with - and if you begin to love photography - grow out of. I've seen so much I love with the mirrorless system due to the R10, and if this was my first big camera (as was the Rebel for me), it would wet my appetite for what a larger format could offer. I used my original Rebel for a few years, casually at first, then getting odd jobs for friends, then for strangers, and finally making the jump to the D's. I think the R10 will serve the same purpose, to introduce and make people fall in love with photography by giving you creative control that cell phones just can't match. When I pulled out the R10 at a cookout, my brother asked, sarcastically, if "people are still buying cameras." The answer is they should be, and the R10 is a great way to start. (What I actually told my brother is, "Let me have a look at the pictures of your son's football game you took on your cell phone…oh yeah, a nice, blurry mess, huh?" This was all tongue-in-cheek, obviously, but Canon cameras can do things cell phones can only dream about, and if you are going to print your photos, the gap between a dedicated camera and a phone is vast…I'm glad to have the R10, and I'm excited to use a camera for personal work again. Ps, I've included a picture of the R10 and my 5D together to give you an idea of the size difference. This isn't to say one is better than the other, but rather they are both better than the other at different tasks, and I'm glad to have them both.
Date published: 2022-09-13T00:00:00-04:00
Rated

5

out of

5
by
Mary1
from
Excellent camera
This camera is amazing. It shoots excellent pictures and the images are incredible sharp. The camera is lightweight and very easy to use. I like the fact that has built it flash, fast autofocus and 24 megapixel sensor. This camera works with so many lenses. It can take 4K 60 fps video in SDR or HDR. Overall I'm very satisfied with this camera and I highly recommend it to everyone.
Date published: 2022-09-12T00:00:00-04:00
Rated

5

out of

5
by
Peter38
from
Great update
I updated my 5 year old Nikon for this Canon R10 and I cannot be happier. The pictures are sharp and clear. I love the bluetooth and wifi functionality for getting pictures to my phone! I just need to get a few lenses to fully utilize this camera. I would say it's perfect for someone who doesn't want to think much about photography but wants better pictures than from a phone.
Date published: 2022-09-13T00:00:00-04:00
Rated

5

out of

5
by
Caryn
from
Absolutely love this camera
This camera is so amazing an awesome. It has a crisp and clear picture every time. I'm amazed by the quality of this camera. I love taking pics of animals and nature. I love how the camera can track the subject when it's moving.
Date published: 2022-09-06T00:00:00-04:00
Rated

5

out of

5
by
H2ODogz
from
The R10 is an absolutely superb leap forward!!
The R10 is a significant upgrade to my longtime photography best friend - my trusty Canon 7D. The R10 is incredibly light yet robust and very substantial feeling. The grip is comfortable and locks your hand in place to establish a steady, natural connection. The capture speed is absolute perfection and feels instant - this translates to no blurred shots from unexpected motion or jolts and most importantly, never missing that instant moment you want to preserve. Burst shooting has a half second pre-shooting, which I found to be a great feature. Best of all, however, is the autofocus system that had previously been exclusive to Canon's much higher product lines. This feature is easy to overlook but it will generate those perfect keeper images with far more ease than any other camera I have experienced. The included 18-45mm lens is light and great for general use, but advanced users will likely want to have others on hand for more advanced shooting, speed, quality, etc. Note that the included manual is a basic quick start guide - a full manual that will be a necessary tutorial for newer users is available on Canon's site. I am incredibly pleased with this camera and it is a feature-packed steal for its price. I absolutely love using it and feel that it has improved my shots in a noteworthy way - and I am still learning its finer points of use. I simply cannot recommend the R10 enough!
Date published: 2022-09-06T00:00:00-04:00
Rated

5

out of

5
by
Bogglethefifth
from
Amazing Camera
This camera is perfect! The easy set and adjustable lens makes it so fun to take photos with friends and family. The Bluetooth feature allows me to quickly upload and share photos with others without having to jump through all the normal hoops of a stand camera. I would recommend getting one yourself!
Date published: 2022-09-07T00:00:00-04:00
Rated

5

out of

5
by
HV88
from
Incredible Entry Mirrorless Camera for Vacations!
As someone who hasn't owned a true camera in over a decade and strictly relied on a cell phone for all my photography, I forgot how much of a difference proper photography equipment makes. With covid restrictions loosening up and vacation travel becoming easier, I bought this camera as a nice entry level mirrorless camera for my first vacation to Costa Rica. First thing that popped out at me was just how compact this camera was. Packing and carrying this camera around is a breeze! The kit lense for this camera is also great, providing a solid 2.5X total zoom with an additional 1.6 crop sensor magnification. The lense has a parked position that compress the lense to about the size of a nifty-50 lens, great for carrying in a sling bag. Having not used a camera in so long, after watching a few tutorial videos, I found this camera to be very intuitive. I used it in mostly Aperture Priority mode and found the camera itself does an amazing job managing shutter speed and iso level to produce amazing photos. The autofocus is also incredibly quick and responsive, recognizing people and animals so well. The AF servo is also great at tracking fast moving subjects like my neices running around. For me, this is the perfect entry level camera, that I can find myself slowly building up my range of RF lenses and then in 3-4 years upgrading to the more advance Canon mirrorless camera. Instant recommendation!
Date published: 2022-10-18T00:00:00-04:00
Rated

5

out of

5
by
kfaustin22
from
Outstanding entry-level mirrorless camera
The new Canon R10 is a fantastic entry level camera based on their newest mirrorless technologies. I've been an avid photographer for many years, shooting various systems and sensor sizes. With this newest entry they've made a lightweight, accessible, quite capable camera at an affordable price range that I think most users will really love. Build quality is very good - it's a fair amount of plastic, but it feels good in the hand and durable, and this helps with the weight. Its overall size is nice too, not quite as bulky as a lot of its full frame equivalents. Button layout and access is pretty common and easy to work with, no real complaints there. They've kept these pretty consistent over all their line which is nice to see instead of experimenting or placing things in odd locations. Canon's menu system is great - it's super clear, especially being a user of other systems, it's not confusing and laid out well. Having a touch flip out screen that is fully articulating, is great and should be a must on most cameras these days. It's responsive and clear. The viewfinder is good, not mind blowing, but perfectly adequate for most people's needs. What is nice to see is the inclusion of some of the higher end model features here - the focus system and number of focus points, animal/human eye detection 10-bit 4:2:2 4k 60fps (at a crop, but still this is great). Historically you would see some of these things reserved for something higher up than an entry level, so it's great Canon is including these. Also surprising is the shot frame rate - this camera actually makes for a pretty decent sports or wildlife camera - even with a mechanical shutter (so you avoid any rolling shutter) - 15fps is pretty impressive. The kit lens it comes with is not outstanding but they never are, that's why it's a kit lens. For your average person just getting into a mirrorless it will work fine. There's a limited number of native APS-C lenses out for this camera (that will change soon over the next year I'm sure), but you can spend minimally and get an adapter and use any of Canon's vast lens lineup, so once you want to use higher quality lenses, you have a ton of options. Overall I'd say this is an outstanding bargain and great for those just getting into photography. It's pretty versatile, light, easy to use, and expandable as you start learning. I plan to teach the family how to use it and it will be our go to rig for events and fun.
Date published: 2022-09-15T00:00:00-04:00
Rated

5

out of

5
by
Atx512
from
What an amazing camera!
I can't say enough about this camera. Not only is it light and easy to use, but it is jam-packed with the latest technology which allows you to take breathtaking pictures. The kit lens is also fast and responsive, ensuring that you never miss a shot. I highly recommend this product!
Date published: 2022-09-06T00:00:00-04:00
Rated

5

out of

5
by
hberri
from
Battery doesn't hold a charge
I was so excited about this camera especially to use for portraits. However, I can't use it since the battery does not hold a charge. I will have to get another battery to see if it is the battery, charger, or camera that is the problem. Would love to use it but unfortunately can't.
Date published: 2022-09-07T00:00:00-04:00
Rated

5

out of

5
by
HDcoast
from
Amazing camera
I got this Canon - EOS R10 RF-S18-45mm F4.5-6.3 IS STM Lens Kit to replace some older cameras I have. This camera is absolutely amazing!! This camera is packed full of great features and the possibilities are endless with this camera. I will be getting an adapter so I can use some of my older lenses. Right out of the box - this camera is perfect.
Date published: 2022-09-21T00:00:00-04:00
Rated

5

out of

5
by
ecarterheinzer
from
Love This Camera
This camera is great. It is easy to attach the lens and taking pictures is quick once you get focus. I love the fact that you can add a mic if you want and can use it for both pictures and videos. Just don't forget your SD card are you won't be able to take any pictures.
Date published: 2022-09-28T00:00:00-04:00
Rated

5

out of

5
by
Goldfish12
from
Amazing Features
Okay, wow! I have been using this new camera for the past week and I am in love with it. I use it to take pictures for Instagram and it does an amazing job. I love how lightweight it is, the lens is retractable which makes it very convenient for carrying around. The functions are easy to get to, a beginner can use this with ease. The image quality is beautiful too.
Date published: 2022-09-06T00:00:00-04:00
Rated

5

out of

5
by
Lindag
from
Great entry level camera!
Cannon R10 Review For initial context, I come from another entry level DSLR (Nikon 5300) with 50mm 1.3f, 18-55mm 3.5-5.6f, and 70-300mm 4.5-6.3f lenses. After the first shoot, the mirrorless and more modern image processing system was immediately attractive for someone who comes from an older camera. I focused on the 4k video capabilities because 4k at 60fps and 1080 120fps was the most enticing features for me who comes from a camera that lacks in video. Note on 4k at 60fps and 1080 120fps is that it is a cropped sensor and has to be specifically selected in the manual video mode. The video that came out was very crisp and has good dynamic range. However, the image stabilization was little if none. I did notice that shooting in 4k 60fps resulted in Adobe Premiere Pro's warp stabilizer doing a good job at smoothing the video. Another potential benefit (depending on your use case) is the autofocus (AF). When in AF mode, the R10 was very fast and accurate, however, pulling focus in AF mode was near impossible. Shortly into the shoot, I shifted into manual focus and enjoyed this much more. After exploring the impressive video capabilities of the camera, I tried the photo potential. I immediately noticed that the picture response time was lackluster at best. Even at a shutter speed of 1/1000, the time from pressing the shutter button to the camera capturing the picture feels sluggish. Based on my initial testing, I would not recommend for sports photography. After getting used to these nuances, I really enjoyed the experience. The kit lens was crisp and had a wide variety of focal lengths, however, I would want to invest into a prime lens that has a much better f-stop (aperture).
Date published: 2022-10-05T00:00:00-04:00
Rated

5

out of

5
by
Tex81
from
Great camera!
This is a very good camera for what it is. It has many bells and whistles of more expensive cameras, but without the increased price tag. The AF works quickly and well. You won't mistake it or the lens with some of the really expensive options, but this is an excellent camera for a beginner who is past the "exploration" part of photography. The function button(s) on the lower right hand back of the camera are in a bit of a weird location in that my palm can press them if I'm not careful. But overall I think this is a really great camera.
Date published: 2022-09-05T00:00:00-04:00
Rated

5

out of

5
by
Kathy L
from
Mirrorless camera with many features!
I have been using Canon for decades and I really wanted an updated newer mode with more functions so I got the EOS R10. I am so exited to photograph pictures with this camera! It is a breeze to set up. I downloaded the app which connects the camera to my phone via Bluetooth or wifi and was transferring pictures in no time. The photos come out crisp and clear. I will be getting the lens adapter to use my old lens with this new camera. Genus idea Canon! Camera is perfect for vlogging as you can transfer instantly or go live! This is not your average starter camera as it has so many advanced features and settings that the experienced photographer/videography would appreciate. The body is super light and weighs 15oz. One of my favorite features is the subject detection & tracking which gives better focus on the subject. It also has high-speed shooting at 15 FPS. Amazing!! It can record in 4K with footage taken from 6K. Super impressive! I highly recommend the Canon EOS R10.
Date published: 2022-09-06T00:00:00-04:00
Rated

5

out of

5
by
Country Bumpkin
from
Very impressed
The Canon-EOS R10 RF-S18- 45 mm and F4.5-6.3 IS STM Lens Kit is a great camera and having the lens kit is a great bonus. I am very impressed with the clarity of the pictures taken with or without the lens. It is very easy to operate the camera. So happy I have this camera and lens. You can't go wrong with this Canon Camera and lens!
Date published: 2022-09-05T00:00:00-04:00
Rated

5

out of

5
by
KL27
from
Not a pro but this was a good camera
Admittedly I don't have a ton of experience using this type of camera but it's a great entry level camera into the hobby and I found it was light to travel with and easy to use. It has good value for the quality
Date published: 2022-09-07T00:00:00-04:00
Rated

5

out of

5
by
csbauerle
from
Awesome Camera!
I really do love this camera. I upgraded from a Nikon D4000, and I couldn't be happier. It is so lightweight, and the image quality is outstanding. The interface is easy to use, and I really like the one-touch blurred-background effect. Though light, it does feel very well made and substantial. Highly recommend.
Date published: 2022-09-06T00:00:00-04:00
Rated

5

out of

5
by
MikePics
from
Incredible Camera super sharp amazing features
I was in the market for an upgrade because my old camera was several years old. We were left my cameras were very highly rated and the specific one because it came with versatile lens. The very attractive box and everything was packaged very well. Instructions were very simple to understand and at the same time very thorough as there are so many functions and features that are available to customize The camera for your specific needs. Right out of the box the camera performs perfectly and even if you do not know how to use the advanced features in the basic program mode the camera will perform flawlessly I was incredibly impressed by how clear the pictures were. I am attaching some of the pictures to show you how sharp images are from the camera. Flash is also a great feature and the battery life is pretty impressive. All in all, I am very impressed with this camera
Date published: 2022-09-13T00:00:00-04:00
Rated

5

out of

5
by
Mcomeau334
from
Very Happy with it, I have one little gripe, but this is my 1st camera
So, this camera has been great so far. This is the 1st camera I've purchased for myself. So obviously, I'm not well versed. I have used DSLR's, and do a lot of "drone photography", so I do actually understand some of the basics. I started shouting with "Auto", but quickly started tinkering with "Manual" mode, and even set my "custom dial" C1 & C2 to some decent settings. My only real "gripe" is that if you enable HDR, you can't save that to a custom mode. It has to be turned off before it lets you. I figured that I would be able to re-map a button to quickly get to the HDR settings, but again, a roadblock. I know a lot of people don't use HDR, and maybe in the future I won't either, but I really wish I could turn it on, without having to jump through a bunch of settings. That being said, I'm extremely excited to use this camera, and so far, I've loved the outcome of the photos.
Date published: 2023-01-25T00:00:00-05:00