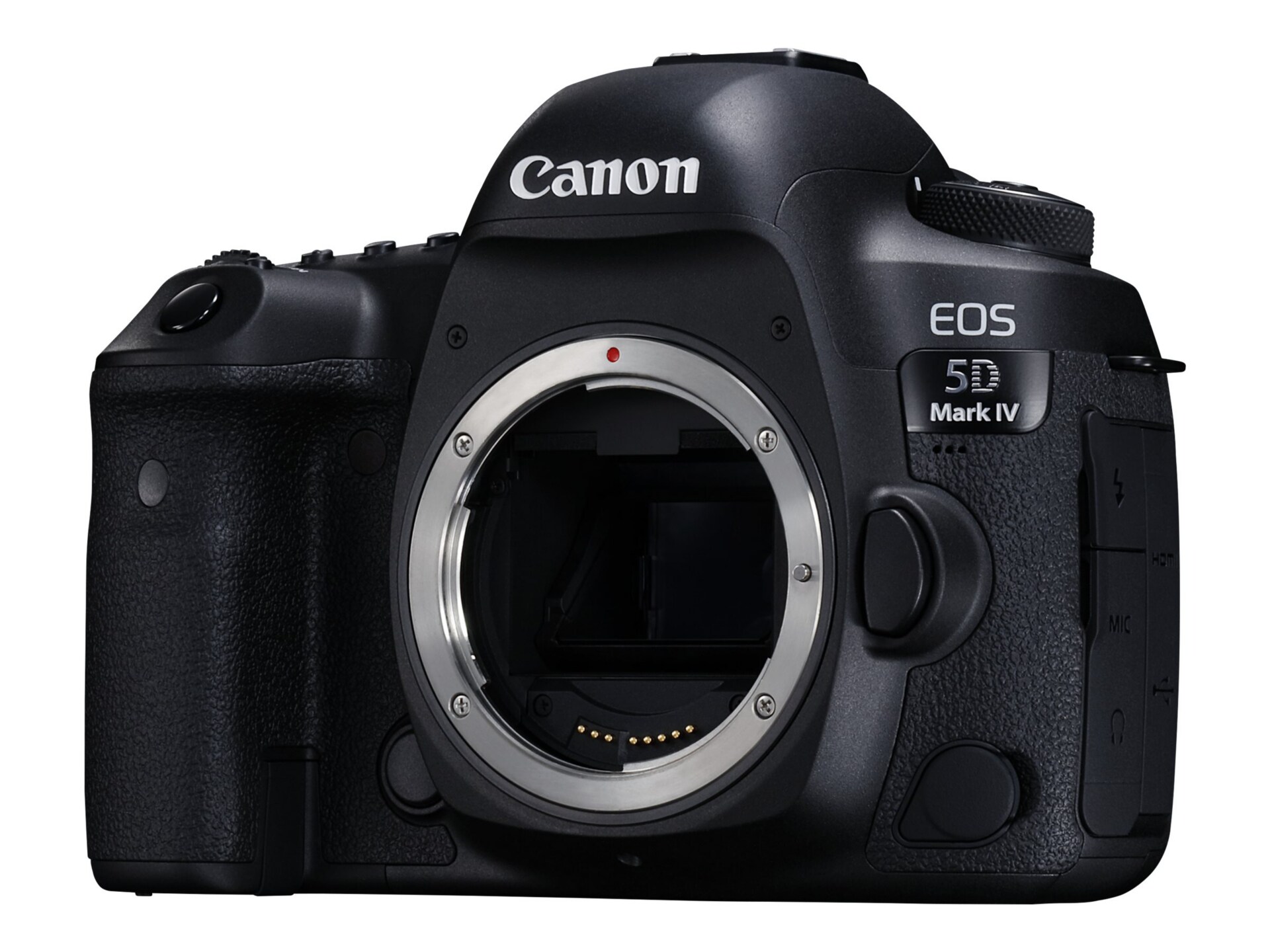 Quick tech specs
SLR
Full Frame
4.3x optical zoom EF 24-105mm F/4 L IS II USM lens
NFC
30.4 MP
4K / 30 fps
Wi-Fi
View All
Know your gear
The EOS 5D Mark IV camera builds on the powerful legacy of the 5D series, offering amazing refinements in image quality, performance and versatility. Canon's commitment to imaging excellence is the soul of the EOS 5D Mark IV. Wedding and portrait photographers, nature and landscape shooters, as well as creative videographers will appreciate the brilliance and power that the EOS 5D Mark IV delivers. Superb image quality is achieved with Canon's full-frame sensor, and highly-detailed video is captured with ease. Focus accuracy has been improved with a refined 61-point AF system and Canon's revolutionary Dual Pixel CMOS AF for quick, smooth AF for both video and live view shooting. Built-in Wi-Fi, GPS and an easy-to-navigate touch-panel LCD allow the camera to become an extension of you. When quality matters, the EOS 5D Mark IV helps deliver results to inspire even discerning imagemaker.


Canon EOS 5D Mark IV-EF 24-105mm F/4 L IS II USM lens
is rated
4.60
out of
5
by
20
.
Rated

5

out of

5
by
Dallas S
from
My dream carmera
This is my first full frame DSR, should be perfect!!
Date published: 2020-07-08T00:00:00-04:00
Rated

5

out of

5
by
Jose
from
Great Cameras
I own 2 canon dslr cameras and very excited about this new one. Canon has always been a mark of quality and reliability. Never in the past 15 years have I had any problems, you can count on canon for the best pictures.
Date published: 2017-11-19T00:00:00-05:00
Rated

5

out of

5
by
Bb4A
from
Great All-Round Photography Workhorse
I bought my first almost a year ago, and have found this model a great choice for many different photography genres. I regularly have to hike some distance on my wildlife and nature photography excursions and I'm always confident with a 5D Mk IV body as the foundation of my gear. In fact, I like this body so much, I think I will buy another, to standardize my bodies for those times I'm shooting close to my access point and using multiple lenses.
Date published: 2019-01-24T00:00:00-05:00
Rated

5

out of

5
by
Mariea120
from
Pictures/videos are excellent quality!
My daughter bought the C100 but decided this would be better for her needs.. Its lighter and the quality of pictures is better.
Date published: 2018-08-02T00:00:00-04:00
Rated

5

out of

5
by
noname
from
amazing features
i bought this product and it works amazing. im happy with how it works
Date published: 2016-10-11T00:00:00-04:00
Rated

5

out of

5
by
DLCline_Photography
from
Love the Camera
I purchased this camera as an upgrade after renting and testing out both the 5DS-R and the 5DMIV. Since coming from a 5DMIII, the controls and menus were very similar so minimal learning curve to be able to use the functions. I chose this camera over the 5DS-R due to the added GPS functionality, as it was a feature that was a 'must have' for my upgrade. I do a lot of night sky and landscape photography, and this camera has performed extremely well in both situations. I did not buy the camera in the 'kit', as I already own the 'L' lenses, so the purchase was a little cheaper. Make sure that you have large capacity media cards and extra batteries. I decided to not run the extra vertical battery grip with this camera since I do a lot of back packing and traveling for photos and just didn't need the extra weight or bulk. But, if those two factors are not a consideration, the grip is a nice addition as it adds much more photo shoot time. If you are thinking about this camera and are unsure, rent one for a week and test it out. Here is a few of my images from this camera...
Date published: 2017-12-03T00:00:00-05:00
Rated

5

out of

5
by
Jimbo0329
from
Great landscape camera
I bought the 5DIV last December as an upgrade from the 5DIII. The transition was pretty much seamless as the button and menus are quite similar. Opted for the 5DIV over the DS because I don't need 50 M.P. and the features in the DIV are superior. I am still discovering the upgraded features. Image quality is excellent.
Date published: 2018-01-24T00:00:00-05:00
Rated

5

out of

5
by
grandmasuzy
from
A wonderful upgrade
Love the speed of this camera when shooting action photos of my grandkids. Looking forward to learning all the new bells and whistles that my 50D did not have
Date published: 2019-05-16T00:00:00-04:00
Rated

5

out of

5
by
CockaDoodleDoo
from
Horrible
This is a bad camera. Period. It has very bad things.
Date published: 2017-06-18T00:00:00-04:00
Rated

5

out of

5
by
NJSully72
from
Excellent/Very Good Camera from Canon.
This is excellent/very good camera from Canon with a lot to offer a user. There could have been more features included at time I purchase this camera including C-log, but I bought it a month before C-log came out. Was my only mistake of not waiting until July when it came out. This is my first Canon Digital SLR Camera from Canon. This 5D Mark IV has alot of very good features and alot of great features that giving you many possible ways to take photos different ways with different settings set by the camera or by you setting the settings the way you want them set up. The photos I have taking so far have be very terrific and I am still getting the hand of using this. I use to shoot slides until I sold my last Canon film camera. I am very happy I bought a full frame camera with 30.1 Megapixel. The 24-105mm f/4 lens excellent lens from Canon. If do get a 5D Mark IV buy the kit with 24-105mm f/4 lens or 24-70mm depending which one you prefer. My suggestion would be to rent this camera before you purchase one to make sure this camera is right one for you. I rented this camera twice before decided to spend the money. By renting it before I bought it made me get use to the controls, how it felt in my hands and what kinda of photos would come out of shooting with this camera. This 5D Mark IV is built like a tank, has very solid feeling to it. When and if you do buy this camera buy BG-20E Vertical Grip and with extra batteries so you can shoot for a long time. Also buy enough memory cards that are bigger then 64GB or 128GB memory cards. And buy different strap that does not advertise Canon and type of camera you own. Hoping some of information helps others thinking of buying this camera.
Date published: 2017-08-17T00:00:00-04:00
Rated

5

out of

5
by
Todd
from
Very happy with camera
I bought the 5D mark 4 last December Suburb quality and easy to use and adapt as a I upgraded from 60D One negative negative feature is GPS It kills the battery when is turned on
Date published: 2018-06-15T00:00:00-04:00
Rated

5

out of

5
by
Faustin
from
Great future
I bout this Couse I like it ggffgggggggggggggggggfff
Date published: 2017-11-19T00:00:00-05:00
Rated

5

out of

5
by
IJames94
from
Perfect Camera
I volunteer for the Vatican, so when I'm out taking pictures for a concert or a certain event, I need something reliable especially in low light. This camera is perfect. It is the best camera you'll ever own especially with the 24-105. Didn't have any problems, especially not power wise. If you want to see the pictures go to Instagram @iJames94
Date published: 2019-02-13T00:00:00-05:00
Rated

5

out of

5
by
GetOutofHere
from
Great cameria. Nuff said.
You know you want this camera. What's stopping you? The cameria is amazing. There's nothing else to say. You want someone to talk about the cameria, go to YouTube. Cons: Your photos are going to be so good that people won't stop bugging you to take their pictures.
Date published: 2018-08-10T00:00:00-04:00
Rated

5

out of

5
by
entoman
from
Dependable workhorse
I've owned several Canon cameras including 50D, 7D, 7DMkii, 6D, 5DMkiii and currently I own 5DMkiv, 5DS and several L lenses. Why do I use Canon? Because their products are built like tanks, extremely durable and have excellent ergonomics, making them a pleasure to use. Choosing between 5DS and 5DMkiv? At ISO 1600 or below there is no difference in image quality, but 5DS will allow more flexibility for cropping, and provide more resolution for big prints or viewing on a 4K monitor, so I'd recommend 5DS if you shoot mainly at low ISO. If you need to shoot above ISO 1600 the 5DMkiv will have less noise. It also has the advantage of shooting at 7fps, but if you want to shoot sports or action a better choice would be 7DMkii. 5DMKiv is a solid reliable workhorse - a dependable all-rounder.
Date published: 2018-07-29T00:00:00-04:00
Rated

5

out of

5
by
TimonTrail
from
Love the quality and ease of use!
I've had the mark IV for about a month now and have used it quite a bit for my landscape and urban photography. Love having the grip for shoots extending battery time and making it easier for portrait shots. No issues as of yet and expect nothing but greatness from Canon.
Date published: 2018-12-11T00:00:00-05:00
Rated

5

out of

5
by
TGc
from
Canon 5D
very good product. I bought it last year and use it every day. I have recommended it to all the professionals I work with. Our team considers it one of the best cameras.
Date published: 2022-06-02T00:00:00-04:00
Rated

5

out of

5
by
Jake from State Farm
from
Not all that impressed.
I bought a 5D Mark IV when they had $1100 off last fall. I took so many pictures with my 7D Mark II, it was getting time to replace it. So I bought the 5D. Honestly, I should have bought another 7D. It's a crop, but gave me see features, same quality, for less money. With it being a crop, little better for my nature photography. Disappointed in Canon that I didn't get an offer for an extended warranty when I registered the 5D Mark IV online. My dealer was fantastic. Can't speak highly enough about them. I have a friend with the Mark IV also. She tended to like her 5D Mark III a little better. If I remember correctly, on the III, you could set one card for jpeg, and one for raw. If I remember correctly. Been a few years since I've handled her III. Don't have that on the IV. Quality of pictures is okay. Year later, and shouldn't have upgraded. Love my 1 DX though. That's fantastic.
Date published: 2020-11-24T00:00:00-05:00
Rated

5

out of

5
by
Brittany
from
Great Camera
I love this camera. It has taken my images to the next level. So crisp and beautiful! The lens is a perfect range so I can still do my portraits, get some wide angles, and even zoom in for some detail shots. 10/10 would recommend.
Date published: 2019-11-19T00:00:00-05:00
Rated

5

out of

5
by
Neil M
from
Great camera/lens combo!
This is a very high quality camera and lens. It can take up to 7 shots per second. The pictures are crystal clear.
Date published: 2020-01-16T00:00:00-05:00