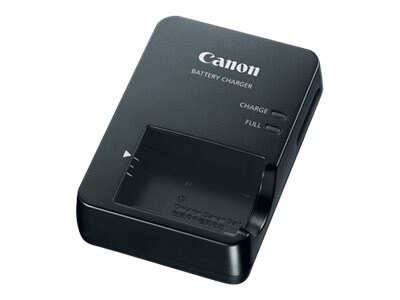 Quick tech specs
View All
Know your gear
The Canon CB-2LH Battery Charger is compatible with Canon Battery Pack NB-13L. It features an LED indicator to notify charging status.
Contact Sales Assistance
(800) 800-4239
,
Monday-Friday 7am-7:30pm CT
Canon CB-2LH - battery charger
is rated
3.59
out of
5
by
29
.
Rated

5

out of

5
by
Dan N
from
Amazing Point and Shoot
Compact, fits in my pocket. Incredibly high image quality. I don't know why all the negative reviews for video? If I wanted a video camera I would have purchased a video camera, and not a point and shoot that also does video. The videos I've taken have come out nicely, but I wouldn't buy a point and shoot for blogging... get a video camera. With a 20 megapixel 3/4 in sensor I've been able to take photos of the northern lights, solar eclipses and more. Often at almost the same quality as a full size SLR, but night and day better than my iPhone. The controls are clunkier since it's all menu based, but as the saying goes... the best camera is the one you have with you and the compact nature means I can actually keep this camera in my pocket. This is amazing for any type of outdoor activity where a full size SLR is cumbersome. If you're looking for a high end point and shoot that will fit in your pocket, then this is an amazing camera. If you're looking for an SLR or a video camera I can't help you as that's a different product. The key is to know what you're looking for.
Date published: 2021-12-16T00:00:00-05:00
Rated

5

out of

5
by
thenotoriousjoeybadger
from
Best Compact Point and Shoot for Video and Features
I purchased this camera about 18 months ago and it is by far the best point and shoot camera I have ever used. I have always had a higher end point and shoot as a C camera and have had to use them in some pretty high-profile assignments over the years, because you have to use what you have, but this camera goes beyond that. I'm not a huge Canon fan and this was my first product of theirs that I bought. While this camera isn't perfect, the reason that I bought it had to do with it having an external mic jack and a fast lens. No other cameras fit that bill and it was about half the price of the next closest. The lens is amazing and sharp, the sensor puts some aps-c sensors to shame in terms of dynamic range, and the video features are abundant and it looks really nice without a lot of editing. The autofocus isn't amazing, but a sacrifice when you understand how they got the dynamic range that they did. The live stream feature pretty much doesn't work. I can start to get petty about the ergonomics not being the best as they seem to have opted for symmetry over practicality, or not being water sealed, but that just isn't what this camera is. I also would have loved to have the viewfinder and mic jack in the same camera, but I also appreciate this is a dying camera market and I am more than happy with ND filter and great slow motion. I've even shot professional gigs with this and it performed. Not a first choice but the customer never complained. All the camera you will ever need and most that you would ever want.
Date published: 2021-07-16T00:00:00-04:00
Rated

5

out of

5
by
Amber NYC
from
Terrible Autofocus and useless for video
I bought this almost 8 months ago and at the time it was being pushed as the BEST vlogger camera. There were some issues with autofocus but I had heard the new firmware fixed the autofocus. Well, it does not. If you're looking to Vlog with this, it's a useless camera. It's ONLY good for photos - not video. Even trying to use this as a webcam is pointless as the autofocus continually shifts in and out. This is so disappointing. Canon should recall this version and not advertise it for video.
Date published: 2021-03-03T00:00:00-05:00
Rated

5

out of

5
by
Brypa
from
Awesome
After having the rebel series t6i with then18-200 zoom,having had multiple surgeries in my right arm just couldn't support the weight. But now with this awesome lightweight fully loaded camera, I can walk around and shoot at will no Problem. Pictures are stunning and camera simple and easy to use. Highly recommend.
Date published: 2019-10-11T00:00:00-04:00
Rated

5

out of

5
by
Emilylee
from
It's looks nice and it's nice besides focus!
I love the look of it, the feel of it, and all the new feature. The microphone input and stuff ! But still hope they can come up with newer update for the focusing! Would really really appreciate it, and make the whole camera perfect.
Date published: 2020-01-15T00:00:00-05:00
Rated

5

out of

5
by
ssatinss
from
Very disappointed
I have used Canon G7X for many iterations. Very disappointed in this one that me and everyone else were so excited for. Love that it has a microphone. Hate that it is fuzzy in and out of focus. The autofocus update did nothing to help my videos. Already dreaming of another camera. I got this one right when it came out, I was counting down the days. And, from what I gathered from all the bloggers on this camera, no one is happy.
Date published: 2020-04-01T00:00:00-04:00
Rated

5

out of

5
by
cglisson40
from
Not Waterproof
I bought this camera and three days later a wave at Daytona Beach splashed over it. That instantly killed the camera. If you are going to be near water, make sure you purchase an additional waterproof case. That was an expensive mistake My old cannon was waterproof and it never occurred to me to ask.
Date published: 2022-01-09T00:00:00-05:00
Rated

5

out of

5
by
Bretor Winkler
from
10,000 photos a year!
Excellent field inspection camera. Great clarity in zoom for hard to see areas. Wore out a 610 over 5 years and immediately upgraded to this 620. Very satisfied.
Date published: 2021-08-15T00:00:00-04:00
Rated

5

out of

5
by
JJPIII
from
OK camera, can't connect to Wi-Fi
Can't recommend. Settings are not intuitive and are fairly limited. Drivers do not install. Drivers required for Wi-Fi. Zoom is about the only good part of the camera. One of the questions for this survey is "Does this product replace one you already own?" Sort of, the old camera is better
Date published: 2021-02-15T00:00:00-05:00
Rated

5

out of

5
by
BillQC
from
Great camera
This is a replacement for a Nikon and have had many Canons before
Date published: 2019-08-28T00:00:00-04:00
Rated

5

out of

5
by
InspectorMark
from
Bad focusing
This is the 5th PowerShot SX camera that I have purchased. I go through about 1 per year in my home inspection business. This one shot crap in 4 months and stopped giving clear mid to long distance focusing, giving me unacceptable pics. I think they should last longer that 1 year, however, but that is their service life.
Date published: 2021-01-24T00:00:00-05:00
Rated

5

out of

5
by
Net54
from
Everything we needed.
We purchased this a couple of weeks ago for our upcoming trip to Ireland. It looks like it will work out perfectly. I love the small size and the photos are very nice. Great price and great service for the price. We received it within a few days.
Date published: 2019-03-24T00:00:00-04:00
Rated

5

out of

5
by
To old for this mess
from
Pictures to upload on computer
I purchase this camera to upload onto a online site. I lost my other camera. I am a senior and thought this would be easy. No cord to upload, It's wi-fi you have to download a ton of stuff. I still did not figure it out. I called support. The guy was wonderful. I am too old to try and figure this out. So disappoint. What happen to the good old days. All this downloading and wifi. Sad.
Date published: 2016-09-21T00:00:00-04:00
Rated

5

out of

5
by
Upset
from
Raw
Camera specs say it shoots raw pictures and in fact it doesn't.
Date published: 2018-02-23T00:00:00-05:00
Rated

5

out of

5
by
AJJ
from
Great traveling camera!
Bought the SX620 to replace my SX280 that is still working. Like the size and ease of use for traveling. The SX 620 seems to preform better in low light than the SX 280 and it is easier to hold since the flash does not automatically popup. Very easy and intuitive to program and use. The Android setup on our LG phone was snap. The Windows 10 setup was more complex and took a little longer. Overall, this is Superb Work. Thanks Canon
Date published: 2018-02-18T00:00:00-05:00
Rated

5

out of

5
by
CE Garrison
from
Point and Shoot.
I have used the Canon SX620 HS for almost 2 months and it has performed as I thought it would. It is easy to use and the picture quality is quite good for this type camera. It is compact, lite and adjusts to most all light conditions. My only wish is that could be a little faster is adjusting and focusing on the subject.
Date published: 2021-09-20T00:00:00-04:00
Rated

5

out of

5
by
dkatana
from
Great for traveling
I bought the camera last month before going on holiday to NW of Spain. It was easy to carry the camera around everywhere, and the picture quality is outstanding.
Date published: 2017-08-12T00:00:00-04:00
Rated

5

out of

5
by
DJ Kavas
from
Review
This is Clean & Simple Design. Superb Work. Thanks Canon.inc
Date published: 2016-08-01T00:00:00-04:00
Rated

5

out of

5
by
heek
from
Breaks fast
I bought this camara less than a year ago and its broken already..and they dont even give me a new one
Date published: 2019-12-16T00:00:00-05:00
Rated

5

out of

5
by
LowerEastSider
from
Nice small size and takes good pictures
This camera is small and light enough to carry easily. It will fit in a typical pants pocket or in a small pouch with a belt loop. It takes very good photos which appear clear and lifelike even when enlarged to a reasonable level. Unlike some other small cameras, the photos do not have an excessively grainy or fuzzy look and the colors are good. It is probably not the best choice for action photography, although I was able to get some usable photos at a recent bike race. The 25x zoom is more than adequate. Note that you must take the battery out of the camera and put it in the separate battery charger (supplied with the camera to charge the battery. The camera USB cable port only works for transferring photos. There is no USB cable included with the camera. The cable is available from Canon or online at other sources. For quick and easy photo transfer, the USB cable is almost a necessity and costs only a few dollars. The camera operates mostly automatically and generally does a good job. There are some additional settings featured in the "P" program mode, but full manual control is not an option. There is no function dial so the user must go into the camera menus to change most (but not all) settings. This is not a camera for someone who likes to adjust settings before taking each picture With the Canon app, I can transfer photos via wi-fi from the camera to my Apple i-phone. The Canon app also allows the camera to be operated via remote control. I could have spent a lot more. But for typical photography of people and places, the SX620HS suits my needs and is small and light enough to take almost anywhere.
Date published: 2018-07-08T00:00:00-04:00
Rated

5

out of

5
by
York
from
A small camera that captures great photos.
I enjoy bringing this camera on my walks to capture birds and plants I observe.
Date published: 2020-03-13T00:00:00-04:00
Rated

5

out of

5
by
KeV
from
It's worth the price
It has a decent number of options and effects. You can actually get a shot of the moon with this thing! Good focus and stabilization when zoomed in.
Date published: 2017-04-13T00:00:00-04:00
Rated

5

out of

5
by
willo47
from
Not for large hands
I purchased the SX620 due to it's small size and weight. I thought I'd be more likely to carry it with me on a day to day basis because of it's light weight and small size. I've had and still use a G10. Unfortunately, my hands are too large and the controls on the SX620 are too small and too close together making it impossible to navigate through the different functions. I would only recommend this camera to those with small hands.
Date published: 2016-11-03T00:00:00-04:00
Rated

5

out of

5
by
Jen67
from
Nice Zoom
I bought this camera because it is compact, light weight, and has a good zoom. I have used the Powershot before and have had good luck with them. The only problem I have is that I am very rough with a camera and the lens begins to get a problem. I think if I take better care of it, maybe the lens will work longer!
Date published: 2018-11-22T00:00:00-05:00
Rated

5

out of

5
by
WarrenG
from
Exactly as decried
Great zoom. A pain to upload pictures, I wish I could use a cord instead of having to connect to wifi and go through Canon's website.
Date published: 2019-06-05T00:00:00-04:00
Rated

5

out of

5
by
taylorgoesplaces
from
Great photos and decent features
This camera is small and can feel "slippery" in your hands but it comes with a strap. The wifi connection was incredibly easy for me to figure out, took maybe an entire 10 minutes of fiddling. I connected the camera to my iPhone and the pictures went straight to my camera roll; it was awesome. I don't know why some people were saying that it was difficult. The zoom is fantastic, and some of the different features/filters/"lenses" it comes with are pretty cool but it was easier to just photoshop them on my phone. This was my first experience with Canon (mostly used Sony) and I will probably use Canons for the rest of my life. Also, I got the red one, which I'll admit looks kinda pink in person. I love the pink hue myself, but maybe some guys would be pretty disappointed that its not super red.
Date published: 2017-04-27T00:00:00-04:00
Rated

5

out of

5
by
JesusV12
from
TRASH!!! DO NOT BUY!!!
My girlfriend bought this camera in Feb. of 2021. She was trying to find a good camera so I can shot my podcast and upload it to YouTube. She found this camera and as I did my first episode I noticed the focus kept going in and out. I thought I was doing something wrong. Then I realized its the cameras issue. I found a firmware fix. That hasn't fixed the issue either. Another issue I am having is that the camera will shut off on its own after about every 15mins of shooting. It is frustrating since this camera is not cheap. I hope Canon has some short of fix or is willing to give us our money back to buy a product that actually works.
Date published: 2021-04-02T00:00:00-04:00
Rated

5

out of

5
by
Liam212
from
NEEDS ANOTHER AUTO-FOCUS FIRMWARE UPDATE!
This camera is amazingly compact, looks beautiful and awesome features (especially the mic input. Only reason it's not a 5-star camera is because the auto-focus is horrendous. It's 2020 and the auto-focus for vlogging never focuses on someone's face. It's super frustrating when you're capturing video and everything is out of focus, really, really frustrating when you can't go back in time to recapture a shot. Canon please fix this!
Date published: 2020-01-20T00:00:00-05:00
Rated

5

out of

5
by
divephotog
from
Great all around camera
Bought this camera in Arizona to have a compact camera to carry around. I took some beautiful desert photos and photos in a museum. Back home I took photos at an Earth Wind and Fire concert. Even at a distance and low light I was amazed at the picture quality. It looked like I was on stage with them
Date published: 2022-06-19T00:00:00-04:00