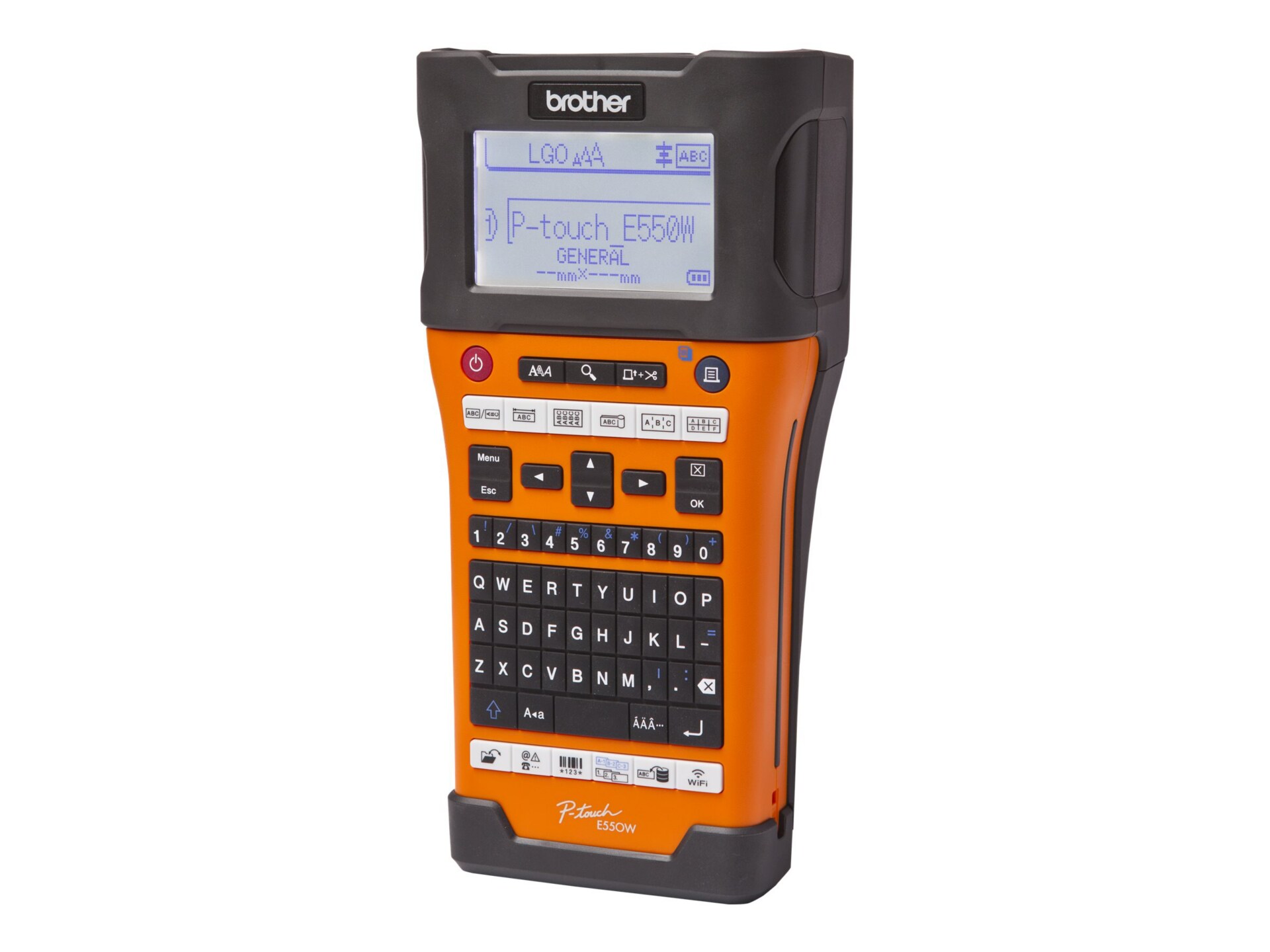 Quick tech specs
monochrome
Roll (0.94 in)
up to 70.9 inch/min
Wi-Fi
thermal transfer
180 x 360 dpi
USB
7 line printing
View All
Know your gear
The PT-E550W can also add a new level of flexibility to handle changes at the job site in real time for anyone now generating sheet labels for their projects. Just transfer the same exported file used for printing those labels into the PT-E550W. Then, if there's a change or replacement labels are needed, don't panic - you can simply send the data to a smartphone or tablet at the site and quickly print what's needed right there.

The PT-E550W is ideal for handling large, complex IT projects like data centers. It produces durable, laminated labels up to 24 mm wide. It combines powerful technology with advanced features and intuitive operation that help make the labeling job faster, simpler and more efficient for your entire crew - without the need to read a manual.


Brother PT-E550W Monochrome Thermal Label Printer
is rated
4.08
out of
5
by
12
.
Rated

5

out of

5
by
Tech11944
from
This product is very quick and easy to use!
I like the ease of use in the field. You can change the format of the printout quickly and get the job done a lot faster. The WiFi function with my laptop is also invaluable. Its worth the extra money to get this feature.
Date published: 2015-05-20T00:00:00-04:00
Rated

5

out of

5
by
RACASKEY
from
Very nice Label Printer.
Solid and versatile label printer. It will use an incredible array of label formats. The Windows software is fine but the Mac software is weak. It has difficulty with spreadsheets, etc. on a Mac.
Date published: 2016-06-24T00:00:00-04:00
Rated

5

out of

5
by
Greesha
from
Top of the Line
I was shown the PT-E550W at a cabling industry convention and decided to give it a try. Of all the cable labeling tools that I have worked with during the past 20 years, the PT-E550W is the best. The labeler itself is easy to use. I can make any conceivable communications related label ahead of time for planned projects or on the spot for short order work. The printed labels are also very professional looking and the use of commonly accessible P Touch TZ tapes is a real plus (no over priced- factory order label tapes needed here). Whomever designed this one did a great job!
Date published: 2016-01-13T00:00:00-05:00
Rated

5

out of

5
by
KSReviewer
from
Easier to use than Edge
I had the top of the line Edge for the last two years and liked it but had some problems moving company logos to and from the labeler sometimes. The quality and size of the icon had to be just right and printing was hit or miss depending on size of the tape. The 550 is a dramatic step forward in ease of use and power. First, the link to the iPhone seemed like a marketing bullet but it is really powerful to use. True WYSIWYG makes it great. I don't believe I have figured out the wireless function yet because I cannot print to the labeler without hardwiring it. Wireless has only been successful thus far sending a database to and from the labeler. Again, this could be me but it might be a limitation. But the star of the show is the true ease of use. The buttons, auto sizing of labels, LCD display, etc. all make it very easy to be productive immediately with little waste of label material (something I wasted a lot with the Edge. Super machine
Date published: 2016-03-23T00:00:00-04:00
Rated

5

out of

5
by
BobRRS
from
Compact and perfect labels
Works fantastic. Like it can go from shrink cable to label and it is portable. Love the cable shrink. Not the machines fault – but would be nice to have cable shrink that would work on cables that have connectors at both ends. Again – great product!
Date published: 2016-06-09T00:00:00-04:00
Rated

5

out of

5
by
ACEMAN
from
A great improvement from the label printers I had
I had 2 different models of a competitors printers and this has out preformed in one day! I love the apps for the phone and computer. I also love the clear printing that this unit preforms. It makes me want to label everything.
Date published: 2016-05-18T00:00:00-04:00
Rated

5

out of

5
by
CJDean
from
PT-E550W
Great printer for the price Very fast and easy to use
Date published: 2015-11-27T00:00:00-05:00
Rated

5

out of

5
by
WorkAccount
from
Good Printer
Purchased this after seeing a consultant using this. Works well for our need. Really like that some of the label media has a clear layer that protects the print and keeps it clean and free from smearing.
Date published: 2016-01-11T00:00:00-05:00
Rated

5

out of

5
by
Jfreds
from
I would label this product Excellent!
I debated between WIFI and a non-WIFI unit and went with WIFI. I downloaded the apps for my IPhone and IPAD and it use those apps rather than the keyboard and the stunning results never cease to amaze me. I wish that there were a few more templates on the Brother Software. I use it mostly for marking cables and making labels for wall plates for network installs. I downloaded a second party app that actually works better for it than the Brother software. If I do end up using the keyboard, I've found that it's so much easier with the QWERTY keyboard rather than a unit with just a straight ABC style. The half cut feature where it will leave a tag on the end half cut seems to make removing the backing so much faster. (Even for these hands that are getting older and less nimble) Spend the extra money and get the WIFI. You'll thank yourself once you try it.
Date published: 2017-04-13T00:00:00-04:00
Rated

5

out of

5
by
DisappointedBuyer
from
Wastes labels
In the beginning of each printed label there is an inch where nothing is printed. The reason is said to be due to the design of the printer. But it is only to waste label material and that is not cheap in the long run.
Date published: 2018-08-07T00:00:00-04:00
Rated

5

out of

5
by
David111
from
waste of very expensive tape
our company got 4 of those instead of Dymos we was using. It is heavier, more expensive and after trying it also very disappointing. The most disappointing thing that over 50% of tape going to waste. instead of printing one label this machine cutting off an inch of tape with every label you makes. building one rack i went through 3 tapes.
Date published: 2018-07-15T00:00:00-04:00
Rated

5

out of

5
by
nick
from
very efficient
1st, the reviews that state it wastes tape are misinformed. They are not utilizing the best cut methods for them. This is the most efficient tape management printer I have used, including earlier today where approx. 4 inches was "wasted " out of the entire 8 meter cartridge. Favorite feature is the half cut, cutting the labels to size without cutting the backer. This gives a convenient way to mass print and peel without the waste and without a pile of individual labels. The ability to import from excel through the PC based app is simple and efficient. (PC app lacks serialization feature The phone app is limited in mass printing ability but useful. Only "complaint" is I have yet discovered how to transfer saved templets or labels between the computer and printer to keep on the printer.
Date published: 2021-02-18T00:00:00-05:00