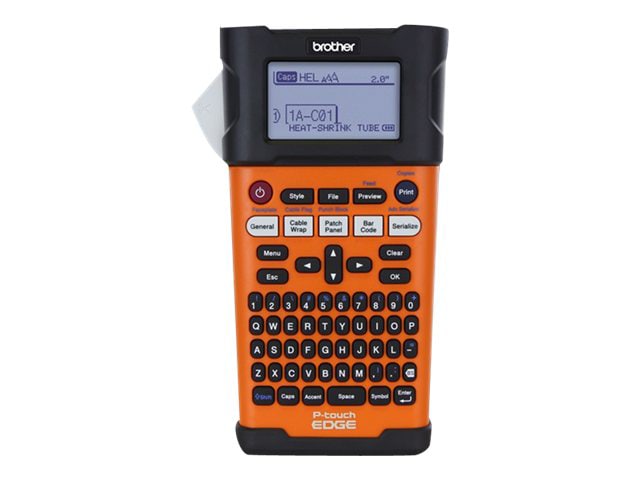 Quick tech specs
Touch PT-E300
thermal transfer
180 dpi
cutter
orange
Labelmaker
Roll (0.7 in)
up to 47.2 inch/min
5 line printing
View All
Know your gear
Designed by industry professionals for industry professionals, the PT-E300 is the P-touch EDGE family of industrial handheld labeling tools, created to help inspire labeling. Brother started from the drawing board so the PT-E300 is built right the first time for the contractor or IT professional. Brother paid close attention to details and developed smart and intuitive features that will help the PT-E300 conform to work flow processes for virtually any size job.

Starting with the industrial design, the PT-E300 is comfortable to use with the large backlit LCD display, QWERTY style keyboard and the secure grip feature for one or two handed operation.

The most outstanding feature is that the PT-E300 is designed to be just picked up, press a few keys and then print the right looking label. Brother helps you master using the PT-E300 virtually without reading a manual or going through a learning curve. Smart label application keys help you navigate and input a few simple layout parameters for each labeling application to custom fit almost any size cable/fiber/wire, faceplate, patch panel, punch block or other industrial applications.

The PT-E300 uses Brother HGe tapes that come in an easy to load, drop in cartridge which contains all the necessary components within the cartridge to print a laminated label. Using laminating thermal transfer printing engine with smart sensing technology, the labeling system will make automatic imaging settings that helps print a near perfect laminated label every time - including the ability to produce UL recognized labels that withstand fading, abrasion, extreme temperatures, harsh chemicals and moisture.

The contractor's work represents the best in service, quality and performance. Labels are seen as a thumbprint of professionalism and the PT-E300 helps make their work look as good as it performs.