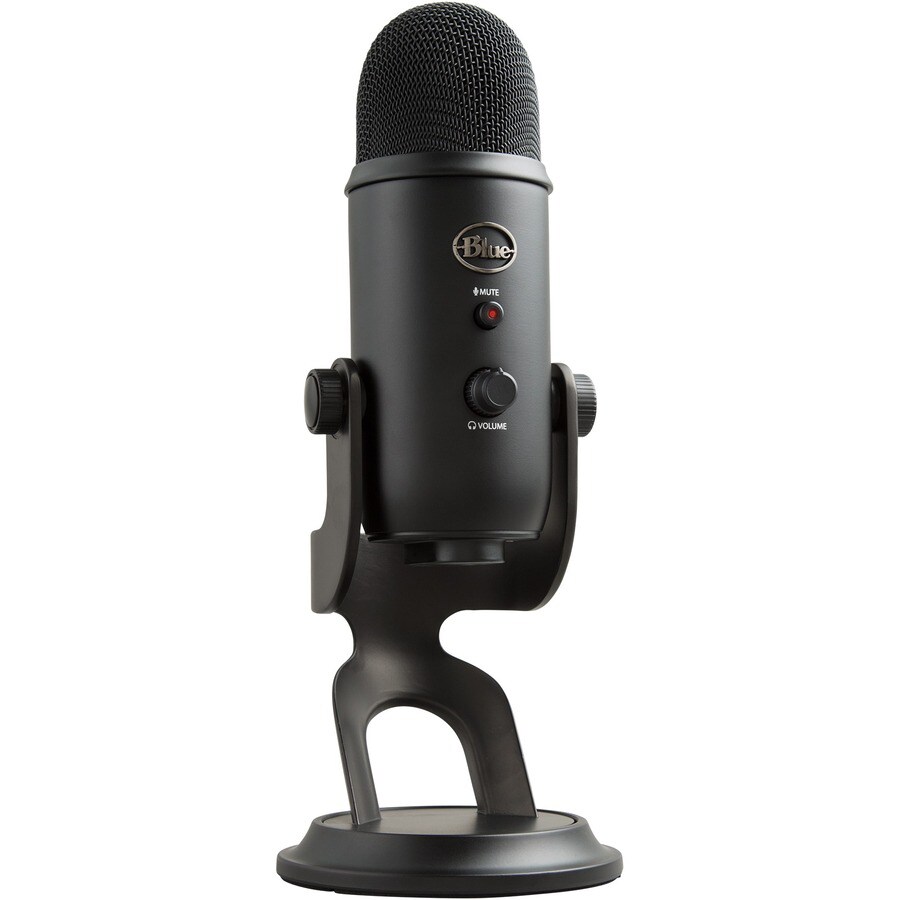 Quick tech specs
Color: Blackout
Tri-Capsule Array
Unique Positionable Design
Power Consumption: 5V 150mA
Compatible with Ma
Multiple Pattern Selection
Polar Patterns: Cardioid,Bidirectional,O- mnidirectional,Stereo
Plug 'n play
Bit Rate: 16-Bit
View All
Know your gear
Create unparalleled recordings with your computer using the Blue Yeti USB Microphone. Its tri-capsule technology helps produce pristine, studio-quality recordings with legendary ease. Four different pattern settings offer incredible flexibility so you can record vocals for music, podcasts, Twitch streaming, YouTube videos and more. This microphone comes with a unique positionable design for flexibility and ease of use.
Blue Yeti Tri-Capsule USB Microphone - Blackout
is rated
4.70
out of
5
by
31
.
Rated

5

out of

5
by
Kimmie02
from
Very easy to use!
This is a great starter microphone for someone looking to do voice over work or construct your own videos. I needed one for my product review blogs, and this was very simple to use with great results. I recommend playing around with the different settings because you may find a sound better than you imagined. The base is super sturdy and it takes up a little room, but I prefer it to a flimsier option. I like a solid piece of equipment. Tone and clarity really impressed me. I would recommend this to beginners and those who have experience alike, there is something appealing for all.
Date published: 2020-06-30T00:00:00-04:00
Rated

5

out of

5
by
Hotdiva411
from
This Microphone Rocks!!!
The Yeti Blackout Microphone is awesome! The setup is a breeze straight from the box and it's so easy to use. I really like how sturdy it is and the professional look it gives it. I also like the different pattern options It has allowing me to choose the one I need. I use it for streaming and for recordings and the sound quality is phenomenal. Everything I have recorded has been so clear without any background noise or static sounds. I am so pleased with this microphone and would definitely recommend it to anyone who wants to start recording.
Date published: 2020-06-27T00:00:00-04:00
Rated

5

out of

5
by
kvoice
from
Easy Setup and Fantastic Sound
I found the Blue Yeti microphone super easy setup — just plug into to USB and adjust the input/output settings on the Mac to get going. The recorded sound is crisp and clear. Although my use was just one-way, I find the two-sided and conference room inputs to be very nice features that worked exactly as I expected them to. This a great mic for getting started with a podcasting setup.
Date published: 2020-07-25T00:00:00-04:00
Rated

5

out of

5
by
Dr. Phil
from
Exactly What You're Looking For
Since COVID required moving all of my classes online, I decided to learn how to create lecture videos. My first feeble attempts sounded awful with the built in mic that's on my work laptop. So, I decided to order a real one. Enter the Blue Yeti. I can honestly say that this mic makes the world of difference, and I now can't imagine using anything else. Trust me. If you're in the market for a mic, you really can't go wrong with this one.
Date published: 2020-05-28T00:00:00-04:00
Rated

5

out of

5
by
GDad
from
Excellent sound quality
I record live demo's and presentations and the sound quality using either computer speakers or even an expensive headset made for video presentations is nothing compared to the Blue Microphones Yeti microphone. It is far superior when it comes to he audio coming through crisp and clear without end ambient noise. Not only does it help during live video but also with the playback. The audio comes through clear and I have received many compliments on how professional my presentations and demo's come through and how professional they come across. I would recommend this microphone to anyone looking to increase the quality of their presentations or recordings.
Date published: 2020-07-09T00:00:00-04:00
Rated

5

out of

5
by
CresantM
from
null
have never used a microphone before but this definitely has to be top quality! The Yeti USB Multi-Pattern Condenser Microphone sound is amazing. It was extremely easy to set up using my computer and I have had a blast using it! Everybody in my family has been using it. I have enjoyed using the different functions. I may or may not have acted like I was a radio show host in my kitchen lol. You just can't help yourself with this microphone. It is just too cool.
Date published: 2020-07-02T00:00:00-04:00
Rated

5

out of

5
by
null
from
The Perfect all around USB Microphone
The Blue Yeti is a great well rounded microphone across all recording needs. From podcasting to streaming to home studio music recording the Blue Yeti offers solid quality recording without breaking the bank. Using a simple USB plug-and-play set up and an included desk stand, the microphone doesn't require any additional equipment or software, which makes it an affordable option for a high-quality audio mic. If you are looking for a simple setup to record your podcasts, you may want to pair the Riverside online recording platform with a USB mic like Blue Yeti.
Date published: 2021-11-11T09:41:15-05:00
Rated

5

out of

5
by
JGwentDell
from
Don't wait, it's worth the price!!
I was very impressed with the overall quality of this microphone. The sound quality is great and setup was fast and easy. Great mic for the price!!
Date published: 2023-08-28T00:00:00-04:00
Rated

5

out of

5
by
Earl
from
Straight up AWESOME
I love this microphone, it looks super sleek, sounds excellent, and is so simple to use. You will not be disappointed. Its great for podcasts, music, zoom calls ... really anything that needs a microphone.
Date published: 2021-04-28T00:00:00-04:00
Rated

5

out of

5
by
Estherp
from
Epic sounds
I always wanted to record a song but was never able to since I had no microphone. I just started to use this to record my new song and absolutely love how the sound comes out. So loud and so real it's amazing. I can now proudly share my music. I highly highly recommend this for anyone who loves to sing or for anything else! Great product!!
Date published: 2021-05-02T00:00:00-04:00
Rated

5

out of

5
by
Luke
from
Not Happy
It does not work with this Dell Desk Top at Tis moment. It might be the cause to the computer crashing Dell Tech are working on the problem.
Date published: 2021-07-03T00:00:00-04:00
Rated

5

out of

5
by
PolyAmn742
from
Amazing!!!!
I love everything about this Blue Microphone Yeti Multi-Pattern Condenser Microphone -USB - Desktop Stand. It's the best one that I have ever had or tried out. It even comes in a very cool box! 4 settings and Infinite possibilities! It's the most advanced and versatile. Buy one. You won't be disappointed. I highly recommend this one to everyone.
Date published: 2021-04-28T00:00:00-04:00
Rated

5

out of

5
by
Sandro
from
Amazing quality
I've been steaming on twitch for a couple of years now and I've gone through my fair share of equipment. This is my favorite mic so far. It was super easy to set up and the sound quality is the best I've heard so far. I would recommend it to anyone who cares about getting premium sound.
Date published: 2021-05-03T00:00:00-04:00
Rated

5

out of

5
by
Angela h
from
Love it
beautiful, HAPPY TO HAVE IT
Date published: 2021-03-31T00:00:00-04:00
Rated

5

out of

5
by
Matat
from
Amazing sound quality.
I bought this microphone to use it on my podcast as well as playing video games with and it works so amazingly. The clarity of the sound is great. It is very easy to set up and the stand that it comes with sits great on my desk. Highly recommend at this price point.
Date published: 2021-04-26T00:00:00-04:00
Rated

5

out of

5
by
Laura12345
from
Great Sound
If you are looking for a great USB microphone this is my favorite one. It feels solid, and sounds great, I love every feature of this microphone. Don't underestimate its size, it is definitely a Yeti. You don't have to speak directly into the microphone. There are adjustments that can change where the direction of the sound is recorded from. You can change the Gain on the mic itself, which is another added bonus.
Date published: 2021-05-03T00:00:00-04:00
Rated

5

out of

5
by
Kwill57
from
Wonderful
My brother and I have started a new pod cast. The microphone works much better than I have expected. Clearly picks up and delivers fluidly. I was able to set it up quickly and easily. The instructions were clear and easy to understand. The microphone has some weight to it and it is bigger than a soda bottle.
Date published: 2021-05-08T00:00:00-04:00
Rated

5

out of

5
by
MadDawg
from
Awesome
Coolios Julios
Date published: 2022-02-22T00:00:00-05:00
Rated

5

out of

5
by
Carrie
from
Great quality
This was a gift for my husband. He is really impressed with the quality of the mic and says it works great, his gaming buddies have said that he sounds good and clearly.
Date published: 2021-12-16T00:00:00-05:00
Rated

5

out of

5
by
resolved_saucer
from
Great podcast level microphone
This microphone has numerous settings to cope with any particular style recording format you might need. There are four patterns to choose from just be mindful of what each one does to maximize the quality of your recording. Cordial is the one you want (looks like an upside-down heart as this will record only from a single direction directly in from of the microphone. This really should have included a pop filter but those care quite cheap to get. You do not need to buy Yeti branded accessories as the threads are universal to most brands. A cheaper alternative for boom arm etc. would be the Elgato line. The best way to use this microphone with cordial setting is the place it within 8 inches of your mouth around 45 degrees off-center from you while keeping the direction of the front of the device facing your mouth. This will pick up the voice clearly without catching all your "P"s. As this is directional you will want to speak to the side of the microphone NOT on top like stand-up comedians do as it will not pick up your voice. I'm a newbie to this sort of thing so I had to search through YouTube to find best practices. The instructions should have been a little clearer in the box but are a little cryptic at best. That's the reason for the 1-star downgrade. It's great, don't worry. A final note: don't kid yourself, this is bigger than the picture shows; it's also a little on the heavy side.
Date published: 2022-02-21T00:00:00-05:00
Rated

5

out of

5
by
BlackOmega
from
Great quality microphone!
As I have been working virtually for over six years the mic I have been using for Skype and MSTeams calls is seriously dated, so when I had the opportunity to try the Blue Microphones Yeti Multi-Pattern Condenser Microphone I didn't hesitate a moment and I was NOT disappointed. The sound is crisp and clear in both recordings and when I make/attend conference calls with the mic. That said lets get into it! In the box – First off the packaging setup was stellar, my box came with lots of handling damage but the Yeti mic was pristine and unscathed. Everything was foam padded with foam that was designed to hug the mic. Inside we have the microphone and stand, the USB cable, and the instructions. Setup/Use – As for assembly/setup there is really not much to it. The Yeti mic ships upside down in the stand and to deploy simply loosen the friction nuts on each side slightly, rotate the mic to an upright and vertical position then re-tighten. As for windows setup (I use Windows 10) it was simply plugging in the mic, and windows does the rest. The Yeti mic was installed automatically and was ready to use in literally two minutes. The mic has four sets of controls, a mute button and volume level control for the headphones on the front, with a gain control, and a pattern control on the back. You simply open the software you wish to use, set the appropriate pattern for your setup (I used Cardiod) and you're good to go. Speaking of patterns the Yeti mic can bet set for Cardioid, Bi-Directional, Stereo, and Omnidirectional. My final thoughts on the Blue Microphones Yeti are that this is a quality, well built mic, easy to setup and use, with amazing quality in any way you use it, whether it be calls, recording, or streaming!
Date published: 2021-04-28T00:00:00-04:00
Rated

5

out of

5
by
Brighton
from
Very big and very heavy
This thing is sooo huge and sooo heavy. It's not what I was expecting at all. I really couldn't tell a difference in the quality of the sound. Unfortunately, I was out of the country when it was delivered, and by the time I got back and unpackaged this, it was too late to return it. Now I'm stuck with it.
Date published: 2021-07-16T00:00:00-04:00
Rated

5

out of

5
by
Rich
from
A great BIG sound from a GREAT big microphone!
Whether you're recording a podcast, an interview, or a concert, the Yeti's THX-certified sound quality, integrated gain control, and four recording modes (including stereo make it a top choice for a USB microphone. The Yeti is one of the richest sounding, sonically flexible USB microphones money can buy. As a USB mic, there's no need to have a separate audio interface, meaning it can simply connect to a laptop or PC and start recording immediately. Thanks to its tri-capsule arrangement with four different pickup patterns, there is very little the Yeti cannot capture. In some ways, it's the ultimate point & shoot mic. As a condenser mic, the Yeti can record the nuances of speech very well, leaving little to no requirement for post-production. The Yeti mic looks very nice on its big stand but it also has a standard mic mount included on the bottom of the Yeti if you don't want it just sitting on its stand on a desk.
Date published: 2021-05-08T00:00:00-04:00
Rated

5

out of

5
by
Kelloggs1972
from
I love it
I love this microphone, it's perfect. It fits perfect on a microphone stand or you can let it stand on it's on. It's really easy to install. It's perfect & you can use it for anything, I do use this for my music.
Date published: 2021-05-01T00:00:00-04:00
Rated

5

out of

5
by
Jose
from
bet buying of this year....
Beautiful design and excellence performance.
Date published: 2022-10-19T00:00:00-04:00
Rated

5

out of

5
by
VZ
from
An Excellent Microphone
I did a lot of research before I settled on this microphone. All of the YouTube reviews were accurate in that this is an excellent product. It's very easy to set up, just plug it in. It shows up right away as an audio option if you're using a streaming platform and you want to select your device. I highly recommend it.
Date published: 2021-02-13T00:00:00-05:00
Rated

5

out of

5
by
null
from
Very good product, has great playback quality and noise cancelation
Sound quality and noise cancelation are very good.
Date published: 2021-04-21T16:37:55-04:00
Rated

5

out of

5
by
JP
from
Perfect entry-level, multi-use USB microphone
High quality USB microphone. Great for recording podcasts, voice-overs, and/or use in delivering webinars. Multiple settings allow single, direct capture or use in a group setting. There is a reason this product makes it onto many "best of" lists, and I can recommend this as a perfect entry-level, multi-use microphone.
Date published: 2021-03-01T00:00:00-05:00
Rated

5

out of

5
by
Rob B.
from
Microphone Monster - that is Yeti
Excellent for classes and gameplay
Date published: 2023-08-15T00:00:00-04:00
Rated

5

out of

5
by
Follymk
from
H&A Tax Services
Great product and very solid than regular junk in stores.
Date published: 2023-03-29T00:00:00-04:00
Rated

5

out of

5
by
Dragon
from
Get this one!
Boxed well. Arrived early. Nice!
Date published: 2023-04-26T00:00:00-04:00