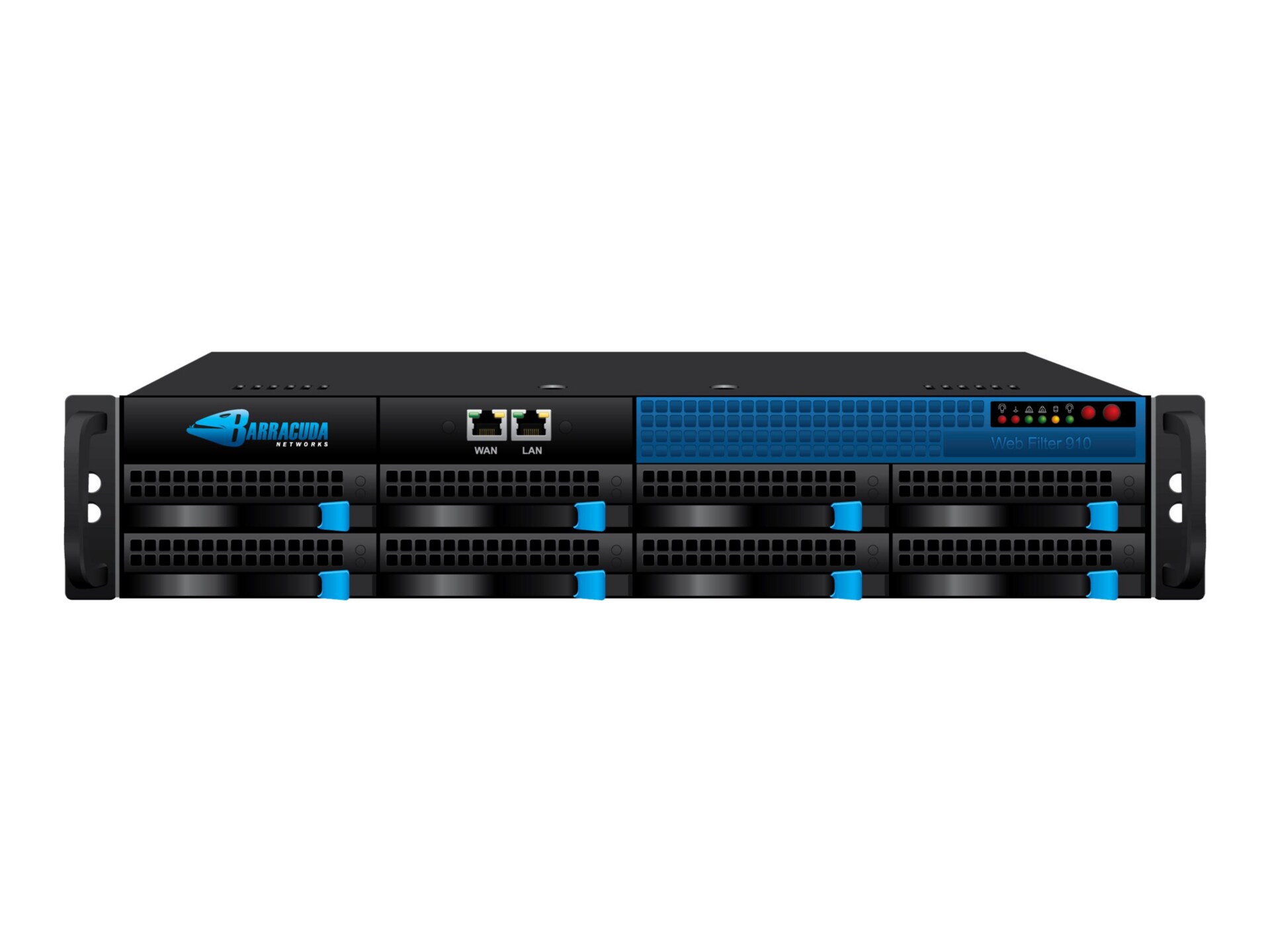 Quick tech specs
An integrated hardware/software solution that analyzes both inbound and outbound email traffic
viruses
filtering it for spam
spoofing and phishing attacks. NO PER USER LICENSE FEES.
View All
Contact Sales Assistance
(800) 800-4239
,
Monday-Friday 7am-7:30pm CT
Barracuda Web Filter 910 with 1yr Energize Updates Subscription
is rated
4.00
out of
5
by
2
.
Rated

5

out of

5
by
it_user186732
from
With the granular control we can block strategically. WAN optimization with bigger disk space would be an improvement.
Valuable FeaturesI would have to say for the Web Filter, the best features for me are the application control, content filtering and the ease of use configurations. This helped because we needed to use of all of these in order to provide a secure solution against application threats and web content threats and we could configure the appliance to do this easily.Improvements to My OrganizationA good example would be that we needed anti malware and content filtering along with bandwidth management, the Barracuda solution helped me to consolidate this and optimize our network. We also found that with the granular control we could block things strategically and allow administrators to optimize our bandwidth usage. The Barracuda solution has improved the way we function by consolidating threat management and network optimization in one standalone appliance.Room for ImprovementIt's extremely difficult to say what improvements are needed as everything we needed we could get. I think if they had a product that could allow for more WAN optimization with bigger disk space, it would definitely help. At the moment we use steel-head technology in a different appliance and if we could get the same performance from a Barracuda then we would use that. At the moment that's all that I can think of.Use of SolutionI have used Barracuda Web Filters 310 to higher models.for about for roughly three years now and have had clients that have been using it for more than eight years. I definitely see myself servicing more clients with this solution.Deployment IssuesWe haven't really experienced any business critical issues with the product, however, we have had minor issues with deployment in the past. It was our first time implementing a solution as such and after that we not have the issues again. There are times where we make changes to our network and come across new issues but they are all minor and with a bit of reading we manage to resolve them quickly.Stability IssuesNot at all. For what we use it for it seems very stable.Scalability IssuesNot at all. We find the product very scalable especially with Virtualization.Customer Service and Technical SupportCustomer Service: With the level of customer service from Barracuda I would rate them an 8/10. We find them polite and helpful, however you do wait quite a while to speak to someone.Technical Support: The level of technical support is great when needed. We have used it a few times when doing migrations and data center moves and we always speak to experienced people that help us gain knowledge in new issues that we come across. I can gladly say that there has not been one question that they have not been able to answer.Previous SolutionsWe did not use other solutions before, however, when we decided to implement a solution like this we did test a couple of other solutions and we chose the one best suited for our environment and that was the Barracuda product.Initial SetupThe initial setup was straight forward, and it took us very little time to do so, and we minimized the downtime needed for the setup. It has a basic GUI that we could easily find our way around and there are a number of setup wizards and prompts that assist you when beginning the setup. The great thing was that we could do our setup and configurations while the appliance was in demo mode. This meant that if it took us a long time to setup and configure, the license would only be activated when we had completed the setup and everything is running smoothly. This way we were not paying for the license when the device is non-functional.Implementation TeamWe have a team of highly skilled in-house engineers who made the attempt of doing the installation themselves and it was a success. We needed minor technical support but we had this directly from Barracuda and they assisted us very well. Their expertise were great.ROIIt is difficult for me to give exact numbers but it's estimated at a 43% saving annually.Pricing, Setup Cost and LicensingInclusive of two (along with the Load Balancers) of the high end appliances our total was around US$21,000. Day to day it averages about US$5,000 calculated annually. This number is not an exact figure but merely a rough estimation.Other Solutions ConsideredWe did, we looked at SonicWall and Aventail we also looked at cloud based content filtering. They are all very good solutions but the Barracuda solution saved us the most money and we could achieve the efficiency we needed that stayed within our budget.Other AdviceThe technology keeps changing and there are newer products coming out all the time, it's very difficult to stay at the top for a long time.I would recommend that you get a POC and test it. This was the best way for us to answer all the unsure questions that we had. I would definitely look at the features of other solutions when comparing, we found that some other solutions have more features but we didn't need to use those features and the cost of those solutions were more expensive due to the extra features so if you not going to use them why pay for them? Make sure you test, and compare apples with apples.Disclaimer: I am a real user, and this review is based on my own experience and opinions.
Date published: 2015-01-31T00:00:00-05:00
Rated

5

out of

5
by
BrianRogalski
from
Easy to use for whitelisting or blocking a web address but won't scale to our new platform
What is our primary use case?We're using it for web filtering and blocking of sites that we don't want to allow traffic to.For the most part, it's working okay.How has it helped my organization?It's the ease of use in either blocking or whitelisting a web address. That is the plus.What is most valuable?The ease of use. It's pretty easy to use and navigate the UI.What needs improvement?Our problem is that it's a virtual appliance and we're moving to a new platform and, for whatever reason, we can't move it as it is. That's why we are looking for a different option. When we were migrating our virtual machines from the old to the new system, we determined rather quickly that it wouldn't migrate over.What do I think about the stability of the solution?Relatively, the stability is pretty good, as far as our history goes.What do I think about the scalability of the solution?The problem lies in the fact that it's not able to be moved to our new system and the Barracuda engineers couldn't figure it out either. It's definitely a flaw in design there.How is customer service and technical support?We were in touch with tech support in our attempts to move Barracuda to our new platform, unsuccessfully. I would rate technical support at six out of 10. If they're not able to help us get their product over to a new platform, that's not very good. It's a little bit frustrating.How was the initial setup?I inherited it without any documentation as to how it was set up, so that could be part of the problem.Which other solutions did I evaluate?I wasn't part of the evaluation process when Barracuda was chosen. However, in looking for a new solution, IT Central Station's report was the first documentation I pulled down to take a look and see what the top five solutions are. We're starting the process there to vet each and every one of them to see which solution might be the way to go.For me, the most important criterion when selecting a vendor is support, after the fact.What other advice do I have?The overall performance of the product is great. It's just the fact that we can't get the existing solution over to a new platform. The day-to-day operation is pretty easy, being able to whitelist, blacklist, etc. There is just this one sticking point.We ultimately may go with a newer variation or a cloud-based version of Barracuda, but right now we have an on-prem. That's our sticking point: Part of the team wants to keep it on-prem, and part of the team wants to put it in the cloud.I would rate Barracuda at seven out of 10, again because support, after the fact, was not able to migrate their product over to a new platform.Disclaimer: I am a real user, and this review is based on my own experience and opinions.
Date published: 2018-08-06T00:00:00-04:00