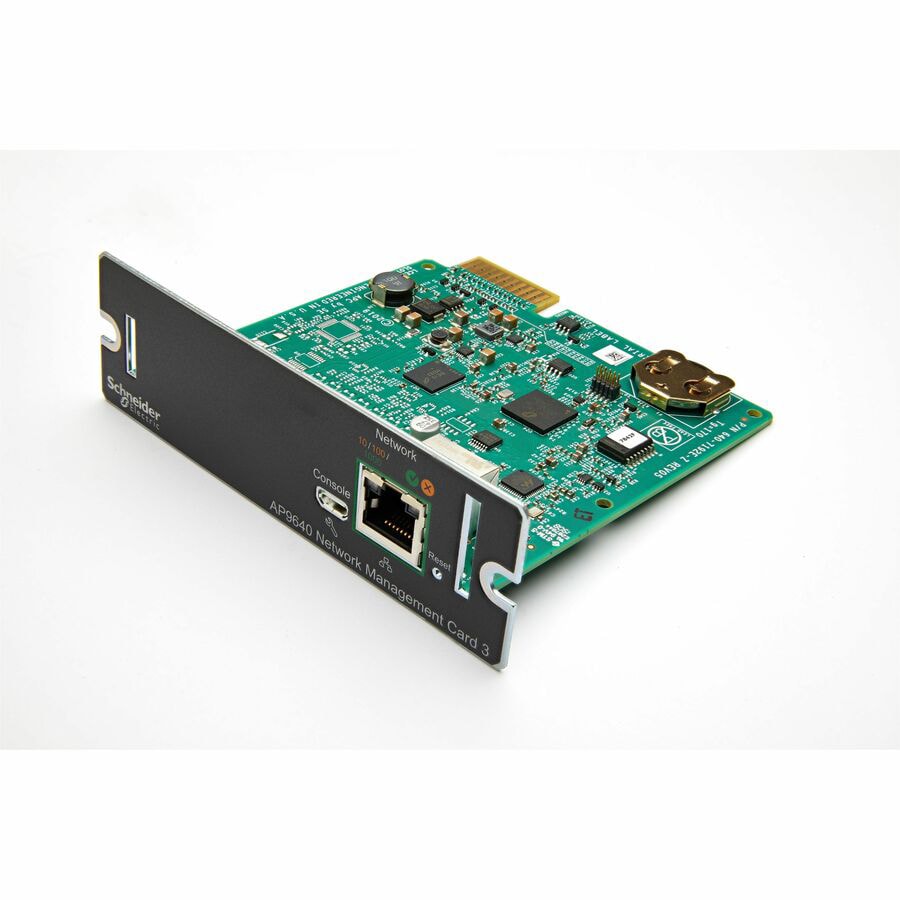 Quick tech specs
Allows for secure remote monitoring and control of an individual APC UPS
Connect via web browser or command line interface of SNMP
Included APC Powerchute™ Network Shutdown software provides graceful,unattended shutdown in the event of an extended power outage
Smart battery management (for APC SRT and SRTL models only)
Compatible with APC Smart-UPS with Smartslot
Easily configure proactive notifications
Data event logging
2-year APC warranty
View All
Know your gear
A Direct Connection to Your APC UPS
APC UPS Network Management Card 3 (NMC3) allows for secure remote monitoring and control of an individual APC UPS via a web browser, command line interface of SNMP. The configurable notification features keep you informed of problems as they occur.
Software Included with Scheduling
For protected servers, the included Powerchute™ Network Shutdown software provides graceful, unattended shutdown in the event of a power outage(certified Vmware Ready, Nutanix Ready, Nutanix-AHV Ready).
Advanced Security Features
Keep your sensitive data secure with the newest compliance offerings including stricter credentials and force password policy configurations, EAPoL (Extensible Authentication Protocol over LAN) architectureused in IEEE 802.1x port-based network access control, secure access SSH, HTTPS (TLS 1.2), secure email authentication, 3-tier user access, secure file transfer (SCP), 2048 bit encryption key support (SSH/web).
Updated Performance
A new processor, Low Cost Ethernet Solution (LCES) provides a faster, more powerful experience. 1Gigabit ethernet connection (RJ-45 10/100/1000 Base-T), RADIUS support for centralized user management, simultaneous multiple user logins.
Enhanced Storage and Ease-of-Use
Extended memory space to accommodate increased event and data log storage with 100x event log and data logs, pre-loaded multiple language support, and micro USB based console.
EcoStruxure™ IT Integration
Monitor and manage your equipment more efficiently. The vendor-neutral architecture delivers a new standard for proactive insights on critical assets of an IT environment.
Easily Enable Notifications
Be notified of problems ensuring crucial situations are dealt with in a timely manner.
Review Data and Event Logs
Identify problematic trends before they escalate or export logs for analysis. Pinpoint timing and sequence of events leading up to an incident with event log.
Network Management System (NMS) Compatible
Make device information available to your preferred NMS by forwarding SNMP traps (events) or polling across SNMP (v1/v2c/v3) using the PowerNet MIB.
Package Includes
Network Management Card, USB cable, User manual
APC UPS Network Management Card 3
is rated
4.90
out of
5
by
10
.
Rated

5

out of

5
by
reviewAPC
from
Does the job!
This works well and does the job in areas where environmental monitoring isn't' required.
Date published: 2020-02-24T00:00:00-05:00
Rated

5

out of

5
by
Jesus
from
Life Changing!
APC UPS Network Management Card was the best part of adding it to my APC battery backup! It was easy to sign in to the mobile app or online to view the status of my UPS. Easy to install and it makes my job way much easier!
Date published: 2023-06-28T00:00:00-04:00
Rated

5

out of

5
by
NickSD
from
Easy to Use
The network management card for the APC Smart-UPS SMT1500C is a game-changer. It seamlessly integrates into your network, allowing you to monitor and manage the UPS remotely. With real-time notifications and detailed performance data at your fingertips, it provides unmatched convenience and peace of mind. Setting it up is a breeze, and its user-friendly design makes remote monitoring a breeze. If you're looking for a UPS that not only protects your devices but also offers easy remote monitoring, the APC Smart-UPS SMT1500C with the network management card is the perfect choice.
Date published: 2023-06-04T00:00:00-04:00
Rated

5

out of

5
by
Rvwr
from
Seamless integration with the APC Smart UPS
I'll keep it succinct: the Network Management Card from APC works in tandem with your Smart UPS to facilitate real-time monitoring through the SmartConnect cloud service. No more being tethered to your desk, or other such nonsense. While this card won't benefit those who are using their devices locally, without an internet connection, it makes all the difference when needing to check in on a workspace that has less-than-consistent electricity. To make the most of your power supply and surge protection, you need this card.
Date published: 2023-06-29T00:00:00-04:00
Rated

5

out of

5
by
aclarkson
from
Easy to use line card
I never really understood the use of a network card in my APC. I decided to get one and I love how I know can get metrics and alerts on APC unit. Everything from power outages to what is being used I now have access too. Install and setup is very easy and there is next to no maintenance for it. If you are getting an APC this is am must have add on.
Date published: 2023-06-22T00:00:00-04:00
Rated

5

out of

5
by
DaveA
from
It Works
I use this management card with the APC 1500VA backup, and it does a good job. I run my home network through it, so when blackouts/brownouts occur, I can continue my job in my home office. Getting it setup took a little bit of time, but overall I am happy with it.
Date published: 2023-06-09T00:00:00-04:00
Rated

5

out of

5
by
Quirkymojo
from
Peace Of MIND
This Electric UPS Network Management card allows you to manage your APC UPS power profiles either through terminal, SSH, or Web Browser. The amount of customization in the NMC is very impressive. You can customize thresholds, alarms, and graceful shutdown of independent power bays. These features ensure that your equipment will be protected in even the worst power nightmares and will provide stable power during medium length power outages securiny safe shutdown of servers and high-end gaming rigs. I got this for my home office in tandem with the Smart UPS 1500va. We have chronic power grid issues due to city overexpansion with power outages almost weekly. This UPS system is providing solid protection and I plan on buying more to proof all of our gaming and networking gear.
Date published: 2023-06-28T00:00:00-04:00
Rated

5

out of

5
by
Vape_bob
from
Makes management of the UPS simple
I installed this card into my Smart 1500 APC UPS to make in-band network monitoring simple. You can get fairly granular with items or conditions you wish to monitor. Much more so than with just the standard network connection on the UPS itself.
Date published: 2023-06-05T00:00:00-04:00
Rated

5

out of

5
by
DerekB
from
Easy to install & use
I am using the APC UPS Network Management Card 3 in my APC Smart-UPS SMT1500C for remote management. It is plug and play so easy to install. The card helps to monitor and manage the UPS, sends notifications, controls shutdowns and has enhanced security features for data protection. So far the card is easy to operate and working well!
Date published: 2023-06-14T00:00:00-04:00
Rated

5

out of

5
by
Hanz34
from
Makes remote management easy
The network management card gets more statistics from your UPS and makes remote management a piece of cake. It complements a UPS unit. Make sure to completely turn off the unit before you install the card. Happy it supports 1Gb but it's probably not needed as the data rate is minimal. I wish it was a bit cheaper or integrated in the UPS.
Date published: 2023-06-02T00:00:00-04:00