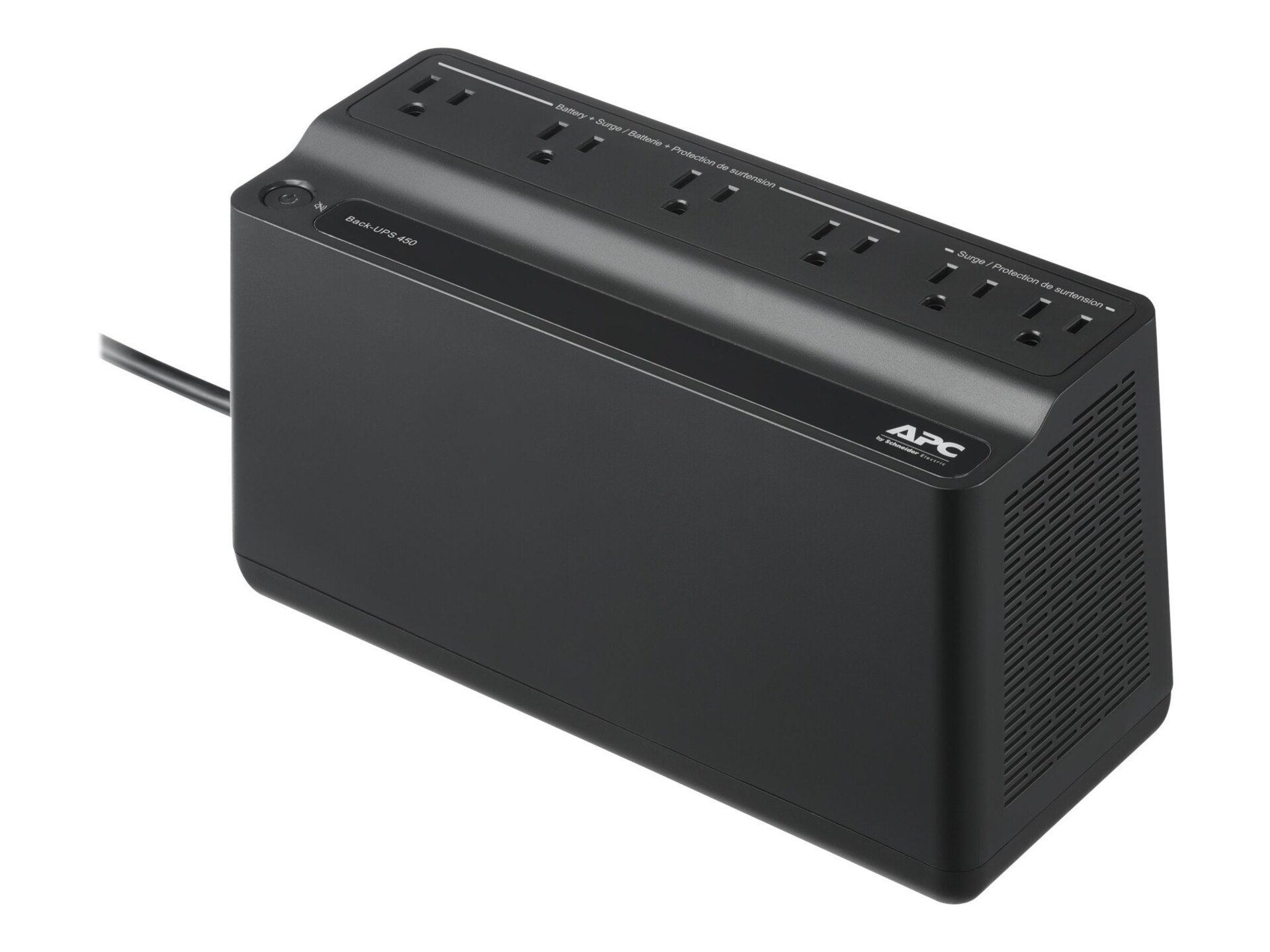 Quick tech specs
Audible alarms
Building Wiring Fault Indicator
LED Indicators
Provides notification of changing utility power and UPS power conditions
This LED informs users of potentially dangerous wiring problems in the wall circuit.
Provide easy-to-read status of the unit and utility power conditions.
View All
Know your gear
Capable of powering your wireless networking equipment for 2 plus hours after safely shutting down your PC or other high powered devices. 3-year warranty, $75,000 Equipment Protection Policy. Backup time at 180W load: 4.9 minutes, 460 VA/255 W. Features 6 surge-protected outlets (4 on backup).
APC by Schneider Electric Back-UPS 450VA UPS
is rated
4.48
out of
5
by
21
.
Rated

5

out of

5
by
Andretechno
from
Good
This is a good entry level ups. Great price but no usb port to manage it
Date published: 2018-08-29T00:00:00-04:00
Rated

5

out of

5
by
HappyCEO
from
Amazingly Light and Compact
Just received a new APC Back-up 450. We have used APC UPS units for over 20 years, and have always appreciated the quality and reliability of the products. The company is excellent for support too. We have not given this unit a long time of use but first impressions are that the unit is light for a backup unit, probably due to more efficient battery technology. We'll see how the unit fares over the longer term, but so far very pleased.
Date published: 2018-05-21T00:00:00-04:00
Rated

5

out of

5
by
JethroT
from
Serious entertainment protection
Unboxing is simple, no angry tearing – just pull and slip. The battery connection method is much improved over older models but pay attention to the black arrow as you pull out the plug or you could bend the prongs. Orientation of the outlets invites you to use the screw slots on the back to mount it on the wall. I will use it for my TV and associated equipment, mounted on the wall as I already have a black wall for the TV. There are enough plugs for TV, disc player, air antenna amp. My internet modem is in another location on an older APC. It is nice to have the TV through a storm with a short power outage. Rating is for 2.3 hours – I'll test it after it has charged. I tested having the TV on after unplugging the unit from the wall – lasted just over an hour then out. Is enough for watching through storms. Anything longer and a generator is called for. I would like to see is a wireless monitoring option but understand that the interface would increase the price. Overall, I have always trusted APC products and this one didn't change that perception. The size is tailored for average home entertainment and the wall mounting adds a nice option.
Date published: 2018-05-15T00:00:00-04:00
Rated

5

out of

5
by
MarineMike
from
One of the best purchases I made
great for the home or office highly reccomend this
Date published: 2017-10-23T00:00:00-04:00
Rated

5

out of

5
by
MT2020
from
A Great option for lighter loads
A great Back-UPS for lighter loads such as PCs, TVs, etc.
Date published: 2017-05-24T00:00:00-04:00
Rated

5

out of

5
by
Joshua
from
You Know You Need One When the Lights Go Out
This review is for the APC Back-UPS power supply, model BN450M. Available from numerous vendors like Amazon, Best Buy, Staples, or direct from APC for around $50, it represents the economy end of power supplies. In this case, "economy" does not mean poor performance but rather the amount of time your attached items (most likely a computer and its peripherals.) will continue to run when the power goes out. Depending on how much power (measured in watts) your computer and peripherals use, the BN450M can be expected to realistically provide between 2.5 and 15 minutes of run-time before its lead acid battery is depleted. Laptop computers use less power and will run longer than desktop computers and any computer in standby or sleep mode will use less than when actually in use, generally about 33% less. APC's web site provides an interactive graph (http://www.apc.com/products/runtimegraph/runtime_graph.cfm?base_sku=BN450M&chartSize=large) that will provide the projected run-times anywhere from 50 watts of usage (214.6 minutes) to 255 watts of usage (2.6 minutes.) In the real world, a full-sized desktop computer with a 22" LCD monitor, wireless router, and a cable or other high speed internet modem attached can be expected to require about 230 watts to operate and the interactive graph indicates the BN450M should provide 3.4 minutes of run-time before its battery is depleted. As the run-time numbers show, the BN450M is not intended to actually run a complete computer system and all its attached items for an extended length of time but rather to provide sufficient time to save your work and shut down the system without data loss. Not everyone will use the BN450M on a full computer system. If your goal, for example, is to supply back-up power to just a home networking system (router and modem) you should expect nearly two hours of back-up run time. The unit itself is very compact, about 10"x4"x6" (LxWxH) and weighs about 6 pounds. It is meant to stand with its six outlets facing up. Four of the outlets connect with the battery and the remaining two act as surge protection only outlets. The outlets are spaced sufficiently far apart so that most power bricks plugged into one outlet will not block the adjacent outlet. When set up in my house, I use all six outlets: the computer with monitor plugged into it, wireless router, cable modem, and the wireless hook-up for my swimming pool controller occupy the back-up outlets while my printer and Verizon network extender occupy the surge protection only outlets. Using the included template as a guide, I mounted the 450M to the wall behind my work desk, one mounting screw into a wall stud and the other using a molly. Easy peasy. Because the BN450M has no LCD display, it depends on LED lights and audible beeps to tell you what's going on. The included user manual explains everything in easily understood detail, but you do need to have it in hand should you wish to change any of the default settings or to interpret what has happened when, for instance, the battery reaches a low voltage state (the power button LED flashes green in rapid succession.) However, the BN450M can be considered plug-and-play using the default settings which should satisfy most users. The one change I made to the default settings was to add audible beeps to the flashing green power button when the BN450M is supplying power to my system. I definitely needed the manual to accomplish this. A nice feature of the BN450M is its ability to detect a Building Wiring Fault (a red LED next to the power cord will illuminate) which can indicate an overloaded neutral wire (>5 volts measured between neutral and ground) or reversed polarity (hot and neutral wires are reversed) or a missing ground wire. Obviously, any of these conditions should be corrected before using the BN450M. I was able to give the BN450M a real world workout at our vacation cabin which has its electricity provided by an old and tired generator which suffers from frequent brown outs. I installed a full sized Dell Optiplex desktop, a 22" LCD monitor, wireless router, and a cable modem to a fully charged right out-of-the-box BN450M. I was able to "force" brown outs by simultaneously running my wife's hair dryer and an 8K BTU air conditioner. I know from experience this will drive voltage down to less then 90 Vac. The default low side setting for the BN450M is 92 Vac and sure enough the button's LED began to flash green every 2 seconds indicating it was supplying power to my system. There was an audible click from the BN450M as it seamlessly switched over. I left the system running on the BN450M's battery for a about 2.5.minutes which would have been enough time to save and shutdown the system, after which I turned off the air conditioner. There was an audible click from the unit and the flashing green LED went back to solid green indicating the low voltage condition was gone and my system was no longer running on the back-up BN450M. I conducted this test three times with the same success. For the third test, I changed the default settings so the BN450M would beep four times every 30 seconds when it was supplying power to the system. Making this change was one of those instances where I definitely needed the manual. I'm not sure how long it took for the unit to regain its full capacity after my tests. The user manual says 8 hours from the low battery warning (the initial, one time, out-of-the-box charge time is more like 20 hours) but I never got to a low battery condition which by default is indicated by a rapidly flashing green LED on the power button and two aubible beeps every 30 seconds. The manual refers to this default setting as Quiet Alarm mode. As previously mentioned, I changed the default settings to include the four audible beeps every 30 seconds when on battery power. Included with this change is a low battery audible warning which is a beep every ½ second, referred to as Full Alarm mode. Included with Full Alarm Mode is a feature where as the low battery continues to deplete, the audible beeps will change to one every 4 seconds indicating full shutdown in 32 seconds. I prefer Full Alarm Mode. According to the user manual, you can expect 3-5 years of use depending primarily on how many discharge cycles the battery undergoes. Also, as with any lead-acid battery system, you can expect run-times to decrease as the battery ages. The battery is not replaceable but during the 3 year warranty period, APC will the replace BN450M with a reconditioned unit. Return shipping of the old unit is on your dime and APC will ship the replacement upon receipt of the old unit or will ship the replacement immediately if you provide them with a credit card number which will be used only if you fail to return the old unit. The two surge protection only slots will continue to function with a dead back-up battery or with the BN450M turned off but plugged into a wall outlet. There are some nits for me to pick. The involved process of changing the default settings on the BN450M, due I'm sure to its lack of an LCD panel and the need to keep costs down, is not intuitive and while the user manual walks you through it, you still need to have it in hand. APC does provide good on-line videos which also walk you through the procedures. Also, interpreting the different beeps and LED flashes will, at least initially, require the manual. My solution was to put the user manual between the wall and the mounted BN450M so that the manual is easily accessible. Lastly and more of a product suggestion is due to the fact that the outlets face up there is the risk of dust and other debris accumulating in the any unused ports. It would be nice if the unit included a couple inexpensive plastic "plugs" to cover the unused ports. None of the above nits are deal killers. The peace of mind knowing that if the power goes out in the middle of working at your computer, you'll have sufficient time to save everything and shut down is important to me. If you've ever experienced a power failure in the middle of working at your computer, you know exactly what I mean. Power failures are more a question of when rather the if. As a small business or home computer user, the APC BN450M provides you with the security of knowing you won't lose any work and does this at a very affordable price.
Date published: 2018-05-19T00:00:00-04:00
Rated

5

out of

5
by
Richie
from
Have deployed many of these
Have deployed many of these in audio/visual environments. Salad for the price but could be more competitive pricewise.
Date published: 2017-05-05T00:00:00-04:00
Rated

5

out of

5
by
Gatorman
from
Excellent start!
Unit arrived well-packed. Good start up directions and provided power during one 5 minute (self-generated) power outage. Haven't had a genuine power outage yet, so haven't had a potential surge to evaluate. Size of unit and location of outlets make it very usable.
Date published: 2018-05-08T00:00:00-04:00
Rated

5

out of

5
by
Schatzi
from
Great Purchase
Prompt shipment as always, the pros are it is easy to sit on a desk, or under a desk or mount on the wall. My use is for my laptop and/or my IPads. I can easily take it from office 1 to office 2 to living room, etc. this is a great purchase, I have used APC products since the first day they have been on the market, I can call when I need a battery and most of the time I upgrade, I have NEVER had a bad experience with APC products. The Con on this unit is when you plug in the battery terminals and you sit the unit on a flat surface the yellow terminal sticks out and it wobbles. Since I will move this from one location to the other I will not be mounting it on the wall. It will be sitting on or under a small computer desk or sitting next to where I have my IPads. This is the ONLY problem I am having, I do not like the wobble. It appears that it is either not going into the plug completely or the yellow plus is not flat enough. Other than that it is an A-1 product as always.
Date published: 2018-05-16T00:00:00-04:00
Rated

5

out of

5
by
Casey
from
EveryOne Needs This
Time is money, I can't afford to be out of power. It gives me Hours of Power During Storms and Blackouts.
Date published: 2017-10-06T00:00:00-04:00
Rated

5

out of

5
by
JeffG
from
Worked like a champ during storm
I have 2 units in my home. Power stayed on for over an hour for TV, modem and router. Other unit kept PC up and running with plenty of time for clean shutdown. Also has been helpful when power blips occur, no interruptions.
Date published: 2017-09-18T00:00:00-04:00
Rated

5

out of

5
by
64YrOldComputerNut
from
Very efficient for small loads
I have purchased more than four of these units, all of them are in service and none have failed. (I am using them with loads < 100 watts) Many of these small UPS units have abysmal on battery efficiency. (Less than 30%) This unit is significantly better than any other I have run the comparison of battery Minute/Watts to delivered Minute/Watts I LOVE that the beeper defaults to OFF. I dislike that there is a hard coded timer that will shut down the UPS regardless of battery at about 2.5 Hours. I ended up buying two of them thinking the first one was defective. I was shocked when they both shut down at exactly the same time with different loads.
Date published: 2018-05-01T00:00:00-04:00
Rated

5

out of

5
by
jose
from
APC Back-UPS, 6 Outlets, 450VA, 120V, Retail
great office product . works as advertised, trusted name for a reason
Date published: 2017-06-21T00:00:00-04:00
Rated

5

out of

5
by
Maximus
from
Preliminary review
I just received the unit yesterday and have it plugged in charging before I hook it up to any equipment. I will not be using it in my computer as I have a much better unit hooled up there BX1500G.I do have a a big issue with the unit so far. I would like to see a charging status bar (leds) with at least 5 bars to indicate charging status. Your system of having the power button flash different patterns to indicate status would reqiure going to the manual and looking up what certain flashings mean.. If iwas looking to purchase such an item ; I would pay more just for that feature alone. I would like to be able to look down at the unit and know how much charge is left (when power is off) and while it is charging: without going to a manul to decode it. will provide more feedback after I hook it up
Date published: 2018-05-09T00:00:00-04:00
Rated

5

out of

5
by
TXPowerUser
from
APC has a winner here
This is a nice little UPS. It's solidly built, quiet and lightweight. I tested it with a Dell OptiPlex 3020 SFF personal computer and a Dell 24" monitor. It lasted 41 minutes and 38 seconds on a fully charged battery. I would definitely recommend it.
Date published: 2018-05-14T00:00:00-04:00
Rated

5

out of

5
by
JohnC
from
Batt. not replaceable
As a back up UPS it works fine, but buyers should be aware batt is not user-replaceable. Not disclosed
Date published: 2017-11-24T00:00:00-05:00
Rated

5

out of

5
by
Granny
from
Compact UPS
Received this UPS free as a product sample. It replaced a large and heavy APC UPS used for my smart TV, DVR and DVD player. A few features that are important to me, as an off-grid homeowner - are the Sensitivity Mode and the adaption to Power Cycling. The latter will likely happen when my backup generator comes on when the solar system (due to days of foul weather) can't provide the household electricity. Haven't had a power failure since setting up this UPS. But I am confident that it will do the job when called upon.
Date published: 2018-05-11T00:00:00-04:00
Rated

5

out of

5
by
Steve
from
Perfect for the "small things"
This UPS from APC if just the right size for some tight spaces. As an experiment, I plugged my home router/wifi into the fully-charged UPS and simulated a power outage. I was able to continue surfing the internet with my laptop for an additional 28 minutes. This is great for those minor power blimps. The size allows me to place this UPS in more confined locations that a tradition UPS would not fit. As a bonus, there are two mounting holes on the side which allowed me to mount it on the wall with two screws (not included). I am considering purchasing a couple more of these for various locations throughout the house that could use the protection of an ups without the bulky form-factor of most.
Date published: 2018-05-27T00:00:00-04:00
Rated

5

out of

5
by
e
from
Don't buy
The layout is very good. Unfortunately, this model doesn't work. We have purchased seven of the current model (with the molded battery connector on the bottom) and three of the previous model (the one where you have to remove the cover and attach the battery cable). The first three (prior model) worked just long enough for us to decide to purchase more, about a month. Then they started failing. The new model fails immediately within five minutes. The unit will beep once and the LED indicator on the power button will start short-flash-green-short-flash-green-long-flash-green and will shut down within 30 seconds. For no reason. Pathetic. We have relied on APC for over twenty years, we've decided we no longer can. Tripp-Lite maybe?
Date published: 2017-01-12T00:00:00-05:00
Rated

5

out of

5
by
Tray
from
Excellent Product
This product is very well designed and I believe it is very reliable. APC has always designed the best.
Date published: 2018-05-21T00:00:00-04:00
Rated

5

out of

5
by
Mitch
from
Home office
Bought for my home office and worked like a champ. Hooks up all my monitors, printers and PC into one easy-to-use unit.
Date published: 2017-04-11T00:00:00-04:00