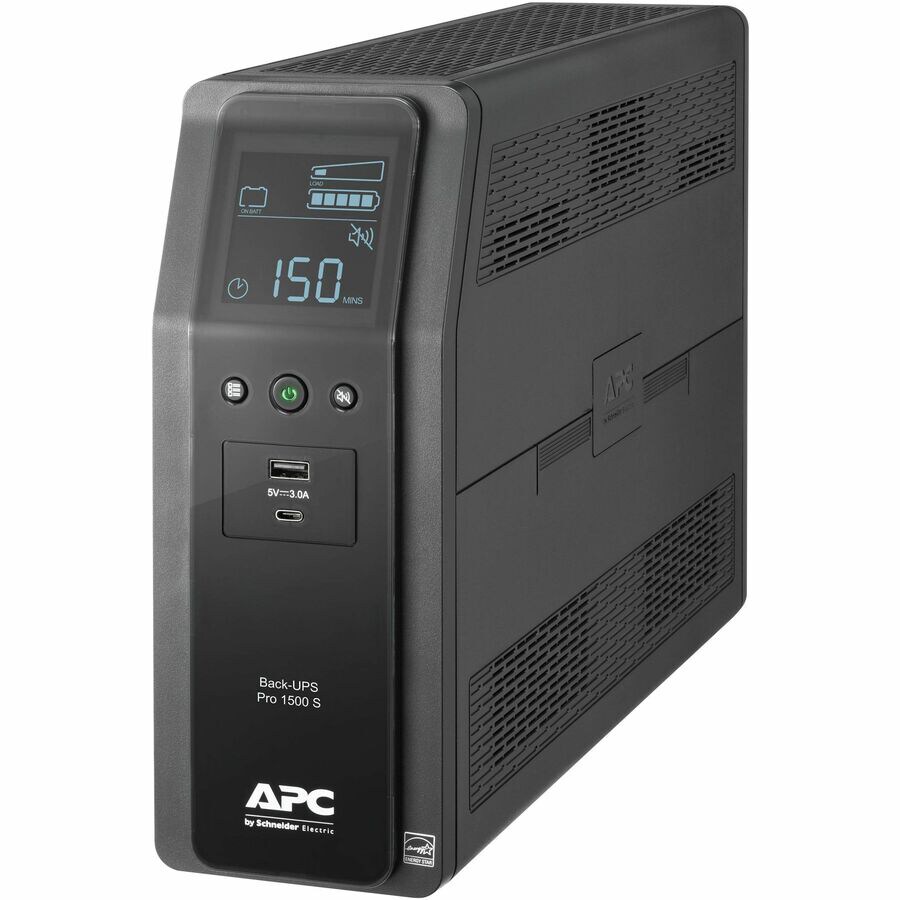 Quick tech specs
Premium battery backup and surge protection for computers,wireless networking devices,gaming consoles,TVs,POS and security devices
1500VA / 900W power capacity
2 USB charging ports (1 Type A,1 Type C)
Configure settings with angled LCD screen or included software
$250,000 lifetime equipment protection policy
Sinewave UPS for high-end electronics
10 Outlets (6 Battery Backup,4 Surge Protection only)
6' power cord
AVR corrects utility voltage
3-year APC warranty
View All
Know your gear
Stay Connected and Productive with APC Back-UPS Pro
Protect computers, wireless routers, IOT devices, and security systems with the APC Back-UPS Pro 1500VA. APC Back-UPS Pro provide premium backup battery power during power outages and continuously safeguard devices from fluctuating power conditions and surges.
Premium Power for Sensitive Electronics
This sinewave UPS is designed for high-performance PCS, gaming consoles and Smart TVs and is active FC compatible. Automatic Voltage Regulation (AVR) instantly corrects high/low voltage fluctuations so connected devices receive consistent power.
Consistent and Reliable Connectivity
With 10 outlets and 2 USB charging ports, this desktop UPS (uninterruptible power supply) provides seamless battery power to connected electronics. The 900w capacity is ideal for workstations and additional electronics, keeping you connected and productive during power fluctuations.
Charge Mobile Devices
Connect and charge mobile devices via the 2 USB port provides a maximum of 3.0A . 1 USB type-A and 1 USB type-C is included. The USB ports will provide power when the UPS is both on utility and battery power.
Easily Configure Settings
Use the three soft-touch buttons on the front to easily configure settings. Included PowerChute software is available to set up automatic graceful shutdown of a connected PC in the event of an extended power outage. Audible alarms provide notification of changing utility power and UPS conditions. Audible alarms can be muted.
Easy to Read LCD Display
The angled LCD Display provides details concerning power-load of connected devices, battery runtime based on connected devices, the power level of the battery and more.
Data Line Protection
2 RJ-45 data ports are in the back to protect DSL, modem or fax lines from potentially harmful power surges. 2 coaxial ports are also in the back of the UPS for additional protection.
Guaranteed Surge Protection
This computer backup offers lifetime guaranteed surge protection with a $250,000 equipment protection policy.
Package Contains
UPS, coaxial cable, USB cable, User manual
APC Back-UPS Pro 1500VA 10-Outlet/2-USB Battery Back-Up and Surge Protector
is rated
4.80
out of
5
by
30
.
Rated

5

out of

5
by
null
from
APC offers a great, reliable, category leading product in the APC Back-UPS Pro 1500VA
We purchased to replace 2 500VA Battery back up / Surge Protectors. So far it's proving to be a perfect solution! Great quality, at a great price point - as always with APC products, and great service from CDW!
Date published: 2021-12-23T12:01:33-05:00
Rated

5

out of

5
by
null
from
APC Is the best leading the industry
best ups for home or small business great for small server or desktop
Date published: 2021-09-01T17:12:52-04:00
Rated

5

out of

5
by
null
from
Great UPS
A UPS is like buying life insurance, you hope it is not used, and so far mine is still on vacation. I like the surge protection for not only my hardware but for my coax and ethernet. It has just the right wattage and backup time for my application. It is also takes less space and is a little lighter than most other UPS. I'm glad I bought it.
Date published: 2021-08-25T17:43:35-04:00
Rated

5

out of

5
by
Hank73
from
Consistent
I have used APC backups for years now and this one is just as reliable as the previous ones I have used. It is easy to get set up and running. Failover is flawless. I would expect it to be a little more wallet-friendly for the feature set but it isn't quite overpriced. There are more affordable options. It does the job well and can have a pretty decent load on it. All in all it's a solid addition to any office.
Date published: 2023-06-02T00:00:00-04:00
Rated

5

out of

5
by
Cats74
from
User replaceable battery and provides enough power
I used to have a different version of UPS battery backup but this one is an upgraded model that has much more features and power than my previous one. I love the fact that the battery is user removable/replaceable as eventually this part requires a replacement. UPS is an important equipment to protect electronics devices from power surge as this product regulates and stabilizes the power. It also provides power when there is no electricity for up to 6 hours. Additionally, it allows you to add an external battery pack to add more juice. This UPS has 900W or 1500VA capacity with 10 outlets, USB A/C, coaxial and gigabit data ports. I connected to the main router/modem and all of my audio systems /TV. When power is out, my internet will still be available. Make sure to connect the internal battery cable before the first use. It comes with a 3 years manufacturer warranty. This is one of the battery UPS backups that may last for a long time.
Date published: 2023-06-05T00:00:00-04:00
Rated

5

out of

5
by
Suzie
from
Great product
Very happy with purchase. Had electrical lighting strike that destroyed my tripplite ups/surge. Really did something to my computer and ethernet communication to my gallil. So this time I got a better one and it's perfect
Date published: 2023-09-04T00:00:00-04:00
Rated

5

out of

5
by
KyleH
from
Excellent UPS for home network setup!
I'm a computer enthusiast who runs a home server, NAS, and PoE networking gear for multiple APs and it's very important to me to have my computing gear stay online as much as possible because I self-host a lot of services, including my home automation system, Home Assistant. In particular, I don't want my NAS hard drives losing power suddenly in the middle of writes in case my home power flickers. I've been looking to upgrade my UPS for a while and was excited to get the opportunity to test out the APC Back-UPS Pro. I couldn't be happier with this UPS as an upgrade for my home network setup! The 1500VA capacity of the Back-UPS Pro is fantastic, which more than doubles my previous UPS's capacity. Not only that, it looks great under my desk and resembles a small desktop tower computer. I love the LCD display that shows information about power status, load and battery runtime time. It has 10 standard power connectors on the back, 5 of those connectors are battery backed, and the other 5 are surge protection only. I love that this UPS features AVR to smooth out voltage fluctuations to help my various power supplies last longer. I love that I can hook up this UPS to my Linux server via the included data cable and interface with Network UPS Tools (NUT) to customize power loss alerts and gracefully shutdown my entire infrastructure if it's been on battery power for too long. I wish I didn't have to special special cable to get this to work though. My absolute favorite part about this setup is that I can hook up NUT to Home Assistant and Grafana to graph my entire network's power usage over time! Overall, I'm super-happy with this UPS – It has tons of power ports, the LCD screen is very handy, it features AVR, and has a huge 1500VA capacity that should keep my system up and running for many minutes in the event of power failure. This is hands-down the best UPS I've ever owned!
Date published: 2023-05-30T00:00:00-04:00
Rated

5

out of

5
by
Jennkywilkailey
from
Sooo handy!
I have worked from home for 10+ years and live in the country so we lose power pretty often and when I don't have power or internet I of course can't work. I lose my progress and calls and all also. With this backup I can save my work and still have enough power and internet to notify my customer and management also. And then if it's not off for hours I have enough backup to continue working until it comes back on also. It's such a convenient thing to have for anyone but esp if you're working from home or even in general period it's awesome to have. And when you live in the country and lose power and internet often often like we do also. Super handy!
Date published: 2023-06-05T00:00:00-04:00
Rated

5

out of

5
by
pxsdaemon
from
Beefy Backup BR1500MS2
Purchased this unit to protect key computing devices, to include a Synology DS1520+. The total load, according to the APC front panel, is one bar. So, with the little equipment I have hooked up, this should run for quite awhile. However, on a test run (pulled the plug to simulate an outage), the unit drops from 78-minutes to 58-minutes runtime within 30-seconds and the battery monitor dropped from 5-bars to 3-bars in the same amount of time. This was quite surprising, given this is only hooked up to four devices and a minimal draw. I didn't let it go beyond a minute / minute and 1/2 as it seemed to settle at 58-minutes and I didn't want to needlessly cause long term drain on the battery. On a positive note, this interfaces beautifully with the Synology, it automatically alerted me, and was prepared to shutdown to preserve data. So, all things considered, the battery in the APC or it's suspiciously rapid drain makes me wary on how long this will hold out on standby, but it seems to work and given these facts I'd say worth a solid 4-stars. Could be better if the drain wasn't as bad, but pleasantly adequate.
Date published: 2021-02-09T00:00:00-05:00
Rated

5

out of

5
by
KrisFromKleveland
from
Works as intended
After hooking up all of my computer devices to this product and letting it run for over a well, I cut power to the outlet it was plugged in to and it work exactly as intended. I would recommend this to anyone who wants to stay online during a power outage.
Date published: 2023-06-07T00:00:00-04:00
Rated

5

out of

5
by
dlathem
from
Works Great!
I work in IT and work from home 100% of the time. I got this to power my equipment and it's been working fantastic. The USB port on the front is an added bonus and super convenient to keep my phone charged during the day. You can't go wrong with APC.
Date published: 2023-06-28T00:00:00-04:00
Rated

5

out of

5
by
Floridian
from
SUPERB
I've used a back-up for years but this is hands down my new favorite thanks to the combination of ease and features. The user replaced battery is a "must" for longer term use and the features, functions and other input/output configurations are perfect for either serious home use or small business, at home/remote work etc... Living in Florida and doing some remote work time to time means afternoon thunderstorms and power surges that can disrupt or cause the loss of hours of work - this provides instant coverage to support a collective save and shut down without worry. Ample ability to connect most electronics including computer, router, monitor/tv and more, simple visual display and intuitive connections.
Date published: 2023-06-04T00:00:00-04:00
Rated

5

out of

5
by
KarenA815
from
Easy to Setup!
This backup was so easy to set up! And it gives me piece of mind that when the power fails I can still open my garage door! And most importantly, work from home! No down time during storms when the power goes out, and that happen a lot in a Arkansas
Date published: 2023-06-06T00:00:00-04:00
Rated

5

out of

5
by
DevonB
from
Great backup!
We are using this in our living room as a battery backup. Everyone plays video games and works from home. This has been fantastic when those Georgia storms hit and knock out the power. No more losing progress in video games; no more missed opportunities to save work. We will be upgrading the rest in the house.
Date published: 2023-06-08T00:00:00-04:00
Rated

5

out of

5
by
adamzzz
from
Awesome product
This thing is a powerhouse and works extremely well. It has all the outlets you could need and does a great job persisting power supplies during outages with no downtime. The LCD screen is a really nice touch.
Date published: 2023-06-26T00:00:00-04:00
Rated

5

out of

5
by
Shanny
from
Great Backup Tower
I recently got the APC Back-UPS Pro, 1500VA/865W, Tower, and I must say it has exceeded my expectations. This UPS has become an essential part of my home office setup, providing reliable backup power and protection for my electronic devices. The tower design is sleek and fits perfectly into my workspace without taking up too much room. The LCD display on the front panel gives me all the necessary information about battery status and power levels, making it easy to keep track of its performance. With 10 NEMA 5-15R outlets, I can conveniently connect multiple devices at once. It's a relief to know that my desktop computer, gaming console, and other electronics are all protected during power outages and voltage fluctuations. The automatic voltage regulation (AVR) feature ensures a stable power supply, keeping my devices safe from harm. The inclusion of USB Type A + C ports is a thoughtful addition. I can charge my mobile devices or connect other USB-powered accessories without any hassle. It's a versatile feature that eliminates the need for extra adapters or cables. One standout feature is the user-replaceable battery. When it's time for a replacement, I can easily do it myself without requiring professional assistance. It saves me time and money while ensuring that my UPS remains operational and protecting my devices. I've been impressed by the performance of the APC Back-UPS Pro. During power outages, it keeps my devices running smoothly until power is restored or I can safely shut them down. It has provided me with peace of mind, preventing data loss and damage to my electronics on multiple occasions. In conclusion, its def worth the money and the peace of mind my stuff wouldn't be all messaged up
Date published: 2023-06-04T00:00:00-04:00
Rated

5

out of

5
by
ShaunH
from
Strong Battery life!
Plugged it multiple sources to this UPS; Computer/TV/Audio Receiver/Cable Modem. Since I didn't have a power outage to test, I pulled the power. This did not disappoint. No temporary power loss and maintained it's battery life as needed until I plugged it back in from a brief amount of time. Great alternative to a standard power strip, especially when you don't want interruptions.
Date published: 2023-06-06T00:00:00-04:00
Rated

5

out of

5
by
Teddy
from
Not all Battery/Surge outlets work
The top right battery/surge outlet had my wireless router plugged in because it was so long I didn't want to block other battery backup outlets, this way it only blocked the surge only outlets which I don't use. On the right the top outlet is labeled batter/surge and the rest on the right are surge only. I had two power outages and lost connectivity - I couldn't figure out why until I moved the wireless router to one of the outlets on the left. So this unit has issues in how the outlets are configured. I wanted to contact technical support but they are closed on the weekend and I work during the week.
Date published: 2023-04-22T00:00:00-04:00
Rated

5

out of

5
by
NMelo
from
Runtime
I have a cable modem, phone base, and NAS (Synology DS216j) plugged into it. I noticed the NAS causes the load to vary depending on CPU load, fan speed, etc. This may explain the runtime variations another reported. I would like to have some sort of network management to monitor the unit in more detail, as the USB interface is connected to the NAS, but at this price range I see as a great value.
Date published: 2021-03-10T00:00:00-05:00
Rated

5

out of

5
by
ozsplace
from
Love APC backups
I have been using APC backups for about 15 years and have never looked back. This is another great addition and is used in our living room setup. It does not last anywhere near as long as it is advertised for but that is to be expected based on load. We use it for cases that the power trips, so that we can shut everything down correctly and safely.
Date published: 2023-06-16T00:00:00-04:00
Rated

5

out of

5
by
odins dad
from
Perfect for home office
I got this product to help with power management of my home office. I have my essentials (internet, pc, monitors) plugged into the battery back up. This product offers many ports for additional equipment which is perfect. The size is minimum and no noise.
Date published: 2023-06-11T00:00:00-04:00
Rated

5

out of

5
by
BillMc2673
from
Unexpected UPS Failure
I have had this unit since mid-April and it has got the job done on two occasions, but tonight it tripped offline, and I can't for the life of me figure out why. The display indicates only 50% load as I write this review, but when it tripped my computer wasn't being used. I bought this device to prevent this from happening! Any ideas?
Date published: 2022-06-02T00:00:00-04:00
Rated

5

out of

5
by
JAVA510
from
Amazing Backup Power!
This backup power supply is awesome. It comes in at a hefty 27 lbs, but it is solid! It came with a systems check to show that all the components were in working order, which gave me a big vote of confidence in this item. There are plenty of plugs for my needs and it is the perfect solution to any kind of power outage, making sure that automated doors and other cameras are still up and running like we need them to. I'm very happy with it and I feel safe and secure knowing that if there is an issue with power, I'll be covered.
Date published: 2023-05-30T00:00:00-04:00
Rated

5

out of

5
by
Nunzio
from
Fantastic backul
I really love this system, as I've been looking for a backup to power my necessary appliances during any kind of storm. This gives us the ability to ensure our internet, refrigerator and other things stay on!
Date published: 2023-06-20T00:00:00-04:00
Rated

5

out of

5
by
Michel
from
Island Living
Where I live, we have many power outages. This UPS allows me plenty of time to finish what I am doing and shut down properly. An amazing product.
Date published: 2023-05-30T00:00:00-04:00
Rated

5

out of

5
by
Napa Bob
from
APC's Trade-UPS Program
I love the APC Trade-UPS Program. I was able to trade my non-functioning UPS units which were more than 10 years old for new APC UPS units at a discounted price. I saved a lot of money and promptly received new UPS units to use at my home. I love APC.
Date published: 2021-02-07T00:00:00-05:00
Rated

5

out of

5
by
Kgozur3
from
Amazing!
I am a huge tech person in need of this. So when I came across it I had to get it. This backup is a lifesaver for my computers during power outages. I no longer have to worry about losing my work or my computer frying. This gives my more than enough time to save and shut down. I highly recommend.
Date published: 2023-06-23T00:00:00-04:00
Rated

5

out of

5
by
Lojax2013
from
A must have if you are prone to power outages.
Some things you don't know you need until you have one, this is one of those things. A must have if you work from home, are a student or an avid gamer in an area prone to power outages. Can power your TV or even a desktop with internet connection as well for anywhere from 94 minutes on, depending on how many items are plugged in and needing the power. It's nice to have the backup even just temporarily to help you get anything you need done in the unfortunate event of an outage. Takes about 24 hours to get a full charge on the unit itself which is fine because the battery stays strong .
Date published: 2023-06-13T00:00:00-04:00
Rated

5

out of

5
by
Yestodtom
from
Best back up power tower
When we have power outages, which we get quite a lot in our area, electronics can get ruined with power surges. I've had that happen go me. I've decided to get this power tower to protect my electronics from getting damaged. Whenever we have power outages, internet goes out which makes me stop my work. With the tower, I can connect my modem to it and have uninterrupted internet service. When I am working and power goes out , everything goes out. With this power tower I can plug everything in and it can keep running for some time. Phones and tablets can get charged fully quickly as well as other battery operated electronics. The power tower comes with 10 outlets, automatic voltage regulator, USB Type A + C ports. The tower has clear LCD screen. Wonderful battery backup.
Date published: 2023-06-22T00:00:00-04:00
Rated

5

out of

5
by
DantheDad
from
Power Outage and Unsafe Voltage Levels Solved!
I got this APC Back-UPS Pro 1500VA/900W Tower to protect and provide battery backup for all of my office devices during thunderstorms and power outages and it works great! With 10x NEMA 5-15R outlets and USB Type A + C ports I'm able to plug all my devices in including 2 monitors, 2 laptops, 2 bluetooth headsets, wireless keyboard, cable modem, wifi router, and charging cords for cellphones, tablets, etc. And the other day when I did experience a power outage it did keep all the devices in my office up and running until power came back within a few hours. The LCD display also provided the handy battery backup level status I needed and I found it also had a "mute" button to disable the beeping that most units like these send out during outages that was very handy during my last power outage. With this Back-UPS Pro i'll never have to worry about power outages or unsafe voltage levels effecting any of my powered devices in my office ever again! Thank-you APC! 5 Stars!!
Date published: 2023-07-04T00:00:00-04:00