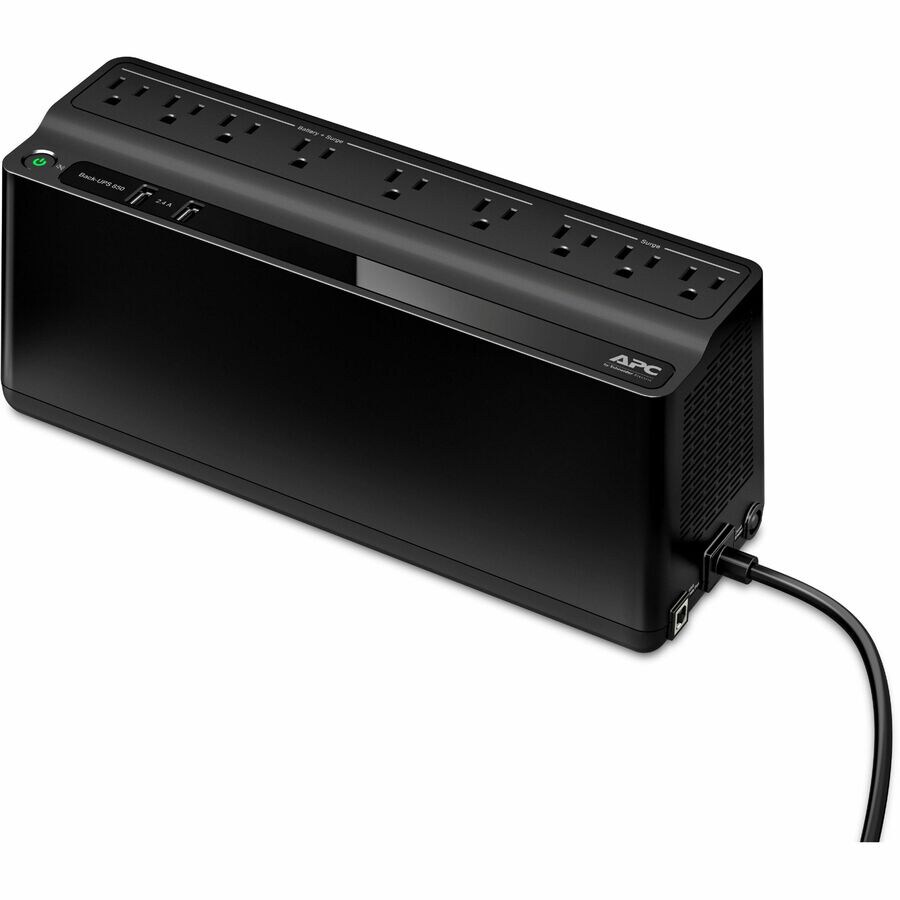 Quick tech specs
Reliable battery backup and surge protection for computers,wireless networking devices,gaming consoles,TVs and security devices
850VA / 450W power capacity
2 USB charging ports (1.5A)
Wall-mountable for flexible installations
$75,000 lifetime equipment protection policy
Powers home Wi-Fi during utility outage so you can stay connected and productive
9 Outlets (6 Battery Backup,3 Surge Protection only)
5' cord
Configure settings with included software
3-year APC warranty
View All
Know your gear
Stay Connected and Productive with APC Back-UPS
Protect computers, wireless routers, IOT devices, and security systems with the APC Back-UPS 850VA. APC Back-UPS provide backup battery power during power outages and continuously safeguard devices from fluctuating power conditions and surges..
Consistent and Reliable Connectivity
With 9 outlets and 2 USB charging ports, this desktop UPS (uninterruptible power supply) provides seamless battery power to connected electronics. The 450w capacity is ideal for workstations, keeping you connected and productive during power fluctuations.
Stay Connected to Wi-Fi During Power Outages
This battery backup is designed to power wireless home networking devices (router and modem) for hours during utility outages so you can stay connected and productive.
Easily Charge Mobile Devices
Connect and charge mobile devices via the 2 USB port provides a maximum of 1.5A . The USB port will provide power when the UPS is both on utility and battery power.
Guaranteed Surge Protection
This computer backup offers lifetime guaranteed surge protection with a $75,000 equipment protection policy.
Flexible Installation Options
The side of this 850VA UPS includes 2 keyhole sockets to easily mount the battery backup on a wall in hard to reach installations.
Outlets Spaced for Transformer Blocks
The outlets are arranged with spaces to accommodate both average sized power plugs and transformer block power plugs.
Easily Configure Settings
Use the included PowerChute software to configure settings and set up automatic graceful shutdown of a connected PC in the event of an extended power outage. Audible alarms provide notification of changing utility power and UPS conditions. Audible alarms can be muted.
Package Contains
Battery backup & surge protector, USB cable and user manual
APC Back-UPS 850VA 8-Outlet/2-USB Battery Back-Up and Surge Protector
is rated
4.70
out of
5
by
26
.
Rated

5

out of

5
by
null
from
very sleek. corrected an issue ive been dealing with for years!
Date published: 2023-07-19T16:26:08-04:00
Rated

5

out of

5
by
breakhrough
from
Slender design
It is a fair price for a low-end backup product. It also has a slender design that can fit in under a table or back against the wall. it has a good amount of charging ports and I also like that I can plug my phone in just using the cable and not the adapter. Only complaint is it a little bit noisy.
Date published: 2020-07-27T00:00:00-04:00
Rated

5

out of

5
by
Hudstud33
from
Backup power for when the electricity goes out
I got this less than a week ago so I haven't had a chance to see how long the battery backup lasts. The unit is heavy because of the battery but it is compact in size. Looking forward to test the backup power capability.
Date published: 2020-07-26T00:00:00-04:00
Rated

5

out of

5
by
96Impala
from
USB charging ports!
This APC Back-Ups includes a pair of USB charging ports to safely charge your gear. Nice addition! Standard surge outlets plus extra space for larger power blocks. Easy to read light signals for device status. Comes with a USB Data port, built in circuit breaker and building wiring fault indicator.
Date published: 2020-07-24T00:00:00-04:00
Rated

5

out of

5
by
Israt
from
Convenient
Love the features. Can charge my laptop as well as my iPad and cell phone with the USB charging ports. Wish it came with four USB charging ports. Love the fact it has indicator lights for power on status.
Date published: 2020-07-28T00:00:00-04:00
Rated

5

out of

5
by
Rich D
from
Excellent budget UPS!
I have this installed for a PC with three monitors at a home office. The power provided is more than enough if there's an outage and the added USB charging ports are a huge bonus too. Lots of protection with the 6 power back up outlets and the extra 3 surge protection outlets and USB's.
Date published: 2020-07-29T00:00:00-04:00
Rated

5

out of

5
by
retired
from
Small package with great power
I received this unit a few days ago, and had the chance to plug it and test it with my equipment. It is very quiet, and compact for a Backups 850Va unit. It is actually a quite nice design. The unit comes with a USB A to B cable for the use of Powerchute power management software (to plug from a computer or other device with a usb port, into the back of the APC unit). There is a full instruction book printed on paper. The performance is great keeping my equipment going for several hours with power off. I have three minor quibbles. 1) This is using the older APC design where you have to hook up the wires to the battery. The newer designs internally have a battery pack that just slides into place which would be preferred. 2) The red power wire to hook up to the battery is a bit short and it took about a minute of stretching the wire and maneuvering the battery pack in order to get the wire hooked up. The wire could be a bit longer. 3) There is no LCD read out panel. This would have been a nice add on, but might have compromised the ability to deliver this amount of backup power in such a small package. Low battery is indicated by the power button showing a flashing green light instead of steady so, it really covers that base. These minor quibbles do not affect the functionality of the unit or its performance, and I would be willing to buy this unit the next time I need a battery back up unit.
Date published: 2020-07-19T00:00:00-04:00
Rated

5

out of

5
by
APCTMcQ
from
Solid Solution
Slim design and can backup the multitude of tech (pc's, printer, phone, and mobile devices that we have flowing through our at home office. With a shift of office to home users, we do need to protect our home equipment as we would in the office. Definitely a recommended solution.
Date published: 2020-08-03T00:00:00-04:00
Rated

5

out of

5
by
TravlnDawg
from
Excellent Back up for electronics
I received this unit for review. This makes the third Back-UPS 850 unit that I have. I purchased two earlier versions. They are consistently easy to use and protect from power outages. I live where weather related outages are common so having protection for our video equipment and computers is very important. All units have worked very well though the two attached to our desktop computers also need to have the proper PowerChute software loaded to allow them to do a controlled shut down after surges or power loss. There are six (6 plugs with battery and surge protection and three (3) with surge only protection. The new units have two (2) USB ports that are also protected. Other than for computers, the units are simple to plug and work immediately to protect audio and video equipment.
Date published: 2020-08-07T00:00:00-04:00
Rated

5

out of

5
by
Jimmy
from
Nice small package that fit just where I needed it
I trust APC products and have many in my home protecting my electronic equipment. I have one comment about the BE850G2. The wires for the battery could be just a bit longer. It is a little difficult to get them connected.
Date published: 2020-07-26T00:00:00-04:00
Rated

5

out of

5
by
COMaven
from
Surprising features
I found the Back-UPS 850VA, 2 USB charging ports to be a surprising product. I expected good clean power and a good UPS, since this APC's strength. I was pleasantly surprised by the connectivity provides for devices. There are 6 UPS protected sockets, two of which are space so that small direct plug-in power supplies can be plugged. In addition, there are three surge protected sockets. This is more than enough connectivity to service the system that would be plugged into a small UPS. I think this unit has more electrical sockets than some of my larger UPS units. In testing the UPS ability, the performed well and easily handled the system I had connected. Overall, I am very impressed with this unit and would give in a 5 star rating.
Date published: 2020-08-10T00:00:00-04:00
Rated

5

out of

5
by
CRAFTY
from
PERFECTION EVEN ON THE SPACING OF THE OUTLETS
THE SIZE IS PERFECT!! FIRST MAKE SURE YOU PLUG THE BATTERY IN!!!! THE OUTLETS ARE SPACED PERFECTLY SO YOU CAN HAVE A LARGE BRICK AND THEN REGULAR PLUG NEXT TO IT SIZE IS GREAT AS IT HAS A SMALL FOOTPRINT BUT A LOT OF JUICE IN RESERVE!!! CAN SIT IN ANY POSITION ALMOST AND THE USB'S ARE A PLUS!!! APC HAS DONE IT AGAIN!!!!! SMALL FOOTPRINT, OUTLETS THAT ARE BACKUP AND AS WELL AS BATTERY ARE SIZED FOR ANY POWER BRICK SOLID PIECE ALL THE WAY AROUND
Date published: 2020-07-27T00:00:00-04:00
Rated

5

out of

5
by
william
from
really great features
i received this UPS 2 weeks ago and really like it. it's smaller, has the right amount of plugs and USB plugs. easy to maintain. the size is important to me as i don't have a lot extra space. like all the units you make great product and made USA.
Date published: 2020-07-27T00:00:00-04:00
Rated

5

out of

5
by
JimN
from
Great product!
Nice and compact product! Plenty of power and love having the USB ports included. I would highly recommend this product to anyone looking for a compact UPS. It has an adequate number of outlets for use.
Date published: 2020-07-31T00:00:00-04:00
Rated

5

out of

5
by
budnascar48
from
Excellent Size for Above or Below Desk
The APC Back-Ups 850 is very reliable and easy to install. Connected the battery, plugged all my devices in and all protected. I unplugged the APC and their was not even a glitch of failed response from the devices. Never missed a second of power to the computer or monitors. APC has created a very effective personal Back-Ups device that can be moved easily and quickly to other location and provides more than enough run time to ensure devices can be turned off. Very satisfied with this new APC.
Date published: 2020-07-21T00:00:00-04:00
Rated

5

out of

5
by
Burger
from
Very excellent product to have
What I really like about it is the 2 USB ports that will come in very handy with any hurricanes that form along the coastline, the battery side of 110 volt outlets you can actually plug in a small LED reading lamp with on off switch, these are more then just for computer use they are also good for emergency
Date published: 2020-07-26T00:00:00-04:00
Rated

5

out of

5
by
Jeff D
from
Power back up for the home/office.
Excellent product with enough reserves for computers
Date published: 2020-11-06T00:00:00-05:00
Rated

5

out of

5
by
John W
from
Good Gear!
Great hardware, fairly priced and shipped quickly. Works perfectly protecting sensitive gear and shuts PCs down in an organized fashion should an extended outage exceed the time capacity of the backup batteries. Good gear!
Date published: 2021-06-11T00:00:00-04:00
Rated

5

out of

5
by
Stewart C
from
So Many Plugs!
I continue to appreciate APC's BackUPs equipment to protect my electronics. However, some one missed the proverbial boat some where along the way. Each of my devices designed with with a plug-end power transformer is oriented 90 degrees out of alignment with the UPC's plugs. It's still necessary to use outlet expanders to get every thing plugged in. Thank goodness for the 9 available sockets on this UPS!
Date published: 2021-07-16T00:00:00-04:00
Rated

5

out of

5
by
John Beaumonte
from
Nice UPS Backup For My Wood Pellet Stove
This is a nice unit that I use for my Harman P68 wood pellet stove. If my power goes out I will have about 15 minutes to turn off my stove so the house doesn't fill with smoke and ash as what would normally happen. To me this was worth the money to have that kind of protection.
Date published: 2021-02-26T00:00:00-05:00
Rated

5

out of

5
by
Paula T
from
APC Battery Backup
The product is great, ordering it was easy, & connecting it was a breeze. Having to call back to request a prepaid return label to recycle the old unit was very time-consuming. It would have been so much nicer if the return label had been included with new unit.
Date published: 2021-02-02T00:00:00-05:00
Rated

5

out of

5
by
Leonard Altig
from
Protect your Electronic Equipment
I have used UPS for many years now and decided to upgrade one of my home units. Every thing was very easy and straight forward in the purchase and shipping for the new unit. It arrived as scheduled with no problems. I have found that having the APC UPS units attached to my computers and entertainment electronics has given me a deep sense of relief when the lights start flickering.
Date published: 2021-02-13T00:00:00-05:00
Rated

5

out of

5
by
Robert
from
Amuesment games
Its a reliable ups. I use it on all my computer based games.
Date published: 2021-01-10T00:00:00-05:00
Rated

5

out of

5
by
AlandWin
from
Great Product
Works great. Previously purchased three. Am very impressed.
Date published: 2023-01-08T00:00:00-05:00
Rated

5

out of

5
by
Eldertech
from
Good but could be better
The 850 VA UPS has good staying power but would be much more useful if the power outlets were oriented 90 degrees so the the spades of the receptacles were parallel to the long dimension instead of at right angles to it. Many devices today come with wall wart power supplies, routers , switches, printers etc and the way the outlets are oriented now they tend to block other outlets.
Date published: 2021-06-15T00:00:00-04:00
Rated

5

out of

5
by
Cudz
from
Happy with the UPS 850g2
The UPS 850g2 arrived when promised. There was no damage to the contents. It was very easy to plug the UPS in and have it start protecting.
Date published: 2020-10-13T00:00:00-04:00