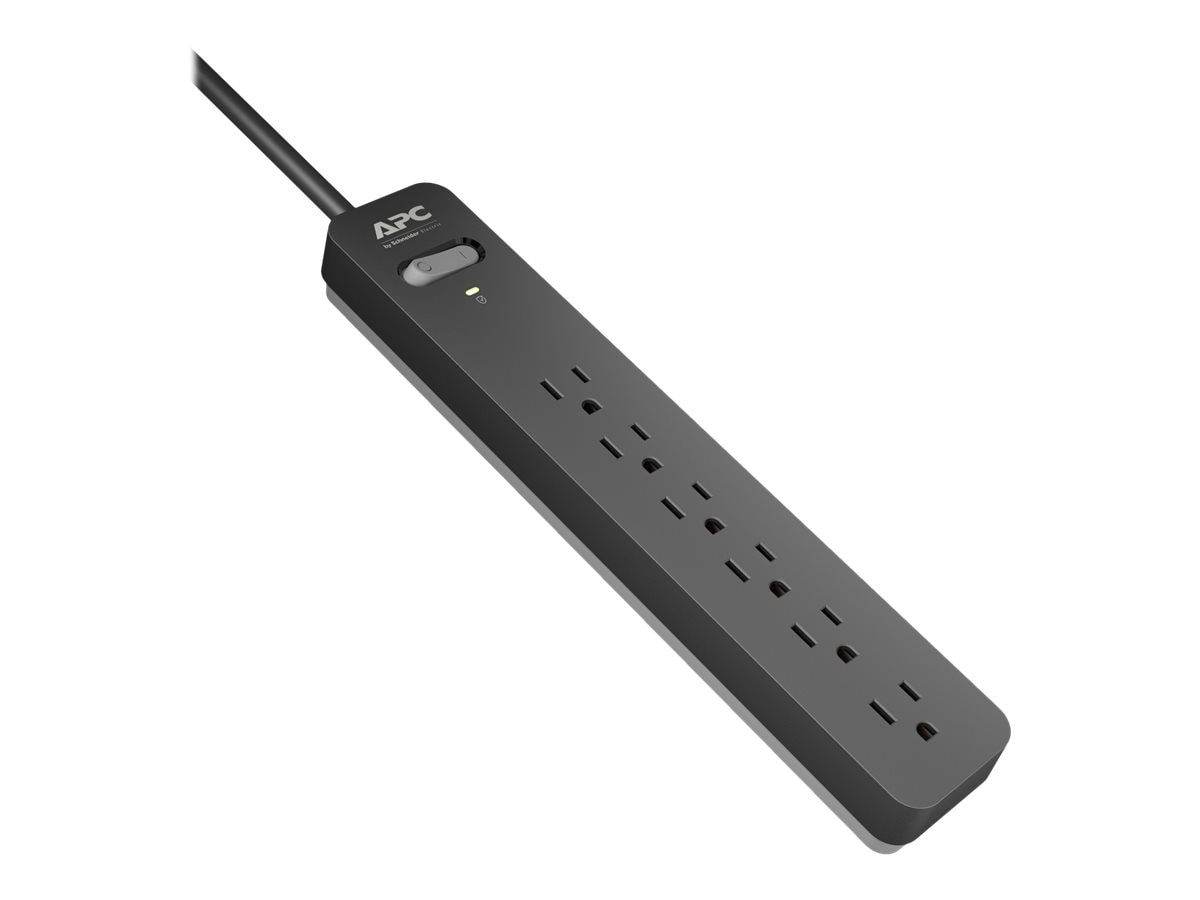 Quick tech specs
Lifetime guaranteed surge protector to power computers and office electronics
6-Foot power cord
LED indicator illuminates to confirm protection is on and working
$50,000 APC lifetime equipment protection policy
6 Outlets
1080 Joules surge protection energy rating
Recessed power switch and keyholes for wall mounting
Lifetime APC warranty
View All
Know your gear
Lifetime Guaranteed Protection from Lightning, Surges, and Spikes
The APC SurgeArrest Essential PE66 provides the primary level of surge protection that should be present on any of your computers and consumer electronics.
Protect Multiple Electronics
Protect up to 6 devices with this 6-outlet surge protector.
1080 Joules Surge Protection Energy Rating
This surge strip provides up to 1080 Joules surge energy rating. This level is essential for PCs, laptops, and computer accessories.
Surge Protection LED
The LED illuminates to confirm that protection is on and working, so you can be sure your devices are safe and protected.
6' Power Cord and Keyhole Sockets
The surge protector has a 6 foot power cord as well as keyhole sockets in the back for wall mounting.
Lifetime APC Warranty and $50,000 APC Equipment Protection Policy
This surge protector include a lifetime warranty and equipment protection policy.
APC 6-Outlet Surge Protector, 6ft Cord 1080 Joules Essential Series, Black
is rated
4.80
out of
5
by
12
.
Rated

5

out of

5
by
Tony
from
Surge protection with a major drawback
I received this item free in exchange for my honest review. While I have no way to test the product's surge protection ability I have no reason to doubt APC's claims which in this case are protection up to 1080 Joules. They're a reputable brand who have historically made high quality and well performing products and this seems to be no different. It's of sturdy construction, mostly black with a light grey bottom and a thick cord with a 120 degree angled plug (down and to the right). It has a power & status LED (green) and a broad power rocker. A note about this rocker: It is not recessed so it can be bumped off accidentally. Weirdly when it's in the off position it cannot be triggered without deliberate action, the rocker lays flat with the surface of the unit but when on the switch raises above the surface. It really should be the opposite. The unit itself is very lightweight and with such a thick cord you might want either heavy power adapters plugged in to weigh it down (more on this later) or to make use of the mounting screw slots on the base of the unit. The slot locations are problematic because instead of two large screw slide holes as most strips have, this has four smaller ones. They are bidirectional though, so that's nice. This unit suffers from bad receptacle layout. This is not a small strip--it's wider and taller than most and the end with the surge protection and the switch is big as well. As such, it's really disappointing that the plugs are oriented vertically so that most power bricks render one or even two receptacles below it unusable. This strip is more than long enough to accommodate horizontal receptacles with spacing for power bricks but it just doesn't. Inexcusable. For what this is it's a good surge protector. I trust APC to have done their due diligence on the protection side of things. I like the small, angled plug. A prospective buyer, however, should make sure they're comfortable with the receptacle layout before purchase because to me it's the one thing that keeps this from being an easy recommendation.
Date published: 2018-08-24T00:00:00-04:00
Rated

5

out of

5
by
retired
from
Good power strip
This unit has an offset electric plug which is useful in some circumstances, but less so in others. A swivel for the plug that controls which way the plug points after being plugged in to the outlet, would be useful. The electrical outlets are fairly closely spaced together. That is fine if one is just plugging in electrical plugs. But having electric outlets so closely spaced is less useful if plugging n power bricks or those items with larger plugs. The power switch doubles as a circuit breaker, which is good. The power indicator light goes out if the unit detects a fault in the electrical wiring which is very useful. The unit is compact in size with 6 outlets. It can be wall mounted or under cabinet mounted if necessary with the screw head openings on the back. The power cord is about 6 feet long, which is the right size. This unit is meant to only be an inside unit and is not suitable for outside use.
Date published: 2018-08-25T00:00:00-04:00
Rated

5

out of

5
by
Gordy
from
Well made power strip
I received my test power strip today. The shipment was well packages and damage free, the box exactly the size for the product. The strip part of it has 6 outlets and a nicely recessed switch that seems like it wont accidently get turned off. There is a green indicator light on it so you know it is on without looking closely at the switch. I was most impressed with the cord because people would be able to walk on this hundreds of times without damaging it. I deployed it today to a PC that will include 2 monitors, powered speakers, a USB phone charger and a transformer for a desk phone. The outlets are very close together, the transformer is big enough that I can only use 5 out of 6 outlets. Functions as designed, looks better than the 5+ year old APC power strip it is replacing.
Date published: 2018-09-04T00:00:00-04:00
Rated

5

out of

5
by
TwoButt
from
APC Surge Arrest
One of the things I like about the APC SurgeArrest is: it is not just a power bar, like the name implies it actually protects against surges 1080 Joules, and lightning. Not to mention the life time warranty, and $50,000.00 equipment protection, of course it has free technical support also. It has an LED light that lets you know when the protection circuitry is working properly. It has a power switch and resettable circuit breaker. It's placement is easy, wall mount (which is really nice for cluttered areas) or placed where you like it, the 6 foot flexible soft shielded power cord gives you room to place it conveniently. The 6 outlets allows for most computers (Printer, Scanner, Fax Machine, Monitor, Router). I have been thru several thunder storms with it and everything is working great, outstanding product.
Date published: 2018-09-20T00:00:00-04:00
Rated

5

out of

5
by
Carolie
from
Arrived When Needed
These power strips are low profile and blend into the room. It is easy to plug things into them and they do their job well.
Date published: 2018-08-31T00:00:00-04:00
Rated

5

out of

5
by
bobscr
from
Inexpensive Power Strip
This will be used in my workshop. The electrical power around here has gotten better the last couple of years, but is still problematic at times. The surge protection will help protect my tools and powered instruments. This SurgeArrest strip has a layout for the plugs that will be problematic with items that have large plugs, like power bricks.Six plug-ins and a long cord is handy, but you will probably only be able to use about 4 of the plugs at a time. Considering this offers surge protection at a low price, it beats a plain power strip anytime.
Date published: 2018-09-05T00:00:00-04:00
Rated

5

out of

5
by
Duster60
from
Great Surge Suppressor/outlet strip
I use this in my work shop protecting my computer equipment. Needed something with a little longer cord than the typical 3ft unit and this serves the purpose perfectly
Date published: 2018-09-04T00:00:00-04:00
Rated

5

out of

5
by
Gatorman
from
Very well built
Unit arrived well packaged, on-time and easy to set up. It has functioned perfectly. Impressed with the solid 'feel' of the unit.
Date published: 2018-09-11T00:00:00-04:00
Rated

5

out of

5
by
JethroT
from
Solid, simple, protection
What can you say about something simple like a multi-outlet surge protector? This one is built solid, the cable is plenty capable of handling the current rating, and the black color makes it less intrusive. I have had inexpensive and cheap protectors that split or shorted with the slightest misuse, this one is tough.
Date published: 2018-09-12T00:00:00-04:00
Rated

5

out of

5
by
John M.
from
Does the job. Quick shipping.
Does the job. Quick shipping.
Date published: 2021-03-03T00:00:00-05:00
Rated

5

out of

5
by
AMS365
from
Great buy!
Good for the price. I like that the cable is long.
Date published: 2021-10-10T00:00:00-04:00
Rated

5

out of

5
by
Angelmous
from
Highly Recommend
Works beautifully and looks good too.
Date published: 2021-07-13T00:00:00-04:00