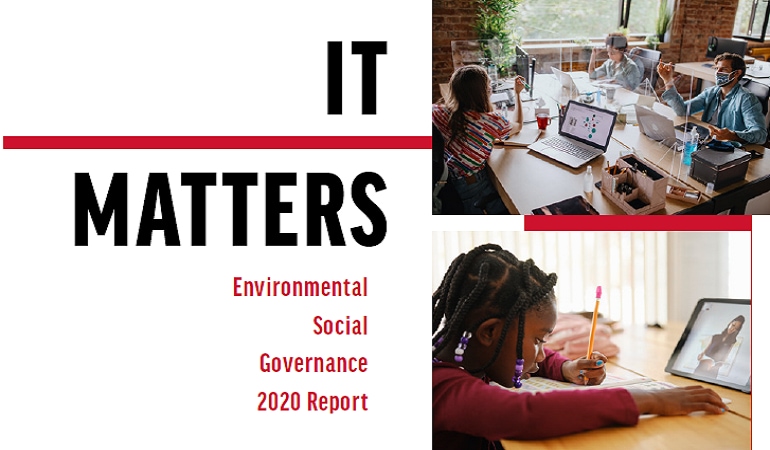 CDW is proud to introduce its 2020 Environmental, Social and Governance (ESG) report. This is CDW's second annual ESG report, following our inaugural report that launched last year and covered 2019 and previous years.
At CDW, ESG performance matters, and it mattered even more in 2020 as we continued to take actions to maximize our positive impact on our stakeholders and our communities. One important area the ESG report covers is CDW's Diversity, Equity and Inclusion (DEI) journey, and a key component of our inclusion strategy has always been to educate and empower our coworkers. In 2020, we increased our communication, raised awareness and most importantly took time to listen. We provided many platforms: inclusion townhalls, Business Resource Group discussions, quarterly brown bag lunch meetings and an inclusion newsletter.
Our ESG report also discusses our holistic approach to accelerating the adoption of sustainable and socially responsible technology, which is enabled by our partnerships and our people. CDW works hard to foster environmental and societal impacts while operating with sound principles. We amplify ESG by providing clean tech and cloud computing options for customers, serving social good sectors, and being responsible partners, among other efforts.
In early 2020, CDW, like many companies, was forced to reimagine all aspects of our business as we faced challenges brought on by the COVID-19 pandemic. The ESG report details CDW's response to those challenges, including activating our business continuity plans and adjusting our procedures to ensure we were controlling what we could control. From the onset, our response to the pandemic was focused on three principles: safeguard the health and well being of our coworkers; serve the mission-driven needs of our customers; and support our communities.
CDW encourages all of our stakeholders to read the report. This report provides deeper insight into the ESG topics of highest priority and relevance to CDW and our key stakeholders. Reflecting the challenges and events of 2020, the report expands the discussion of our commitments to serving education, healthcare and other essential markets, protecting occupational health and safety, enhancing coworker engagement, and fostering DEI within our organization.
To learn more, view the full 2020 ESG report here.