About Veritas
Veritas Technologies is a global leader in multi-cloud data management. Over 80,000 customers rely on Veritas to help ensure the protection, recoverability and compliance of their data. Veritas has a reputation for reliability at scale, which delivers the resilience its customers need against the disruptions caused by cyberattacks, such as ransomware.

Backup Exec 22
Get a fast, cost-effective, unified backup and recovery solution to protect data wherever it lives—virtual, physical and cloud.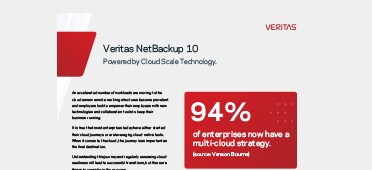 NetBackup 10
NetBackup 10 with Cloud Scale Technology is a unique enterprise data management solution that combines automation, artificial intelligence and an elastic architecture to improve agility and data security across any cloud, at any scale.
Cloud
Whether you're migrating to the cloud, from the cloud, or between clouds, protecting your data and ensuring business continuity are critical priorities. Veritas can help you build a unified multi-cloud strategy with resiliency at its core.
Unified Data Protection for Your Hybrid Cloud
Failure to address data protection effectively across the hybrid cloud will impede the ability of an organization to move quickly to advance data-driven strategies while keeping costs under control.
---
Hybrid Multicloud Solutions
Learn the recommended actions to get you one step closer to deploying a hybrid multicloud strategy.

---
Telehealth
The Veritas Digital Compliance portfolio helps providers address overarching telehealth challenges through three core tenets—visibility, retention and action.
---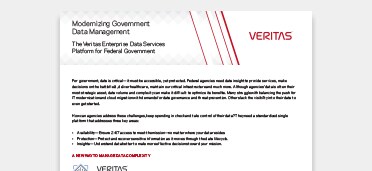 The Veritas Enterprise Data Services Platform for Government
Government organizations struggle to modernize their data strategy due to unprecedented data volume and complexity.