Attackers start with people. Your cybersecurity strategy should too.

Browse Proofpoint Solutions
Proofpoint protects organizations' biggest risks and greatest assets: their people. With an integrated, cloud-based suite of people-centric compliance and security solutions, Proofpoint helps leading organizations mitigate their most critical security and compliance risks.
Combat Email and Cloud Threats
Securing email. Protectiong people. No compromises.entials
State of Phish 2022 Report
Proofpoint delivers effective solutions to protect people from the threats that target them, the data they work with, their digital activity and the digital channels they rely on. 
Discover more about the modern CISO's framework for identifying, classifying and stopping email fraud.
Combat Data Loss and Insider Risk
Prevent data loss via negligent, compromised and malicious insiders by correlating content, behavior and threat. 
Modern DLP offers you an easy-to-manage solution across all tools. Learn why today's organizations need a more modern approach to data loss prevention and how Proofpoint can deliver it.
2022 Cost of Insider Threats: Global Report
External attackers aren't the only threats modern organizations need to consider in their cybersecurity planning. Malicious, negligent and compromised users are a serious and growing risk. Learn more in this report, independently conducted by Ponemon Institute.

Getting Started with CASB
Discover how Cloud Access Security Brokers can help manage people-based risk, apps and data in the cloud.  With a CASB, you can extend your corporate security policies to the cloud. Plus, you can get a consolidated view of data activity to manage and secure it from a single location. 
Implement comprehensive security and compliance solutions for your Microsoft 365 collaboration suite. With advanced threat protection, your organization can be confident that your people and data are secure.
Secure Your Microsoft 365 Deployment: 10 Reasons Organizations Choose Proofpoint
Organizations are moving to the cloud and must support today's remote and distributed workforce. For many, Microsoft 365 is a whole new way of doing business—one that requires a new approach to security and compliance. Learn why Microsoft 365 customers are turning to Proofpoint.
As organizations make the move to Microsoft 365, many assume that the platform's built-in or bundled features will keep users safe and compliant. But these "good enough" features may not be good enough for your organization. 
The threat protection package that protects your people and works for your small or medium sized business. Get security that's simple and secure.
5 Simple Security Tips for SMBs
Email security and threat protection can easily slip to the bottom of your priority list when managing IT for a small or medium sized business. With so many day-today tasks, your energy and focus are drawn in other directions.
These five simple tips will help you create a solution that's right for your organization.

Essentials Threat Protection
CDW is working closely with Proofpoint to bring you Essentials Threat Protection, a purpose-built solution for SMBs. Learn more about how to get powerful security, straight out of the box.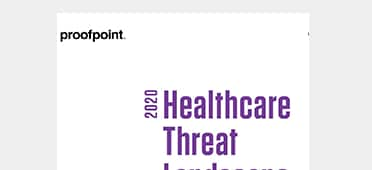 This report outlines Proofpoint Threat Research's findings, providing data, real-world examples and insights to shed light on threats that target the healthcare industry.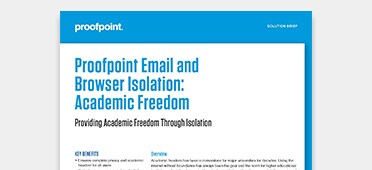 Providing Academic Freedom Through Isolation
Proofpoint enables academic freedom for your educational institution with Browser Isolation. Your users can browse the web and click freely without malicious content impacting your institutional devices.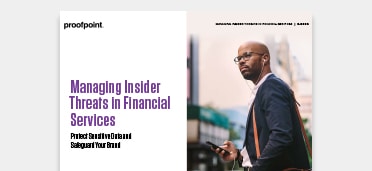 Managing Insider Threats in Financial Services
Financial services firms are victims of almost a quarter of all security breaches. And insiders contribute to more than half of these incidents. Proofpoint can help you identify, investigate and respond to insider incidents quickly and efficiently.