The Benefits of Upgrading Your Infrastructure to HPE SimpliVity
Hyperconvergence puts your entire virtualized IT infrastructure and advanced data services into one integrated powerhouse. Give developers the runway to rapidly deploy applications at cloud-like speed while drastically cutting costs and simplifying backup and restore. HPE SimpliVity is a powerful, enterprise-grade hyperconvergence platform that unites your server with high-performance data services that streamline your IT operations. 
HPE SimpliVity: Simplify Your IT Infrastructure
A complete hyperconverged solution, HPE SimpliVity supports a full range of business needs from consolidating IT infrastructure, to protecting data, to simplifying remote office IT and freeing your IT staff to focus on innovation.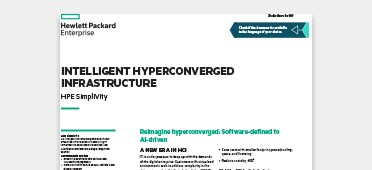 Simplify IT with HPE SimpliVity

See why one town's IT team chose HPE SimpliVity to update its hyperconverged infrastructure and provide disruption-free backup and easy scalability.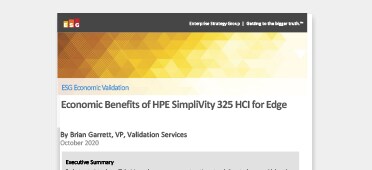 Trade and Save with SimpliVity

Want to reduce the total cost of acquisition while updating old equipment? HPE's trade-in program offers fair market value for updating to new HPE servers.
Call 800.800.4239 to learn more about HPE SimpliVity today.
HPE SimpliVity Customers Increased Operations and Data Efficiency

HPE SimpliVity HyperGuarantee
---
VM Management and Mobility
Policy-based, VM-centric management abstracted from the underlying hardware simplifies day-to-day operations. Enable seamless data mobility and make development teams and users more productive.
---
Built-In Backup and Disaster Recovery
Eliminate the need for third party data protection. HPE SimpliVity delivers the resilience, built-in backup and bandwidth-efficient replication you need to ensure the highest levels of data integrity and availability.
---
Game-Changing Data Efficiency
The data efficiency baked into HPE SimpliVity improves application performance, frees up storage and accelerates local and remote backup functions. SimpliVity delivers an average data efficiency improvement of 52:1 across deployments.
Interested in HPE SimpliVity Solutions?
Call 800.800.4239 to learn more. 
1. Source: "Consider a Move to Hyperconvergence", 2017; 2. Source: "Using HPE SimpliVity's Hyperconverged Infrastructure to Improve Data Protection and Recovery Effectiveness", May 2017.