CDW offers free space planning project services. Let us help you maximize your workspace and scale growth with our extensive network of partners. 
CDW offers free space planning project services to our customers, featuring VARIDESK furniture and hardware/software solutions from other CDW partners. Our space planning team can help maximize your workspace and scale your growth.

Get started on your complimentary CDW space planning project.
Call your CDW account manager at 800.800.4239.
Call your CDW account manager to get started on your complimentary CDW space planning project.
The shift to a hybrid work world has created more freedom for employees to work in a manner that allows them to be at their best.​ However, it has also created hurdles for them to truly work together. In this new hybrid world everyone will want to be seen and heard. 

HP set out to create a truly end-to-end collaboration solution that allows people to work together and feel connected, especially when they are not in the same room. 
Introducing HP Presence, a more thoughtful, human meeting solution. HP Presence empowers friction-free collaboration through groundbreaking voice, video and sensor technology, creating a comprehensive portfolio of purpose-built room solutions.
White Paper: The New Office for the Way People Want to Work (PDF)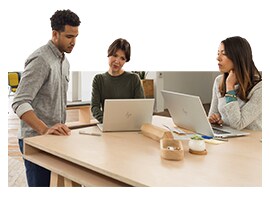 Free Address Desk
Flexible, shared environment for productivity or remote conferencing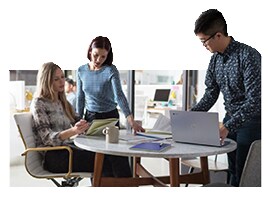 Focus Booth
Space designed for those requiring privacy for high-focus work or to take a call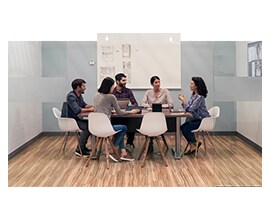 Huddle/Small
Meeting Room
Open or enclosed space, designed mostly for ad hoc collaboration (up to six people)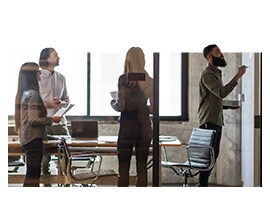 Medium/Large
Meeting Room
Meeting space optimized for conferencing needs, designed for 6-15 people
Logitech Meeting Room Solutions
Looking for a better collaboration experience? Logitech provides video conferencing solutions for rooms of all sizes so your meetings start on time and flow without a hitch.
With Logitech video conferencing solutions and an optimized meeting room environment, your teams can talk, share files, screens and whiteboard ideas seamlessly.
Zoom helps create collaborative, easy-to-use and modern meeting spaces with its simplified software that's compatible across devices.
With Zoom Rooms, you can start meetings with one touch and share content wirelessly with HD video and audio.  Zoom's cloud platform makes setup simple with whatever hardware you choose.
Also included with a Zoom license, Zoom Chat helps your teams stay connected with enterprise chat, virtual workspaces and easy ways to organize messages and content.
White Paper: Zoom Chat (PDF)
White Paper: Zoom Rooms (PDF)
White Paper: Zoom Meetings (PDF)
Ergotron Promotes Healthy Work from Anywhere
The global health situation has forced employees to work differently than ever before. From juggling childcare to following quarantine guidelines, workers have had to alter both how they work and where they work.
Many office-based employees don't have an ideal set-up at home. Some don't have a dedicated home office or the ergonomic equipment to work comfortably during the long workdays.
There are many opinions about how to work best at home, especially during these unprecedented times. At Ergotron, our recommendation is simple: MoveMore®.
Research shows that movement is key not only to physical health, but our mental health. By simply switching from sitting to standing every 30 minutes (what we call the Sit-Stand Switch™), you can positively impact your heath, mind and body.
Ready to refashion your office setting with CDW and partners? 
Call your CDW account manager at
800.800.4239.
Contact your CDW account manager.