Cisco Webex Desk Pro Keeps You Connected
This collaboration display meets remote users' needs, today and in the future.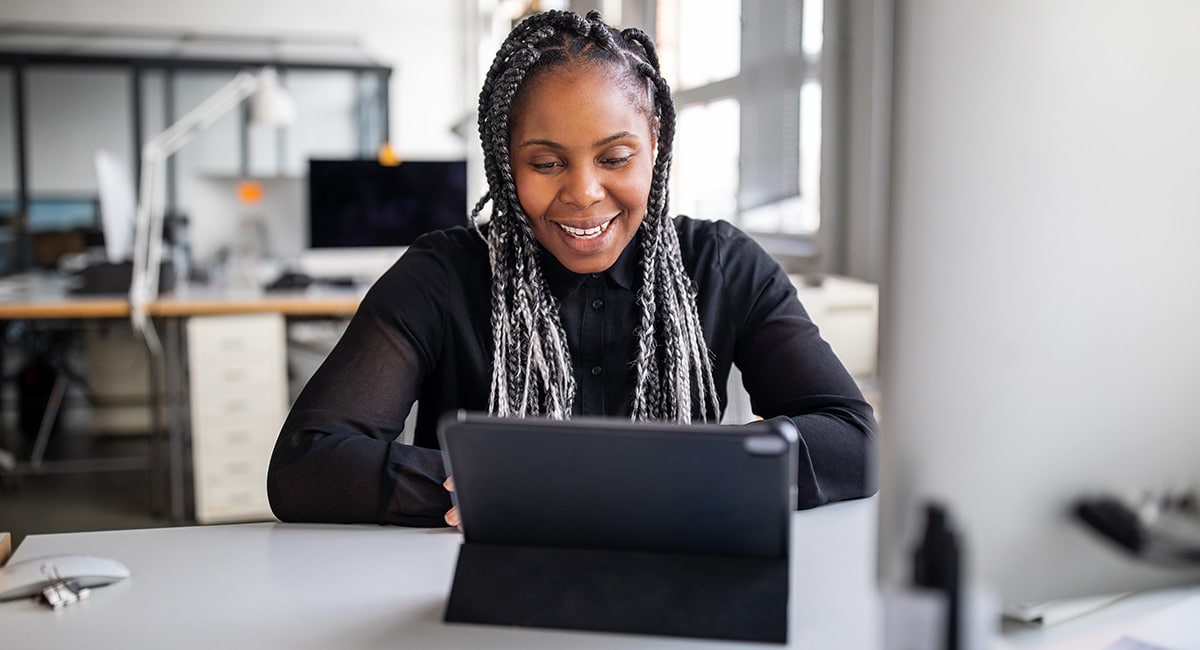 Not surprisingly, many organizations in 2020 were concerned about maintaining communication between their team members and customers (and continue to be). I've had to change how I interact with my customers entirely and am now finding great value in using Cisco's Webex Desk Pro to work with them.
Discover how CDW services and solutions can help you with your collaboration needs.
As a consultant, I'm continually in a position where I want to step up to a whiteboard, grab a dry-erase marker and begin sketching a new infrastructure design right there in the room with my clients. With the onset of the COVID-19 pandemic and the mass migration to a work-from-home model, I can no longer be in the same room with my clients, making these technical design decisions, building those personal relationships and laying the groundwork for a successful project ― at least not in the traditional sense.
Starting Out with Cisco Webex Desk Pro
Initially, the transition away from these in-person gatherings was difficult. I found myself having to preemptively create diagrams and documentation based on rudimentary discovery or word-of-mouth information of what a customer's environment may look like, send this documentation to them for error checking (or modify these diagrams on the fly while sharing my screen), and still maintain the flow and focus of a technical conversation. This disjointed model, illustrated below, was less than ideal and resulted in additional time consumption and loss of efficiency.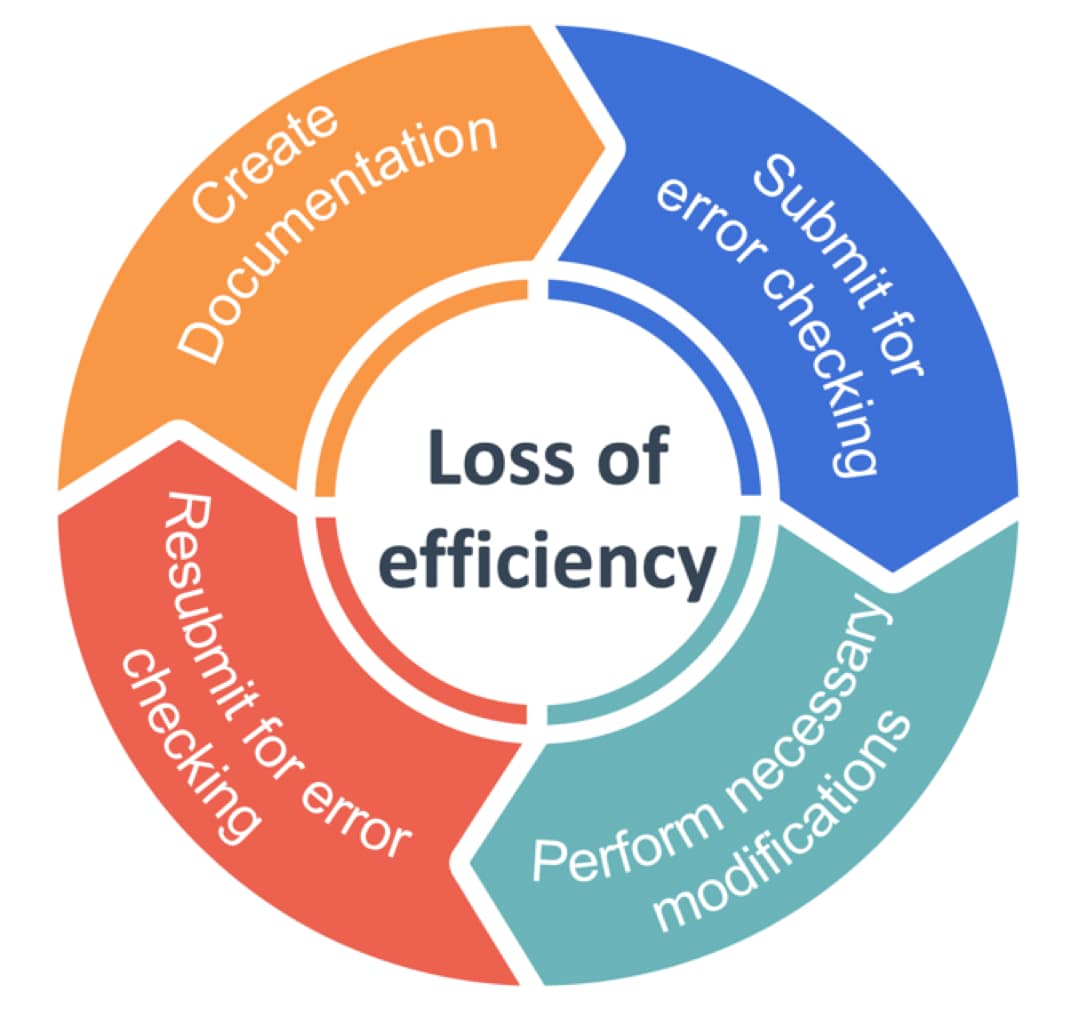 However, I've recently been able to reestablish my old workflow, rebuild those personal relationships and increase the number of positive interactions with my customers, all while still working comfortably ― and safely ― from my home office. How do I do it? Enter the Webex Desk Pro, recently released from Cisco Systems. In this blog I'll be sharing what I've found to be useful features, critical innovations and my overall impression of the product.
Thriving While Working from Home
As I noted earlier, one of the most challenging aspects of being a work-from-home consultant is maintaining the ability to create personal relationships and become a trusted advisor to all of my customers. While some of this relationship building depends on face-to-face contact, which will never truly be replaced by a digital system, COVID-19 has forced remote workers worldwide to overcome this social vacuum in the safest way possible.
Much of this personal interaction depends on the willingness of remote participants to enable their webcams and broadcast their video streams to their virtual meetings, which, for many, can be a very uncomfortable action. Virtual meeting vendors (Zoom, Microsoft, Cisco and more) have added features such as virtual backgrounds, noise cancellation and lighting optimization to their platforms, all of which strive to make this transition more digestible for the users.
While I'm speaking about my own experiences consulting for a living, these same relationships must be built regardless of the field of work. The faith that is placed in doctors, teachers and other essential workers is built on a foundation of trust and social interactions built through face-to-face interactions and human conversation. With the move to telehealth visits and online learning, the features I am discussing have the potential to rebuild these human relationships and return collaborative work to a state of equilibrium.
The Webex Desk Pro's Easy Interface
The Webex Desk Pro delivers many of the features required to thrive in a telecommuting world and wraps them up into a single, elegant package, not only providing an easy-to-use system but also taking many of the CPU intensive workloads (the virtual backgrounds, noise cancellation, etc.) and offloading them from an employee's laptop to the video endpoint itself. The user interface provides an easily understandable menu system, allowing even nontechnical users to interact with their device seamlessly immediately after provisioning is complete. The image that follows shows the base user interface with four primary options: Call, Whiteboard, Sharing Options and Join Webex.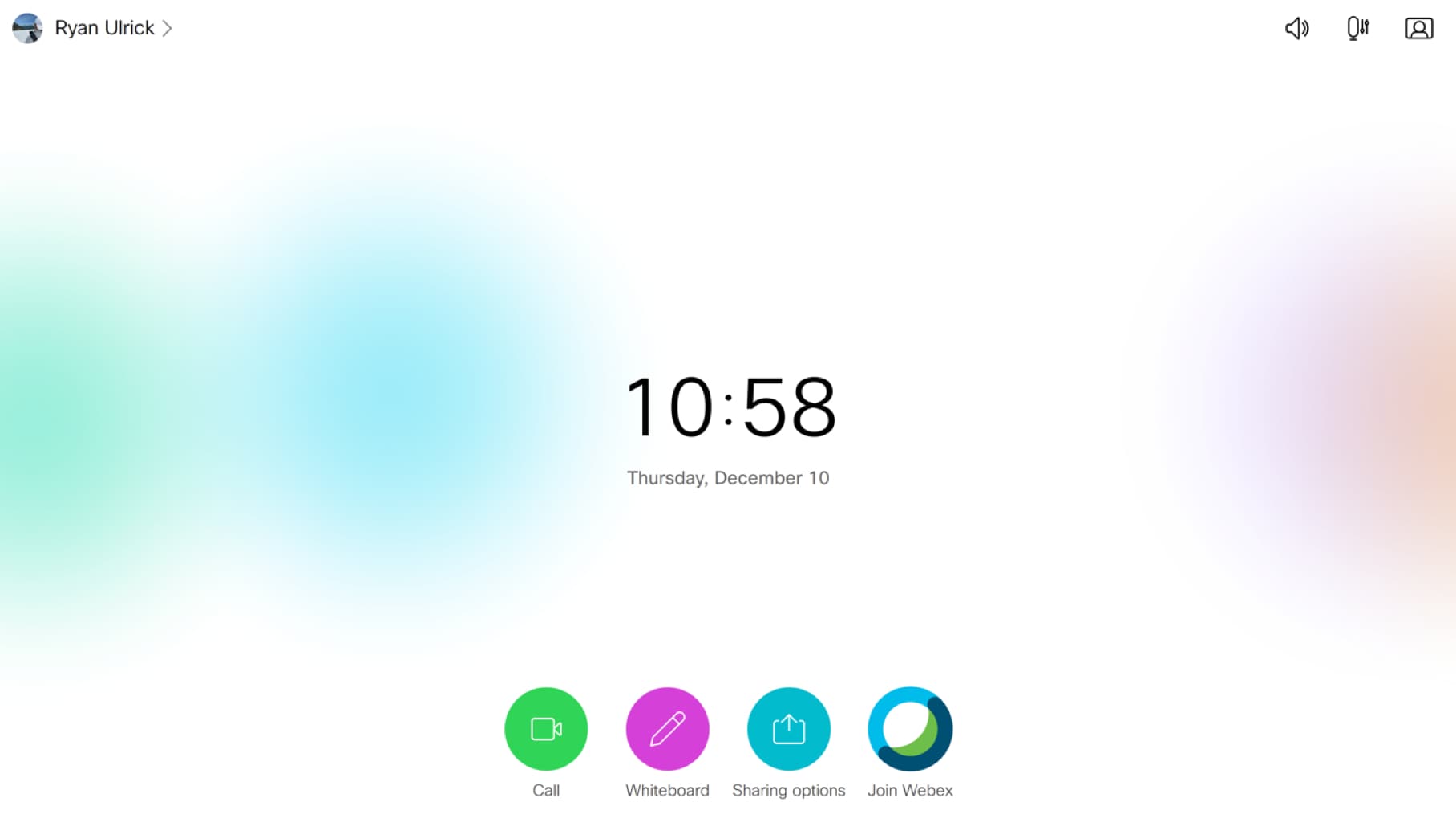 The Webex Desk Pro can serve as a Webex cloud-registered video endpoint device to join Webex meetings only, or an organization can integrate it with Cisco Call Manager on-premises or via Mobile Remote Access (MRA) to also serve as a user's desk phone handset. The Desk Pro can also natively join Microsoft Teams meetings and Zoom meetings via SIP URI dialing if the third-party platform is configured to support SIP. I've been able to join both Microsoft Teams and Zoom virtual meetings and still maintain all the fantastic feature functionality I discuss in this blog, making the Desk Pro a truly flexible endpoint in my daily work.
Webex Desk Pro "Whiteboard" Feature
The "Whiteboard" button clears the screen and sets up a blank whiteboard with various color and marker options for a user to choose from when drawing. While users can use their fingertips to interact with the whiteboard, the unit also ships with a magnetized stylus that can snap to the unit's right-hand side for easy storage.
When joined into a Webex meeting or one of the SIP-enabled platform meetings discussed earlier, the Whiteboard button also shares this blank whiteboard directly into the call for live drawing and interaction. Suppose multiple users joined the meeting through a Webex Desk Pro or even the earlier DX-80 devices. In that case, the whiteboard will become collaborative and place a small user icon above each user's edits and drawings live onscreen. After the meeting has concluded, any virtual whiteboards that have been created can be saved to a Webex Teams space for download or sharing as needed.
Webex Desk Pro "Sharing Options" Feature
The "Sharing Options" button allows a user to preview their desktop (if they have a connected computer) on the beautiful 4k UHD 27″ display or share that same connected desktop into the virtual meeting they are participating in. I have my 2018 MacBook Pro connected to the Desk Pro via a single USB-C connection, and I use the unit as my primary monitor when working.
Through this single USB-C connection, the Desk Pro provides my laptop with a brilliant 4K monitor, high-definition webcam and microphone (in the event I must join a meeting from my laptop itself), as well as 60W power delivery for charging. When displaying a desktop on the screen, the user is also provided with an additional button in the bottom left corner of the UI for annotation.
When pressed, the Webex Desk Pro captures a static image of the current screen content and turns it into a virtual whiteboard, which can be locally annotated or shared within a meeting. This annotation feature is a handy tool that allows me to take technical diagrams created ahead of time and draw directly on top of them while in a virtual meeting with a customer. In some ways, I believe this improves on my traditional conference room whiteboarding by allowing me to start with a base piece of content I have created and work through a problem in real-time while collaborating with my meeting members.
Webex Desk Pro "Join Webex" Feature
The "Join Webex" button is a quick and easy way to input a Webex meeting URL, whether internal to the organization or external, and join directly from the Desk Pro. This menu also provides a quick access button to the registered user's personal Webex meeting room to quickly start a meeting.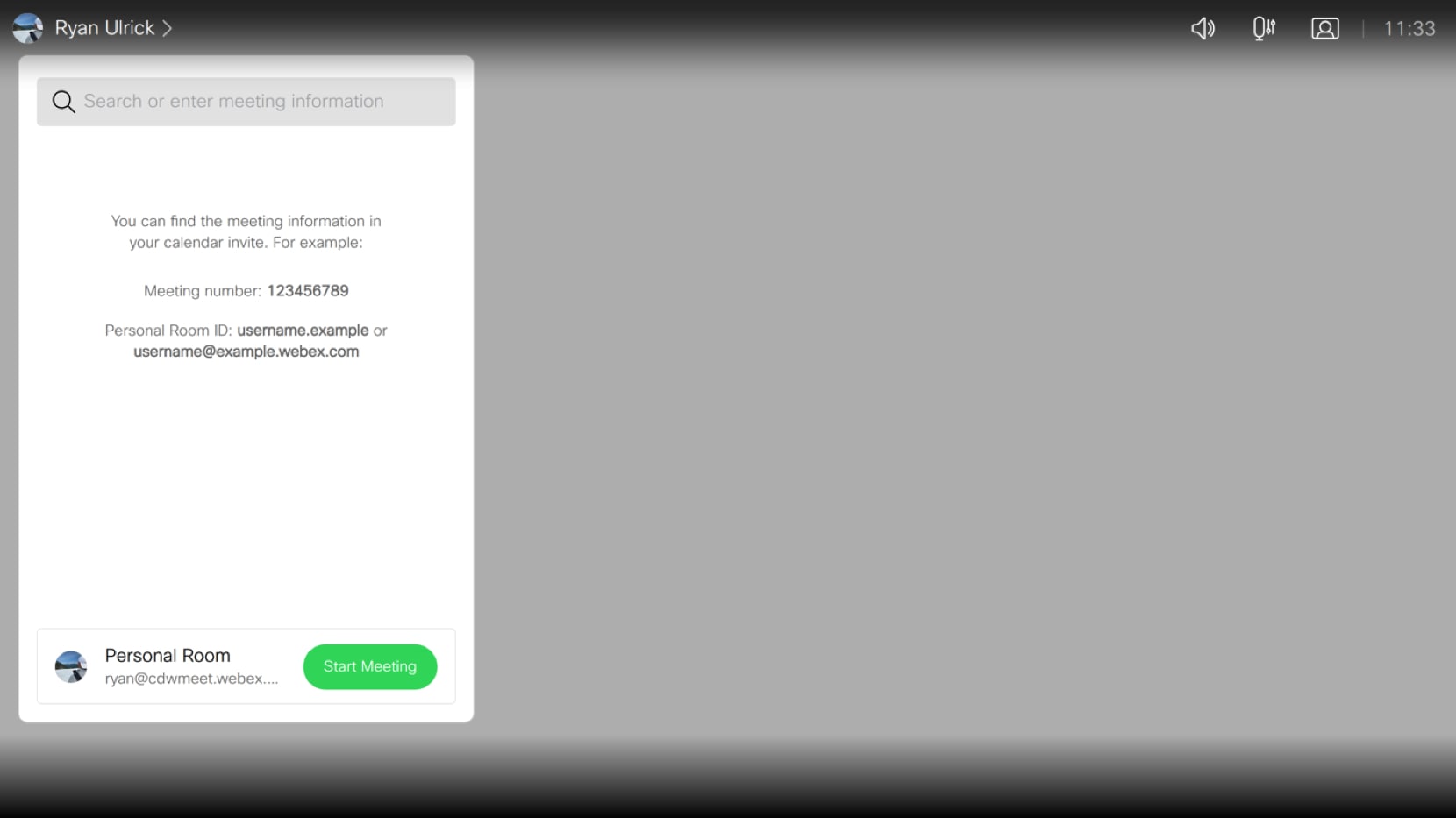 Meeting User Needs, Now and in the Future
2020 was a challenging year for individuals and organizations across the world, no question. Social interaction and collaboration in-person are all but extinct for now, and business users worldwide seek methods of improving their work environment and recapturing some of the personal touches that have been lost.
While a digital device, in my opinion, is never going to replace the quality of in-person interaction, planning and collaboration, the Desk Pro has changed my workflow in a really impactful way. Even though I'm geographically distant from my customers, I once again feel that I am providing them with the most personal and positive experience possible during these difficult times.
As a result of working with Cisco's Webex Desk Pro for the last several months, I've been able to optimize interactions and the decision-making process with my customers. This change has taken discussions that would drag out over weeks via email and allowed them to take place in a fraction of the time for a fraction of the cost. I have also received feedback directly from my customers praising this approach and workflow. For information on how Cisco's Webex platform, paired with the Webex Desk Pro, can help your organization rebuild your personal interactions, reach out to your CDW account team.