CDW Managed Services for Microsoft Teams addresses real business outcomes
There's tremendous benefit in using CDW's Managed Services to gain in-depth user, meetings, calling and business insights.
If you're thinking about moving to Microsoft Teams for your Unified Communication as a Service (UCaaS) solution, you may want to consider a partnership with CDW to manage your solution. In a previous blog, I detailed the key features the CDW service provides to determine whether it is a good fit. 
In this blog, I'll review how very powerful insights translate into real business outcomes, and highlight a few real-life scenarios in which we were able to help customers solve specific problems with CDW's Managed Services tools.
There was a customer battling voice quality issues for about a year in their Microsoft Teams environment. The customer heard from many people in their environment about dropped calls as well as call quality issues, so they found a contractor to look at their Teams environment. They paid that contractor thousands of dollars over several months, but still couldn't determine how widespread the issue was, let alone how to address it.
Almost at their breaking point, the customer started to consider other UCaaS solutions. In one last effort, the customer reached out to CDW for help. In one day, we had our service hooked up to their existing tenant and started collecting data.
The next day we had our engineers review the data. The engineer found that approximately 0.5 percent of the calls had poor audio quality issues, or 25-30 poor quality calls a day. Of those poor calls, two-thirds were placed from a mobile device or on a wireless connection. 
For the remainder, the tool automatically drew out the call, depicting caller information, including the kind of client, the type of connection and the ISP. The tool follows each media path, highlighting problems in red and breaking out details surrounding that path. 
While analyzing those poor preforming calls, we determined the issue was with a very specific ISP. CDW then worked with the customer and engaged that provider with very detailed information regarding the problem calls. Armed with that new information, the provider identified the problem with a downstream provider in a specific call path. The ISP connected with another provider in that area and ultimately resolved the issue. The customer was amazed that after almost a year with no results, it took only standing up our service, collecting and analyzing the data and working with the provider to solve the issue.  
Here is a sample image of a call path like the above scenario: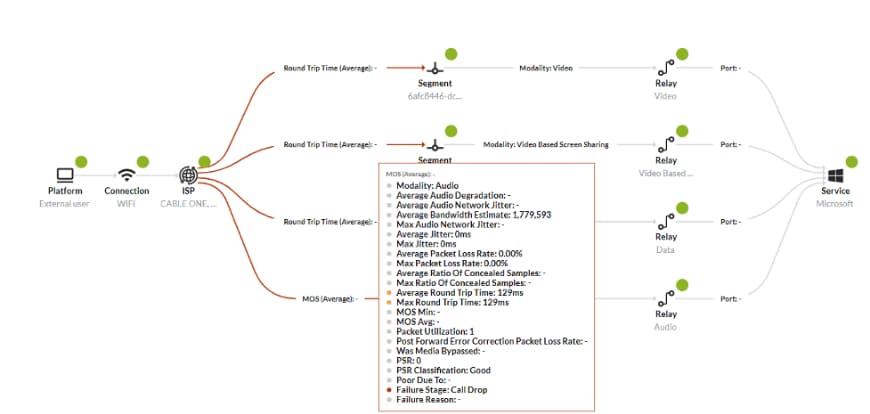 Managed Services Solutions
In a similar event, we had a customer that would get complaints of poor meeting experiences in their large town hall meetings. Again, with this tool, we determined how many participants were in the meeting, for how long, what client they were on, how they were connected and information about each individual person in that meeting, etc. 
During the analysis, the CDW engineer found that of the more than 60 participants, only one had an issue; they were connected with their mobile phone over a Wi-Fi connection. While drilling down into the media path, we discovered the problem was between the Wi-Fi connection and the ISP. When we went back to the customer/end user with this information, we learned the user joined from a specific area in the office. IT admin acknowledged that people previously had poor wireless experiences in that area. With that information, the customer was able to go back to their business to determine their next course of action.    
Here is a screen similar to what was discovered in the above scenario:
With these powerful insights, the CDW engineers can do many things to help improve customer experience and ROI. Some of my favorite examples involve CDW using data to inform the customer they had way more users licensed for MS teams than were using the service. This information gave the customers the flexibility to change and reduce cost while at the same time inquiring with other people/groups why they weren't using it.
We understand that after transitioning to a cloud-based UCaaS solution, many customers don't recognize until later that large vendors often can't see the entire picture, whether that's the telco, third party apps, third party phones or customer's network. They can't learn an end customer's business. Customers are justifying and finding it critical to obtain these tools, services and partners to help them manage their UCaaS solution. CDW's goal is to help customers with these business challenges while remaining flexible to their changing needs and technology solutions.
Story by Andy Kleinheinz, a senior technical architect on the R&D team at CDW. More than 22 years at CDW, Andy has gone from an intern on the help desk to working up to his current position. He enjoys figuring out business problems for customers andproviding the value and support they're looking for.