Artificial Intelligence: Building a New Service Offering
As AI use cases expand, CDW is working hard to build a service that will enable customers to make the most of this technology.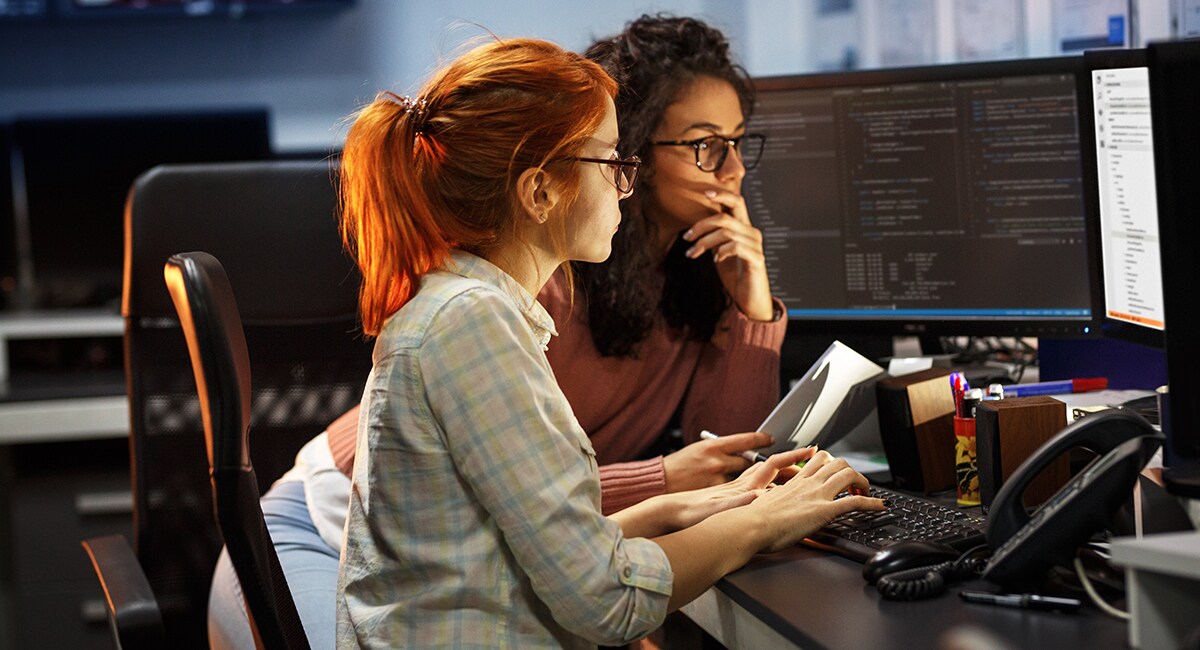 Artificial intelligence (AI) has been getting a lot of attention lately, but for a technology company like CDW, looking to provide valuable solutions to customers, it can be challenging to create a new service offering in this area.
For one thing, the term AI is very abstract and can transcend many technology areas such as networking, data processing and Internet of Things devices. Additionally, AI tends to have negative connotations in some conversations. For example, a comment like "AI is going to replace my job" is not uncommon when people talk about it. A third issue is that the technology itself can end up in many different solutions, such as cognitive services, image processing or voice recognition, to name a few. It can be hard to separate AI from the other aspects of these solutions.
Since AI is so abstract and spans multiple technology areas, it's difficult to determine the team required to deliver a solution based upon the technology. It is even difficult to come up with an all-encompassing name to describe the offer.
One thing for certain is that our team will continue to build and tweak an offer around AI to meet the needs of our customers. We will also grow and expand the offer as the technology matures.
Overcoming the AI Stigma
For us to be successful with an AI offer, it is important to remove any negative connotations when speaking to our customers. How do we do this? We define what AI encompasses and relay the business value of the technology.
Quite simply, when it comes down to it, AI is software interacting with data and other software.
Technically, artificial intelligence comes in two forms:
Quantitative techniques that can predict behavior from data
Neural network techniques that can classify complex objects such as images, video, speech and sound
The core technologies intertwined within AI include:
Business analytics and data science
Natural language processing, speech recognition and text to speech (cognitive services)
Machine learning (ML), deep learning and neural networks
Machine reasoning, decision-making algorithms
Computer vision
Robots and sensors
The fact is, people are already using AI in their everyday lives. Our cellphones contain many applications using this technology, airplanes use AI for auto-pilot mode, chatbots typically contain some form of AI (such as sentiment analysis), and many people are using devices such as Amazon Echo or Google Home, which utilize the AI technologies conversational AI and ML. Therefore, it shouldn't be too much of a shift to incorporate this technology into the workplace.
Forbes Insights surveyed more than 350 U.S. executives, 80 percent of whom recognized that their organizations need to begin mastering the art of human/machine collaboration. The survey highlighted how placing powerful AI-fueled applications into the hands of knowledge workers is critical to productivity and performance.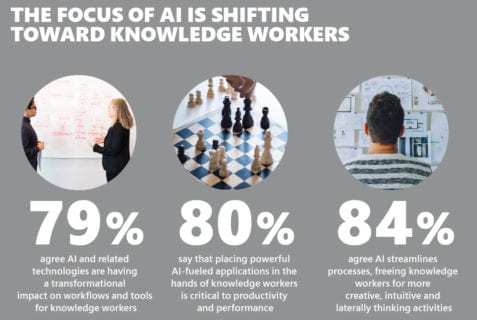 SOURCE: Microsoft
As the study shows, we must stress that AI can enhance a business workflow and that it is not intended to replace people. As Forbes mentions, there must be knowledge workers in place to build and maintain the applications. Artificial intelligence is not a completed product but rather an automation process that can be developed and expanded over time. The technology implemented will more than likely be best at automating repetitive processes, thereby freeing up people to work on more business-critical tasks, not replacing them.
Why We're Pursuing an AI Offer
At CDW, it is important for us to continue to evolve and remain relevant with the latest trends in technology — it's a core part of our business DNA. There are many projections and statistics to support the growth of AI and how it will impact customers. Here are just a few examples of predictions for the next few years:
The number of enterprises implementing AI grew 270% in the past four years, according to Gartner's 2019 CIO Survey.
Worldwide spending on AI systems will grow to almost $35.8 billion in 2019, IDC reports.
According to Gartner, by 2020, AI technologies will be virtually pervasive in almost every new software product and service.
In 2021, AI augmentation will generate $2.9 trillion in business value and recover 6.2 billion hours of worker productivity, Gartner reports.
Global spending on artificial intelligence systems is forecast to reach $77.6 billion in 2022, which is more than three times the $24 billion forecast for 2018, according to IDC data. The compound annual growth rate (CAGR) is 37.3 percent through 2022.
Some of the top AI applications in use today are chatbots, process optimization and fraud analysis. Other AI-infused applications, such as virtual personal assistants, resumé screening and facial recognition, are gaining in popularity as well.
There are many more opportunities to incorporate AI into other business processes — the choices really are unlimited. We are looking forward to discussing the possibilities with our customers.
Keeping an Eye on the Horizon
Artificial Intelligence will continue to evolve and grow into more areas of our lives, both at work and at home. CDW is excited to delve into this area as we build out a new service offering for our customers.
Even though it is difficult to build an offering in the AI space, we are confident that our initial offering will meet the needs of our customers and will continue to evolve for future needs.
There will be more information to come as we work toward completion of our AI service offering. It will be exciting to see where this technology can benefit our customers, as well as how it will provide new opportunities for our delivery team to expand their careers.
Next Steps
What are your thoughts on AI? Please feel free to share your experiences with AI in the comments below, or even leave suggestions for our new service offering. We'd love to get your feedback!
Learn more about how artificial intelligence can help the finance industry transform data into insights.