Why Customer Identity Access Management Solutions Matter in 2023
CIAM solutions can help organizations quickly and securely authenticate users, improving the customer experience, securing data and mitigating risk at the same time.
As customer expectations for digital experiences grow higher every day, customer identity access management (CIAM) solutions have become more important than ever to help businesses provide seamless, secure and personalized experiences. For organizations managing large customer profiles, it's important to consider whether your current CIAM solution is keeping up with demand today—before it's unable to function tomorrow.
A modern CIAM solution completely changes the way that consumers interact with the services you provide, and effectively brings together a labyrinth of sensitive systems from decentralized parts of the organization. With CIAM solutions, organizations have an easier path to its access management goals, with features including:
A radically improved consumer experience with flexible authentication methods, customizable consumer profiles and friction-free access.
A centralized and extremely flexible platform for consumer access, applicable for all business units across all channels, including the ability to integrate with a vast array of third-party systems.
Enhanced security through purpose-built software, designed to manage access and protect both sensitive and confidential consumer information.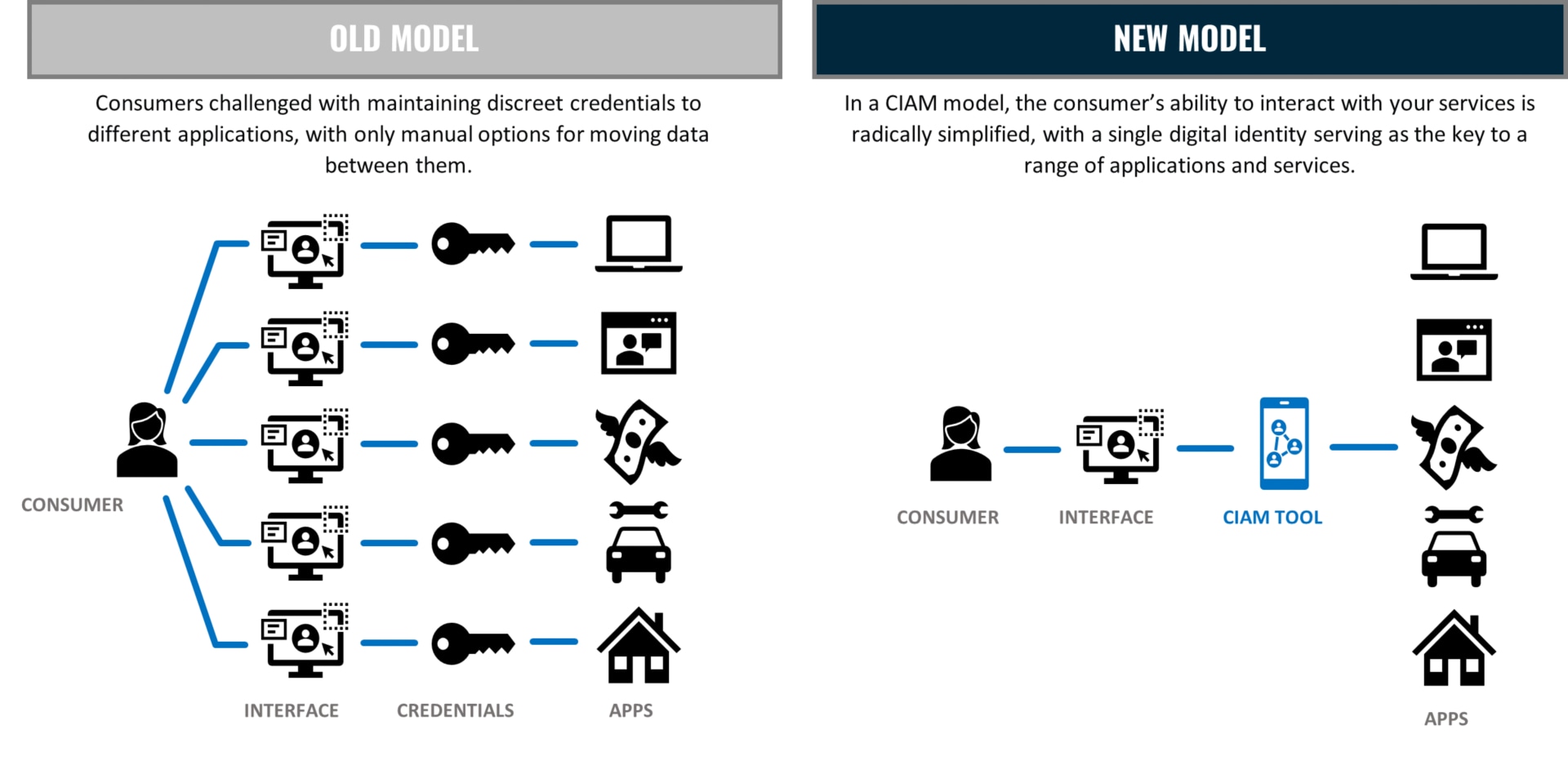 How Do CIAM Solutions Secure Customer Data?
Self-service options for online account management, personalized customer portals and modern mobile experiences are now essential pieces of a successful digital strategy. These choices provide customers with the flexibility and convenience they need to manage their accounts and access information on their own terms. This increase in convenience, however, can lead to an increase in risk.
Cybercriminals are always looking for new ways to exploit vulnerabilities and gain access to critical information. With customers now using so many different devices to log in, it can be difficult for organizations to ensure that the user attempting to log in is who they say they are.
CIAM solutions can help mitigate these risks by providing a secure and streamlined login process. By implementing multifactor authentication (MFA), device profiling and geofencing; simplifying processes like changing passwords through the syncing of data; and separating (not centralizing) customer data, businesses can ensure that only authorized users can access their accounts. This both protects customer data and enhances the overall customer experience by providing a seamless and convenient login process.
Improving the Customer Experience with CIAM Solutions
CIAM solutions can also provide customers with personalized content and services based on their preferences and behaviors. This in turn can help organizations identify their customers and determine the access they need to specific applications and services.
Additionally, CIAM solutions can also help businesses provide better customer support. By centralizing customer data and providing customer service representatives with real-time information, businesses can quickly resolve issues and provide an experience customized to the customer's needs.
Using CIAM Solutions to Mitigate Risk
Account takeovers (ATO) occur when a cybercriminal gains access to a user's account to commit fraudulent actions. ATOs are becoming progressively more common, potentially costing businesses billionsof dollars each year.
CIAM solutions can help businesses mitigate the risk of ATOs by implementing security measures such as MFA, biometric and passwordless verification. These measures can prevent unauthorized users from gaining access to accounts even if they have the user's password. Risk-based authentication tools can also analyze user behavior and flag suspicious activity to ensure that the user is properly verified.
Perhaps most importantly, CIAM solutions can also help businesses quickly detect and respond to ATOs. By monitoring user activity and implementing real-time alerts, organizations can identify and respond to ATOs before they cause significant damage.
Why Leverage a Trusted Partner to Implement a CIAM Solution?
Customer identity access management solutions are an essential piece of the customer experience puzzle for any business that values customer security and satisfaction. By providing a secure and streamlined login process in addition to personalized content and services, businesses can:
Lower the risk of account takeovers
Reduce call center times and times to resolution
Improve the customer experience
Reduce abandonment rate of users accessing services
For organizations struggling with poor customer experiences or dealing with legacy systems approaching end of life, implementing a functional CIAM solution today can help mitigate the risk of more complex issues in the future.
When evaluating CIAM solutions, be sure to engage a trusted information technology solution provider with advanced expertise in implementing strategic security solutions in identity access management and customer identity access management.
Story by Chris Sanchez CIAM Practice Manager, CDW
Chris Sanchez
CIAM Practice Manager, CDW
view more work

As a Practice Leader at CDW, Chris partners with sales teams and customers to develop solutions around customer identity and access management needs. This includes helping them understand and realize the value in their CIAM strategy and investments through expert services and offerings.
view more work