Review: Support Wi-Fi 6 Access Points with the Cisco Meraki MS390 Switch
Killer new security features, improved speeds and more power make this a switch worth considering.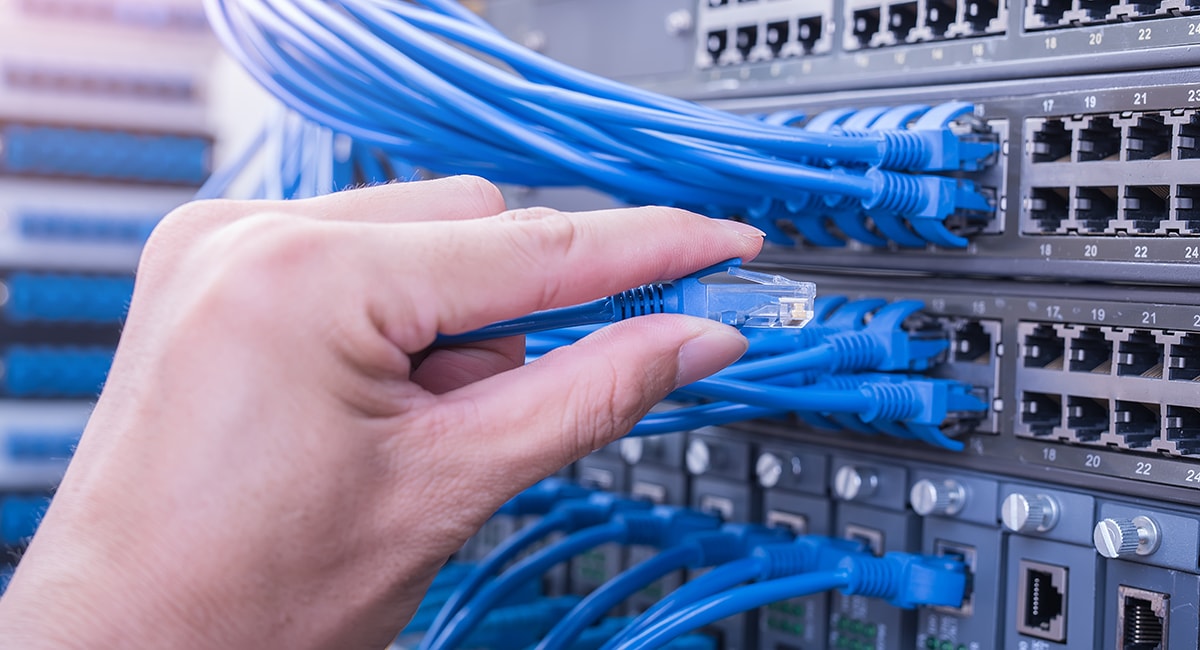 Cisco Meraki recently released a new switch — the MS390 — and while I normally don't get excited about new switches, this one has some neat tricks up its sleeve.
My CDW engineering colleagues and I were able to get our hands on some of these switches before their release and put them through their paces. What I really like about the MS390, and what I think will resonate with customers, is that it has enterprise-class features while maintaining the much-loved Cisco Meraki simplicity.
Visit CDW.com/Cisco to learn how CDW can support your networking investments.
The MS390 also offers comparable hardware and software solutions to other enterprise-class switches, including the Cisco Catalyst 9300. And although all testing finds some issues, my colleagues and I were very happy with the overall stability and completeness of the new switch.

SOURCE: Cisco Meraki
The MS390's Specs
Although the full data sheet is available from Cisco, the table below compares features of the MS390 to those of the MS350 and MS355 switches. The increased power over Ethernet (PoE) capability and Multigigabit Ethernet (mGig) support are welcome additions as customers look to support Wi-Fi 6 and other power/bandwidth-hungry use cases at the edge of their networks. With this increased bandwidth at the edge, I'm happy to see various modular uplinks to support various bandwidth requirements.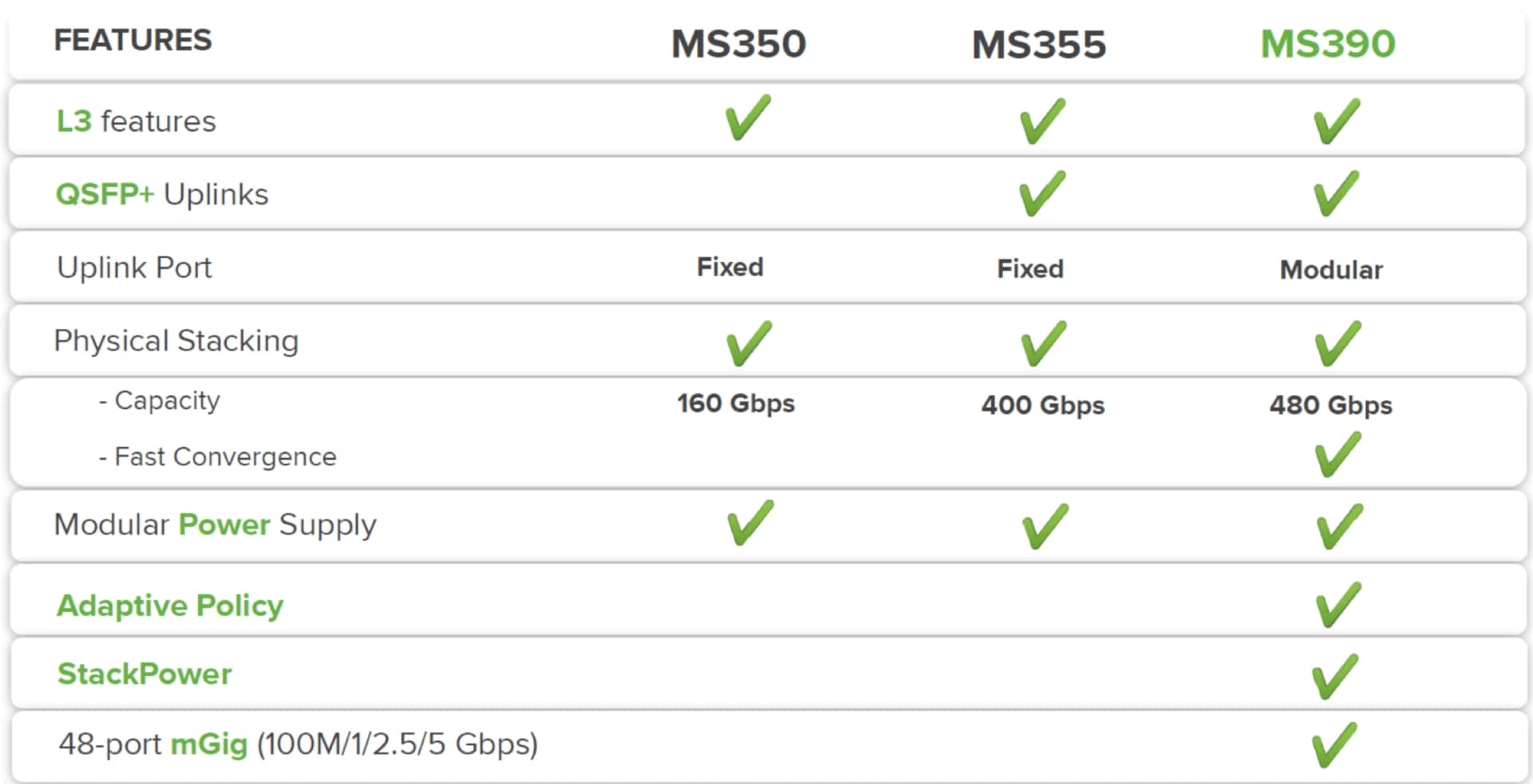 Click to enlarge image – SOURCE: Cisco Meraki
Stacking
With the new MS390 switch, Cisco Meraki introduced StackPower, which pools the available power supplies in all the switches and makes them available to every switch. The pooling of power supplies is the most efficient way to distribute the power to every switch. This is a feature that Cisco has long offered in the Catalyst line, and I'm happy to see it come to the MS390.
Along with stacking, Cisco Meraki has also made its data backplane stacking more robust, implementing the Catalyst method of electing a stack master that is responsible for management tasks of the stack. The convergence has improved, and the stack bandwidth has increased as well.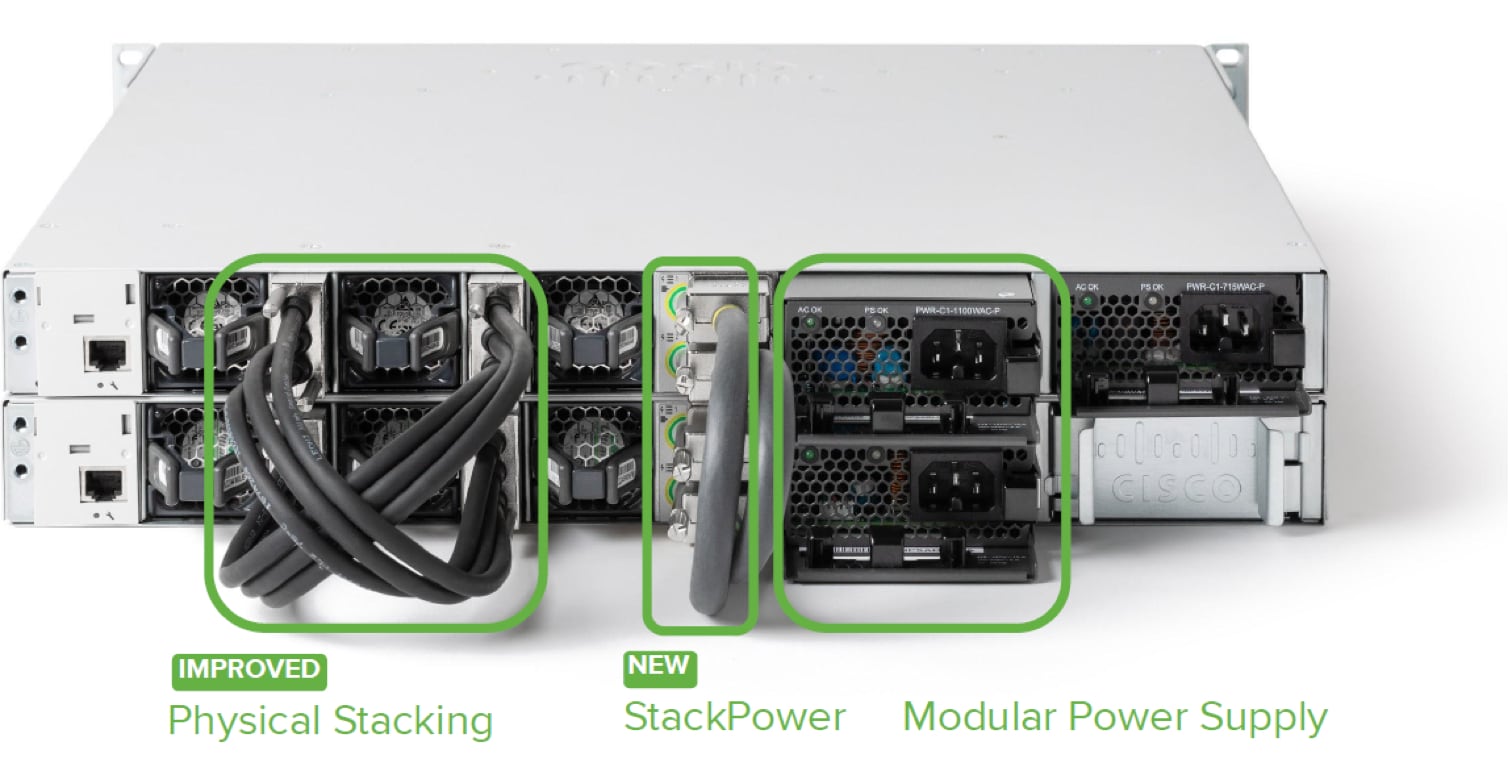 SOURCE: Cisco Meraki
Adaptive Policy
The challenge Adaptive Policy wants to solve is creating security contracts between different groups of users and services, regardless of the device or connection type. Traditionally, this is done with firewall rules, VLANs, ACLs and so on, which are difficult to design and manage, create technical debt, and do not scale with increases in users, devices and applications.
Adoptive Policy will leverage Identity Services Engine integration and use Security Group Tags (SGTs) to separate user identities from IP addresses and create business intent policies more simply. This feature will only be available on MS390 switches (with advanced licensing) and Cisco Meraki MR access points (802.11ac Wave 2 and above). However, MR customers who do not have the MS390 can still deploy Adaptive Policy. In a hybrid environment, current Cisco Catalyst switch (3K to 9K series) customers with Meraki MR can implement Adaptive Policy utilizing inline SGTs.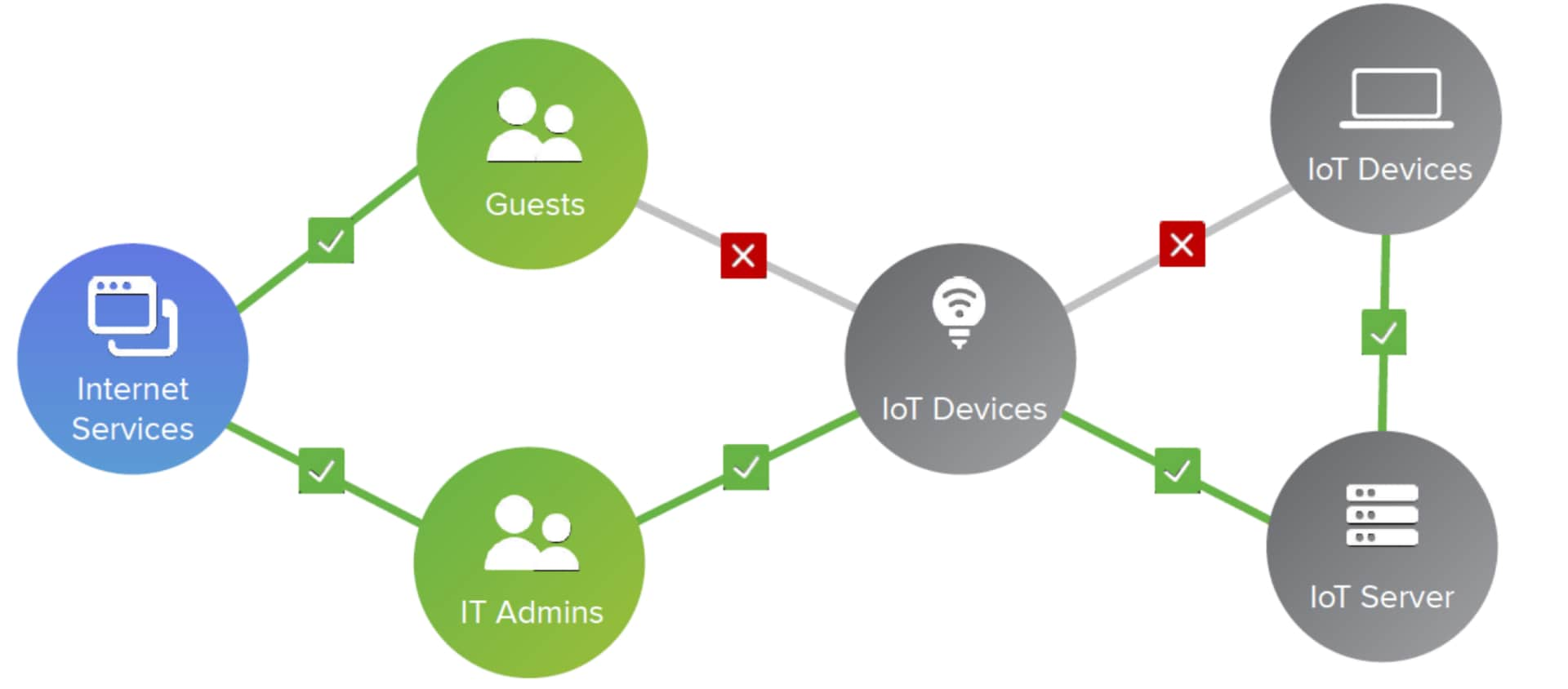 SOURCE: Cisco Meraki
I like to compare Adaptive Policy to Cisco Software-Defined Access. Both solutions look to simplify the implementation of microsegmentation, one of the most difficult problems facing campus networking today. I'm hopeful that Adaptive Policy will be implemented with the same Cisco Meraki simplicity as the rest of the product line. Unfortunately, I was unable to test it in our labs, as this feature is not shipping yet. Customers should be able to beta test the solution with a free trial starting in the first half of 2020.
More on Cisco Meraki
I'm excited about the new MS390 platform and, more broadly, about what Cisco Meraki is doing to solve some of the top-of-mind issues for customers. I wanted this post to focus on the MS390, but there are many other new security-focused features across the Cisco Meraki portfolio I couldn't cover. Check them out here and consider registering for one of Cisco's webinars to learn more.