How to Create a Future-Ready K–12 School for Career Exploration
In building a new charter school, The Lincoln Academy focused on designing a simple-to-manage network that supports collaborative learning spaces.
If you visit The Lincoln Academy, a stunning three-story public charter school in Beloit, Wis., an hour south of the state capital, keep in mind that it wasn't there roughly a year before it first welcomed students in the fall of 2021. It didn't exist yet.
If you tour its 115,000 square feet of high-tech learning spaces, replete with ubiquitous Wi-Fi, collaborative display technology and myriad 3D printers, understand that the technology infrastructure designed to support teachers and students was created while the building was taking shape, not after. Architectural plans and constant communication helped make the IT infrastructure a reality.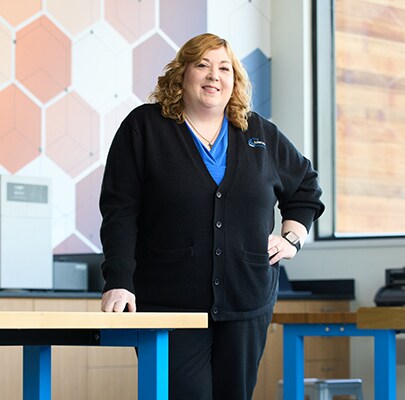 Dr. Kristi Cole, Chief Education Officer, The Lincoln Academy
Finally, know that it all came together during one of the toughest stretches of the COVID-19 pandemic, from July 2020 through July 2021, when social distancing was the norm and supply chain challenges made acquiring educational technology especially tricky.
"There were so many decisions that had to be made so quickly," explains The Lincoln Academy's Chief Education Officer Dr. Kristi Cole. "We selected everything, including the IT infrastructure, the equipment that goes with it and the phone system."
School leaders were making those decisions as construction workers were breaking ground on the site. "Considering we were building this school in just a year, we were fortunate to work with CDW•G," Cole says.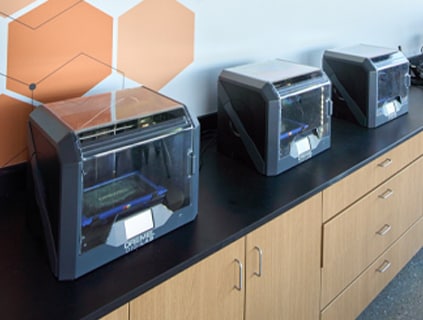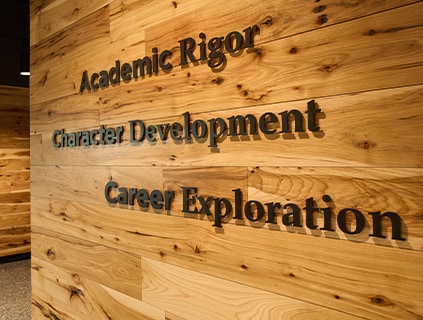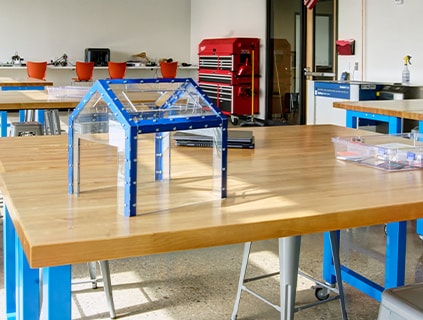 The Sky's the Limit for Learning
Built on donated land, The Lincoln Academy receives funding from a local philanthropist, area business partners and the state. The driving force, Cole says, was to create innovative educational opportunities for K–12 students in and around Beloit.
"We wanted to make sure we provide scholars with opportunities to know that the sky's the limit and help them set goals," she says. "We talked to dozens of community groups around Beloit to understand what they wanted in a new charter school, and it came down to academic rigor, character development and career exploration." 
To that end, The Lincoln Academy includes a variety of unique learning spaces that give students a taste of future careers. The school has 17 labs, including an agricultural lab, a medical services lab, a recording studio, an innovation lab and two computer science labs. It even won a TEALS (Technology Education and Literacy in Schools) grant from Microsoft Philanthropies to support its computer science program. Students in the program can graduate with an IT specialist certificate.
"We have a Chrome Depot where our scholars can fix their own laptops. We have 5-year-olds learning coding. In our robotics lab, our middle schoolers and high schoolers are doing things that are truly advanced," Cole says. "It's amazing and really exciting to see how we can support our scholars."
To enable technology in all these spaces — including the school's many small-group instruction rooms, which adjoin classrooms and offer collaborative technology to support focused work — The Lincoln Academy sought a flexible, easy-to-manage network. It needed to be fired up on day one without requiring too much on-premises equipment. This was especially critical for Director of Technology Marc Anderson, who calls himself "an IT department of one."
The percentage growth that The Lincoln Academy students achieved on NWEA Measures of Academic Progress math assessments after just one semester in their new school, 72 percent above the yearly average
Source: The Lincoln Academy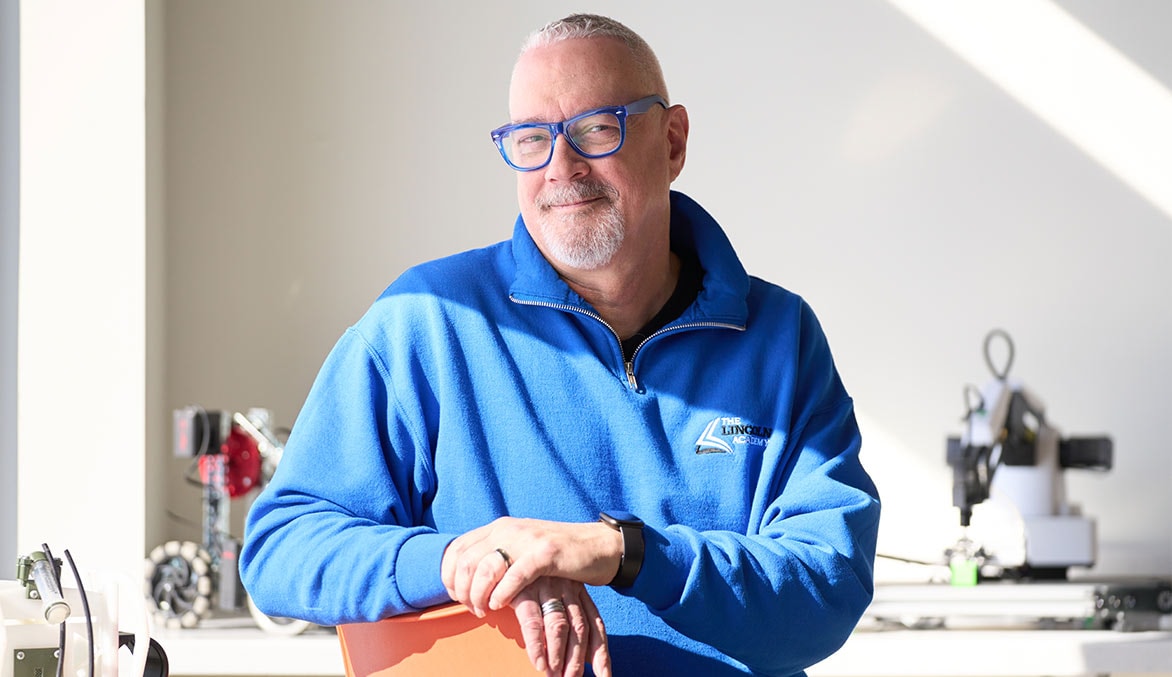 "It was designed from the start for all the scholars and teachers who will use it one day. The fact that I can manage it in software and have that one pane where I see everything makes it a lot easier." — Marc Anderson, Director of Technology, The Lincoln Academy
Single-Pane Network Management
As the walls went up, Anderson worked with onsite contractors in collaboration with CDW•G to wire the building and locate network jacks. CDW•G then consulted architectural drawings to plan the school's expansive wireless network, comprising nearly 70 Cisco Meraki MR36 and MR46 cloud-managed access points. From there, it was a matter of merging the wireless and wired networks. 
"CDW•G's network design team really helped a lot there," Anderson says. "They did a great job with limited information because there was no building yet. Now we have a solid infrastructure with good Wi-Fi coverage throughout the entire school, and our teachers and scholars can connect easily with their Chromebooks."
The network itself includes various Cisco Meraki cloud-managed devices — a pair of MS425-16 core switches, 18 MS225-48 Layer 2 switches and an MX250 security appliance. The goal was to build a robust, secure network that Anderson could monitor from a single unified dashboard while minimizing the physical equipment he had to manage.
"This kind of network platform is well suited for K–12 education institutions because of the light touch needed to manage it and the low component count," explains Tanner Frahm, the CDW•G account manager who oversaw the school's IT integration.
It can easily support growing workloads, which was critical for The Lincoln Academy. Planners knew the school wouldn't welcome all grades right away, instead phasing in age groups over several years, but the network CDW•G designed was ready for maximum capacity — eventually more than 700 students across all grades.
"It was designed from the start for all the scholars and teachers who will use it one day," Anderson says. "The fact that I can manage it in software and have that one pane where I see everything makes it a lot easier."
The percentage of K–12 IT teams that report being understaffed when it comes to maintaining network systems adequately
Source: Consortium for School Networking, "The State of EdTech Leadership in 2021" (PDF), May 2021
AV-Enhanced Learning Spaces
In addition to the IT infrastructure, The Lincoln Academy needed a generous helping of audio and video tools for its new school. Among its many innovative learning spaces is a recording studio with a sound booth, green screen and livestreaming cameras. Its gymnasium has two 222-inch projection screens and two projectors, a large-venue audio system and a commercial AV control and distribution solution.
To help meet The Lincoln Academy's aggressive timeline, CDW•G provided the AV technology, and integration partner SVT handled installation and programming.
"Our gym AV system is pretty complex, and there's been a learning curve for staff, but CDW•G and SVT have been very responsive. We're getting very comfortable with it," says Marc Anderson, The Lincoln Academy's director of technology.
What's next? "Because we've put together a very solid technology infrastructure and I don't spend my days chasing down issues, I can focus on new ideas, like scoping out a new esports lab," Anderson says.
Photography by Marc Anderson/The Lincoln Academy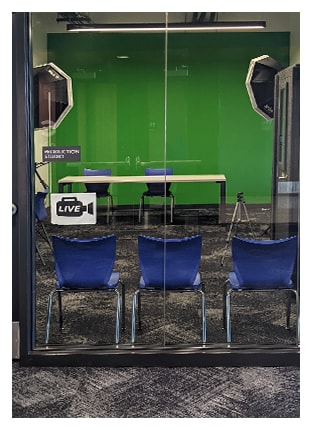 Phone and Emergency Response in the Cloud
The same high-impact, minimal-hardware philosophy informed other technology decisions. Original plans included a traditional, on-premises phone system, but eventually CDW•G and Anderson agreed on the RingCentral cloud platform and Poly IP phones.
"The on-premises solution would have meant additional hardware and server components for Marc to manage," Frahm says. "When we looked at the RingCentral solution, it also provided seamless integration with the notification system we chose."
In school settings in particular, the bridge between the phone system and emergency response is important. For The Lincoln Academy, CDW•G specified Singlewire Software's InformaCast mass notification system, which drives the school's public address system and emergency alerts.
"Anytime we work on a phone system in schools, we have to be cognizant of enhanced 911 and emergency response," Frahm says. "There are new laws on the books, so we take compliance very seriously. In this case, the tie between RingCentral and InformaCast covered all their bases and really helps with alerting, bell scheduling and more."
Wireless Content Sharing for Flexible Learning
Throughout The Lincoln Academy's diverse learning spaces, flexibility and engagement are paramount. Teachers need to be mobile, and students have to be able to take advantage of the technology infrastructure at their disposal. A fully one-to-one school, the academy wanted solutions that would be more collaborative.
"A lot of our curriculum is online, and our teachers really embrace individualized instruction," Cole says. "It made a lot of sense for us to have our educators hook up their laptops to the learning spaces and use that as the teaching environment."
At the outset of planning, The Lincoln Academy also explored installing various audiovisual solutions throughout the building. The leadership team settled on flat panels, which complement the school's style of teaching.
All told, CDW•G planned for more than 70 LG ultra-high-definition LED displays and mobile TV carts for use in classrooms, labs, small-group instruction rooms and public spaces. Each display is fitted with a plug-and-play Airtame 2 wireless adapter that lets students and teachers share content from their Chromebooks to the screens.
Close Collaboration with CDW•G Makes It Possible
Cole and Anderson agree The Lincoln Academy couldn't have realized its vision without a "one-stop shop" for its technology needs. Building a school and planning how it will be used are challenging under the best of circumstances. With only a year from groundbreaking to ribbon-cutting, The Lincoln Academy counted on close collaboration with CDW•G to acquire the technology it needed when it needed it during a global health crisis — even as those needs evolved on short notice.
"We didn't even have a medical services lab planned when we started," Anderson says. But having purchased an ambulance to integrate into the curriculum (on the third floor, mind you), The Lincoln Academy and CDW•G built out the infrastructure to support the new space. 
In fact, the school includes what Cole refers to as "shell spaces" — areas built with the IT infrastructure in place to support new labs or learning concepts as The Lincoln Academy grows.
This overt embrace of technology to support interactive learning and collaboration has helped attract teachers and students to the new school.
"In support of scholar learning, teachers are excited to have all this technology in their hands," Cole says.
Story by Brad Grimes, who is a longtime technology journalist and frequent contributor to the CDW family of magazines.
Photography by Matthew Gilson