Advanced Networks: Simple, Secure and High-Performing
Cloud-managed networks improve the user experience and ease IT burdens through visibility, control and automation.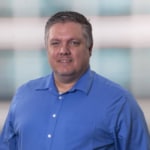 Aaron Pratt
CDW Expert
view more work

Aaron Pratt is an Enterprise Networking Team Lead at CDW and provides technical leadership and strategy for the Solution Architect team. He has been in the IT industry for more than 20 years, with extensive experience in Healthcare, Higher Education, and Fortune 500 Enterprises.
view more work