How Partnerships Can Help Community Colleges Achieve Their Technology Goals
The College of Lake County and CDW worked with local stakeholders to bring the Advanced Technology Center to life.
The recent grand opening of the College of Lake County Advanced Technology Center in Illinois reminded me of what I love most about my job.
For nearly 18 months leading up to the big day, I and others at CDW had worked closely with the college to help them procure a wide range of technologies for the facility. Laptops and desktops, scanners and docking stations, servers and wireless access points — they all had to be ordered, delivered and deployed within very strict deadlines. 
But that wasn't really what I was thinking about as the ATC finally came to life. Instead, it was how all the stakeholders in this new building had come together to see the project through to completion.
The incredible value of partnerships — that was the thought on my mind that day. CDW had partnered with CLC in ways we rarely do with institutions of higher education, and then there was the collaboration between the college and people and companies from the local community. All of it came together to make the ATC happen.
The first and most important partnership involved CLC and Lake County manufacturers. The facility was designed from the start to serve as a talent pipeline to local companies in need of a highly trained workforce.
A community college with a long history of successfully preparing students for careers in industry, CLC had heard from manufacturers that they needed employees with advanced technical skills. Meeting with these companies and listening to their leaders, the college eventually developed a roadmap that led to the opening of the ATC. Also at the table from the Lake County community: a local high school that had partnered with CLC for years to provide laboratory space for the college's welding program.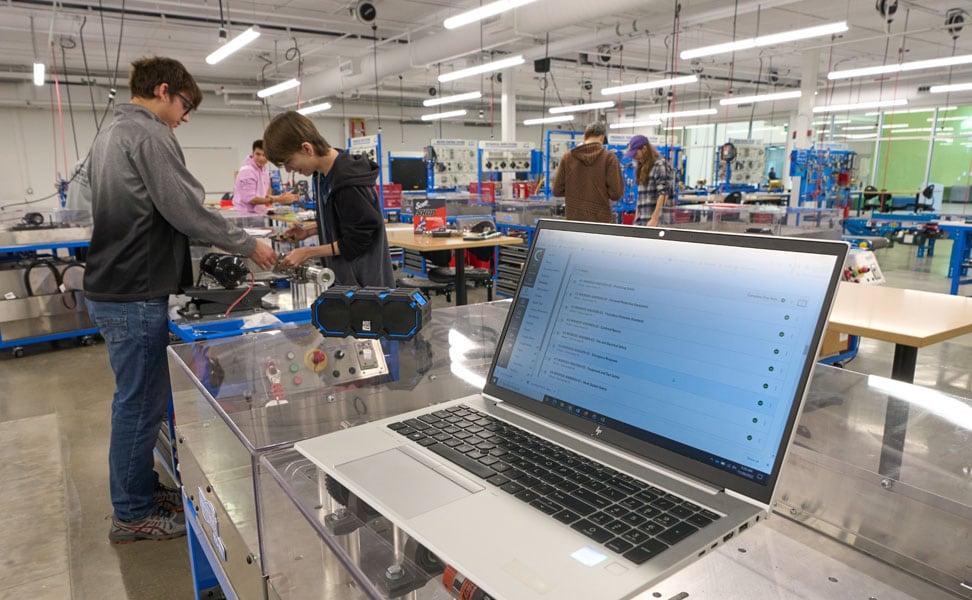 Next up for the project was a partnership between CLC and the National Coalition of Advanced Technology Centers. The NCATC helps colleges develop curricula and degree programs focused on "Industry 4.0" fields — those where technologies like robotics and the Internet of Things meet traditional disciplines like welding and industrial maintenance. 
The NCATC also helped facilitate the discussions between manufacturers and the college about what each could bring to the table. It's clear now that the ATC would never have succeeded without the NCATC's expert involvement.
And as for our own participation in the project? For CDW, the partnership began with the ed tech and our collaboration with the college's IT team, and now it's continuing as we discuss opportunities for CLC students as interns and future CDW employees.
Other examples of our partnership at work: Back in October — Cybersecurity Awareness Month — a CDW senior field solution cybersecurity architect delivered a presentation to CLC students about how to prepare for a career in cybersecurity. And looking ahead, we're talking with some of our top technology vendors about donating their own time and expertise to the programs students pursue at the ATC.
It's true that this isn't necessarily how it goes at every college or university we work with, and it's also true that the CLC ATC isn't a typical community college building. Still, that won't prevent me from dreaming: Maybe one day partnerships like these will seem a little more like business as usual.
Story by Julie Kriedemann, an advanced technology account executive for higher education at CDW
Photography by Matthew Gilson