Research Hub >

Technology Empowers Field Workers to Make a Difference
Article
Technology Empowers Field Workers to Make a Difference
With mobile tools, nonprofit field staff and volunteers can accelerate outreach and positive change.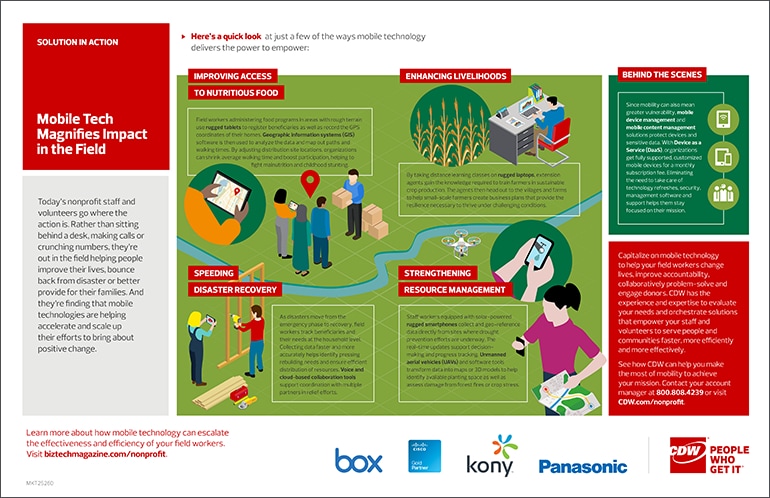 You're more likely to find today's nonprofit staff and volunteers out in the field than behind a desk.
They're constantly on the go, collecting research data, registering beneficiaries for programs, educating people and supporting success in challenging environments.
Whatever their goal – from improving access to food to managing disaster recovery to strengthening natural resource management – geographically dispersed field workers are increasingly relying on mobile technologies to identify needs, inform decision-making and drive change.
By taking advantage of rugged laptops, tablets and smartphones as well as GIS software and voice and cloud-based collaboration tools, field workers can better communicate, collaborate, conduct research and respond to – or avert – crises.
Check out our Solution in Action to see how mobile technologies can ramp up the efficiency and effectiveness of nonprofit field workers.
CDW has the expertise and experience to help your organization make the most of mobility to increase impact, improve accountability and make a difference.
With more workers on the go and in the field, mobile tools play a growing role in communication, collaboration and effectiveness.
A strategic approach to technology can help stores see dramatic improvements.
Must-haves include professional development and a commitment to personalized learning.