Solving Print Challenges in the New Work Environment
A thoughtful approach can help companies simplify supply ordering, manage costs and optimize their print devices.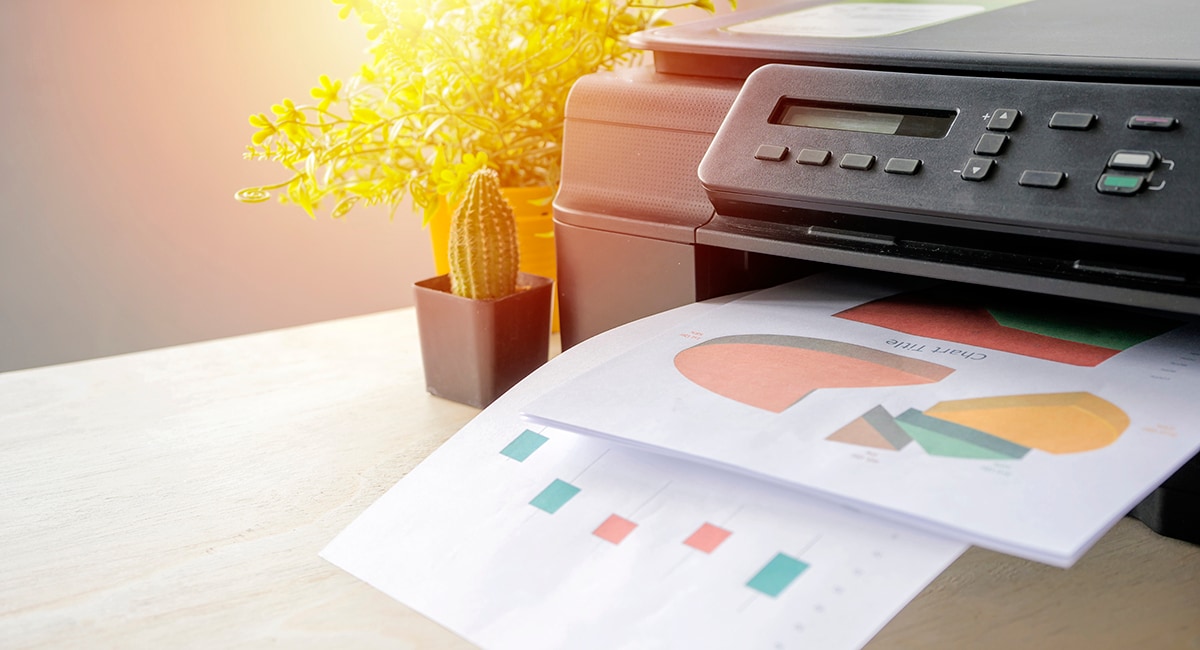 Last spring, when companies sent their employees home due to the COVID-19 pandemic, many people simply couldn't find a printer. In fact, a whole secondary market for low-end print devices sprouted up, with people paying three or four times the retail price on third-party websites.
Looking ahead, it's clear that many companies will continue to maintain a hybrid workforce of sorts, even after the end of the pandemic. Not everyone will work from home, and not everyone who does will need a printer. But enough people will need to print from home that it's worth spending some time to plan out the best ways to enable home printing in the future.
Learn how CDW Managed Print Services can simplify printing for your organization.
Office print environments are already a hassle for IT departments, so it is essential for companies to plan for potential pain points. In particular, organizations must find ways to simplify ink and toner order management, manage costs and optimize their printer fleet for the future of work.
1. Simplifying Ordering
Buying ink and toner sounds like a fairly straightforward task, right?
You might be surprised.
Often, plugging in one part number on a retail website will return five or six results. And for an employee working alone at home, it can be difficult to wade through the different yields and weed out substandard components made by third-party manufacturers. This, in turn, can lead to either wasted money or complex, time-consuming return processes.
CDW has developed custom toner ordering pages, where employees can order only the products that their company's IT department wants them to order. This puts the buying process "on rails," as we like to say — eliminating the potential for error and getting employees what they need without creating additional headaches. A custom ordering page may seem like a small thing, but sometimes small things can make a big difference.
2. Managing Costs
It can be incredibly challenging for organizations to manage print environments when printers live outside the corporate network. In particular, managing costs is more difficult than ever. One way to overcome this challenge is through a purchase authorization system.
At CDW, we can set up a PAS to allow certain limits on what specific employees can buy. This not only prevents people from overordering print supplies but also eliminates the risk of someone fraudulently buying themselves a new MacBook on the company's dime. We can also set dollar limits on employee purchases or require that purchases receive corporate approval before they are finalized.
3. Optimizing Printer Fleets and Toner Deployment
The return of workers to offices over the coming months presents a great opportunity for companies to assess their print environments to look for inefficiencies. Use patterns may well change as a greater portion of employees work from home on at least a part-time basis, and it is important that organizations not pay for and maintain a bloated on-premises print environment that no longer meets their needs.
At CDW, we help companies with free assessments of their print environments, looking at actual usage data and hunting for ways to better optimize printer fleets. For instance, it's not at all uncommon for an organization to have a $1,200 machine in a spot where a $300 printer would do the job just fine. To make matters worse, some machines are idle for so long that toner cartridges eventually run dry without being used, causing money to evaporate into the air.
The challenge of monitoring supplies in an office printer fleet without eyes on the device is an ongoing issue. IT teams have the same amount of office space to cover, yet fewer office workers are in direct contact with printers, and therefore fewer people are noticing toner levels and submitting support tickets to request toner. This scenario makes a toner fulfillment service — such as CDW's complimentary automatic toner delivery or prompted toner ordering — even more relevant. IT teams could greatly benefit from this free service to ensure they don't run out of supply.
Businesses are still figuring out what the world of work will look like after the pandemic ends. But by taking steps to streamline their print environments, companies can help prepare themselves for whatever the future holds.