Robots and Drones in the Workplace
These emerging technologies are addressing increased safety needs by connecting socially distanced workers and sanitizing workplaces.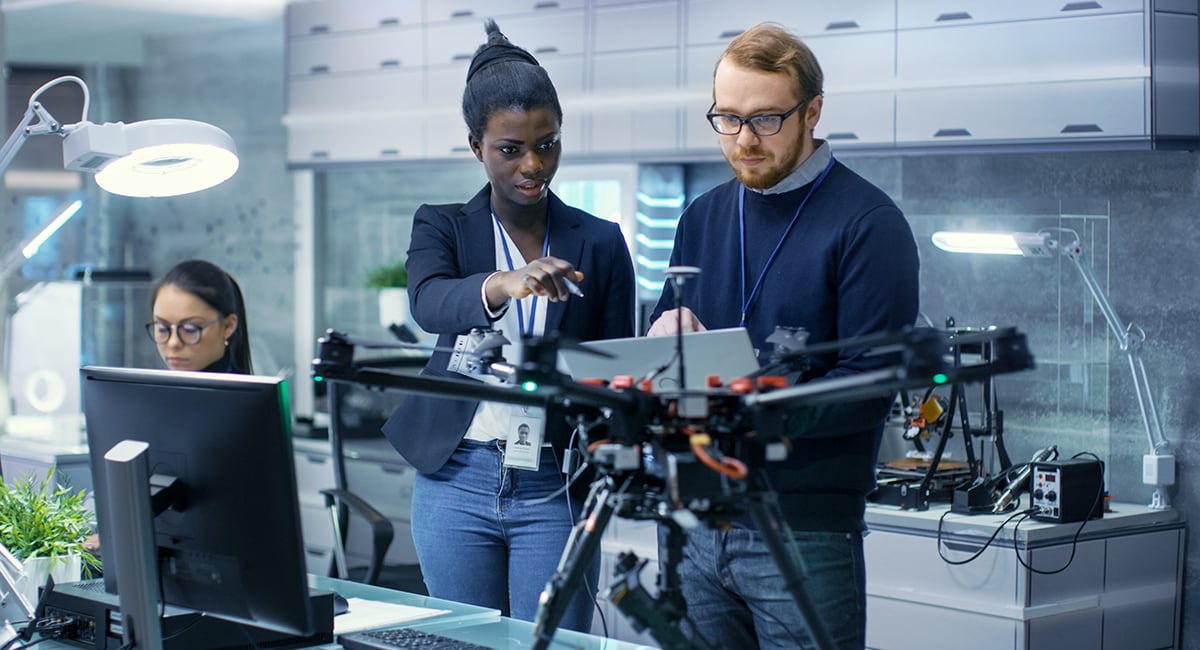 During the global pandemic, Emerging Technologies — the area of IT that I focus on — has seen an exciting influx of new technologies and offerings in a short amount of time that help keep people safe and connected.
Learn how CDW solutions and services can help you provide a safe work and learning environment.
Some of these technologies, especially robotics and drones, are causing disruption in the channel in a couple of ways: by providing new avenues for people to communicate in a socially distant world and sanitizing entire rooms autonomously. These emerging technologies are providing peace of mind to coworkers, students and teachers as businesses and schools create plans to reopen.
Telepresence Robots for Collaboration
For any Parks and Recreation fans out there, you may be familiar with character Tom Haverford's creation of "DJ Roomba" where his vacuum played music and become more of a personal entity than a cleaning device. Fast forward to 2020, where companies are taking the same concept of using an autonomous vehicle not to listen to music (though maybe you could), but to conduct face-to-face interactions from remote locations.
A great example of this technology was on a recent episode of Full Frontal with Samantha Bee where Samantha used a telepresence robot to go into the field without ever leaving her home and conduct interviews and interact with people in New York.
Robots for Business and School
There is growing interest in telepresence robots as businesses and schools try to find creative ways to collaborate outside the confines of the computer. The robot integrates a self-driving base, cameras, a tablet and videoconferencing software to create a mobile platform that gives the user freedom to move in an environment from remote locations.
Similar to assisted reality glasses, telepresence robots allow users to engage in "see-what-I-see" functionality. If a walk-through of a building or construction site needs to be conducted, a robot can be used to livestream it to stakeholders in remote locations across the country. This will not only reduce travel expenses and time away from the office, but it will also provide a new way for businesses and schools to effectively collaborate.
For students that want to tour college campuses, guides can leverage the robot to take prospective students on a virtual tour, reducing the travel costs of the parents and students who no longer need to hop on a plane to visit a school.
Robots in Healthcare
This type of technology will be impactful in areas such as healthcare for use in telemedicine. In a hospital setting, telepresence robots reduce the number of times medical staff need to suit up to enter rooms and floors where extra precautions need to be taken. This approach also offers a way for families to virtually support their loved ones being treated in the hospital.
Another area where these robots can prove useful is senior living facilities that are considered high risk during the pandemic. By using a robot, families can virtually visit with their loved ones even if they are incapacitated. In businesses across the country, telepresence robots can be used as a way for business guests to be in the office remotely. This will eliminate travel costs while still giving these visitors the freedom and mobility to move around the office and meet with various groups throughout the company.
Drones for Workplace Sanitization
As businesses and schools reopen, supporting healthy hygiene practices according to CDC guidelines is becoming increasingly important to organizations. One of the sanitization solutions available with volumes of research supporting its use is UVC disinfection. UVC refers to ultraviolet light with wavelengths between 200–280 nanometers. Light in the UVC wavelength can be used for disinfecting water, sterilizing surfaces and destroying harmful microorganisms in food products and in the air.
While UVC may not be a new technology, the applications in which it is being integrated into are. A great example of this is the Digital Aerolus Aertos 120-UVC drone, which combines an industrial, indoor drone with small but powerful UVC lights. This drone allows more organizations to access and use UVC disinfecting tactics quickly. It can achieve 99 percent disinfection rates for large surface areas. A restroom sink could take 35 seconds to disinfect, while a hospital room surface could take up to 5 minutes.
UVC lights are also being built into robots to provide 360 degrees of disinfection for large areas. Similar to a Roomba, these robots are built with automatic navigation, obstacle avoidance and infrared sensors to effectively avoid humans. Many of these robots can reach remote areas up to 6 feet from the surface. Similar to the UVC drone, robots can quickly disinfect work areas in 10-15 minutes.
A Brighter Work Future
These newer technologies highlight how many partners are finding creative and effective ways to bring people together again and keep them safe. Telepresence robots and UVC drones and robots are improving the way businesses and schools interact from remote locations, and sanitizing without harsh chemicals.