Case Study
Modern Classrooms Bring Learning to Life with CDW's Blueprint to Design™ Service
Rochester City School District reimagines the teaching environment with color, collaboration and flexibility.
Leaders of the Rochester City School District came to a few important conclusions several years ago: They needed to modernize instruction; they wanted education to be engaging and interactive; and redesigned learning spaces would be a big piece of the puzzle. 
To achieve that vision, the district launched a one-to-one program, invested in digital content and increased professional development for teachers. Guiding these efforts was a desire to move away from traditional content delivery to new instructional models, such as blended and project-based learning. 
Now, RCSD leaders are investing in classrooms, to ensure physical spaces facilitate the transition to new pedagogies. 
Traditional classrooms are designed for lectures, with rows of desks facing the front of the room — a layout that's not conducive to collaboration, says CIO Annmarie Lehner.
"We need flexible seating and furniture that's mobile, so students can work individually or in small or large groups," she says. 
Like many innovative schools, RCSD envisions a classroom with comfortable seating; modular furniture that can suit a variety of instructional needs; and technology that includes mobile devices, Wi-Fi and digital displays. 
RCSD's leaders wanted to build their model classroom on the second floor of the administration building — a central location that would showcase the space to students, teachers and visitors from across the district. Their goal was to bring students to the space for instruction, help stakeholders see the benefits of a revitalized classroom and get buy-in from district leadership to support additional classroom upgrades. 
To create the proof of concept, the district turned to CDW's Blueprint to Design™.  
The service starts with a two-hour consultation with an educational strategist, typically a former educator or school IT administrator who understands K–12 education. A designer then creates a 3D rendering to help customers evaluate options for furniture, color and technology by seeing what they would look like in a particular space. 
"Let's face it: None of us in the district are designers," Lehner says. "We know what looks good, but we don't know how to make it look good. We had some very high-level ideas, and they took those ideas and made a really beautiful, innovative space."

–
A Trusted Partner 
RCSD already had a strong relationship with CDW•G, relying on the technology solutions provider to supply Dell Chromebooks for the one-to-one program. When district leaders learned that CDW•G also distributed furniture and designed classrooms, they were open to trying the Blueprint to Design service. 
In 2017, leaders were already discussing modern learning environments, so it was perfect timing, says Glen VanDerwater, RCSD's executive director of instructional technology.
"We've found CDW•G to be a very good partner and responsive to our needs, and because we've had such good customer service, we started to explore what other offerings CDW•G had," he says. "Just through casual conversations, they said, 'We can provide a sketch for a classroom,' and we started to explore it."
Typically, companies require districts to commit to a furniture purchase before their designers draw up renderings. But CDW•G will help schools design a new environment before the district spends a dime. 
CDW•G's educational and technology experts are available every step of the way to provide advice, says Santino Martinez, a CDW•G learning environment adviser.
"We take into consideration their goals and have soup-to-nuts conversations on the furniture they want and the technology they need, from audiovisual equipment and networking infrastructure to Chromebooks," he says.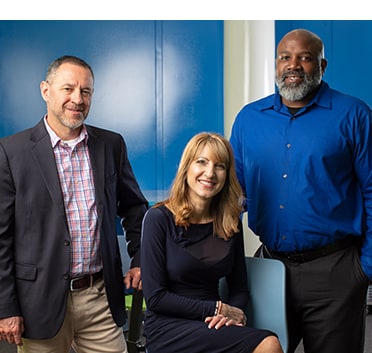 It's truly at the heart of what we're trying to accomplish in the district: to give kids the opportunity to participate in learning in multiple modalities.
Glen VanDerwater, Executive Director of Instructional Technology, Rochester City School District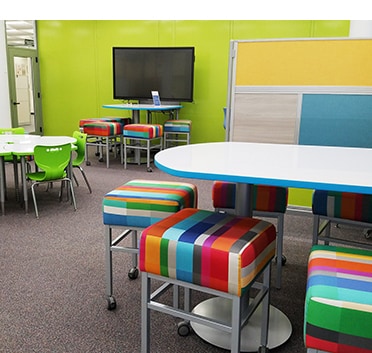 –
Inside the Modern Classroom
Early on, RCSD leaders met with CDW•G account managers and an educational strategist to discuss their objectives. The CDW•G team shared those findings with designers, who created several choices for RCSD to review, including full-color, 3D renderings.  
"Color is a big thing because it changes enthusiasm and attitude," says Lehner. "We didn't want a neutral color. We wanted something bright, bold and fun, and we knew CDW•G had a team that could make recommendations for us." 
The district also wanted flexible furniture and a variety of seating for all grade levels. 
District leaders were impressed with CDW•G's design work, and once they settled on a plan, they built a 25-by-24-foot modern classroom that is stylish, colorful and airy. Two walls are brightened with green, blue and yellow paint, while the other two walls are glass-enclosed, making the room feel spacious and open.
In one configuration, two sets of curved desks are arranged in a circle, so students can work individually or in groups. One group of desks features green hardback chairs, while another set has blue, wobbly stools for students who like to wiggle around a bit as they learn.
The room also includes tall, bistrolike tables, green soft benches and rainbow-colored ottomans. 
RCSD also equipped the room with a cart of 30 Chromebooks, fast Wi-Fi through a Cisco Systems access point, a MakerBot Replicator 3D printer and table-level charging stations. Two 75-inch Triumph interactive flat-panel displays hang on the walls, flanked by a table and soft-cushioned, rainbow-colored stools. 
Students roam around the classroom to collaborate and problem-solve. They use Chromebooks, but they also use pencil and paper. Every desktop doubles as a dry-erase board, so students can jot notes and sketch on their desks — a feature that's especially popular.
"They move from station to station and collaborate using different tools," VanDerwater says. "We believe in the way it engages students. It's truly at the heart of what we're trying to accomplish in the district: to give kids the opportunity to participate in learning in multiple modalities."
–
Students Have a Voice
To land on the best design, CDW•G went through several rounds of revision based on feedback from staff, faculty and students. In fact, students made a huge impact on the final selections. 
RCSD organized an event that allowed students to try out different furniture and give their opinions. CDW•G helped coordinate the event by shipping furniture to the school where the event was held. The company also set up a virtual reality station, where students could wear an Oculus VR headset that allowed them to virtually walk into a modern classroom and pick out different furniture and colors, says CDW•G Field Account Executive Shawn Campbell.  
CDW•G set up a videoconference so students could speak to students in Chicago who already had a modern learning space. The company also displayed renderings on easels, so students could see the designs being considered. Students used Chromebooks to give grades to various furniture and design options.
"The students were excited, and it was awesome to see," says Matt Edsall, a CDW•G executive account manager. 
After tallying the students' feedback, district leaders finalized the design. 
"We were almost ready to put in a purchase order, but this event changed the whole thing up," Lehner says. "CDW•G then did some new renderings for us with the different furniture students selected. We made modifications and then moved forward with the plan. It was really a great experience." 
–
Inspiration Takes Hold
Rochester's new modern classroom, completed in early 2018, has garnered rave reviews from students and teachers. The room hosts fifth graders from around the district for internet safety and digital citizenship classes. Older students use the space after school for online credit recovery.
As district leaders hoped, the classroom has inspired educators to reimagine other learning environments, including libraries and makerspaces. 
"Teachers and staff from across the district are coming up with ideas for their own spaces and are starting to do it in their own classrooms," says David Andrade, CDW•G's senior K–12 education strategist. 
In fact, the district is in the midst of a multiyear, state-funded program to modernize and renovate school buildings. Thanks to the positive impact of the modern classroom in the central office, the board members of the modernization program, made up of school and city officials, have added flexible furniture to contract bids. 
"Not every classroom will look like the modern classroom in the central office, but they might have different kinds of furniture that are comparable, and that can help create a vibrant and engaging atmosphere in the rooms," VanDerwater says.
Placing the room right next to the superintendent's office was important because it allowed staff from all over the district, as well as community members, to see the space in action. The glass-enclosed walls allowed stakeholders to peer in and see the benefits firsthand. 
"It was the most visible place and the best thing we ever did because that completely allowed us to get buy-in from everybody going forward," Lehner says. "We don't get push back on 'Why are you doing this? This might not be a good idea. It's a little bit more money.' Everybody knows this is what we need, and it allows us to get there a lot faster." 
RCSD couldn't have completed the project without CDW•G, Lehner says. 
"It wasn't just the renderings. It was the back and forth discussions we had," she says. "CDW•G helped us every single step of the way, from planning and selection to delivery of the furniture." 

How CDW Blueprint to Design™ Works
CDW•G partnered with furniture supplier MooreCo to deliver the CDW Blueprint to Design™ service. Here's how it works:  
A school completes an online form on CDW•G's website, expressing interest in the design program.

CDW•G provides a two-hour consultation with an educational strategist to discuss goals and vision.

If school leaders want to move forward, they send CDW•G a blueprint or floor plan and pictures of the space to be redesigned. CDW•G then shares the information learned from the consultation with a MooreCo designer, who develops detailed 3D color renderings

CDW•G delivers the renderings to the school and makes revisions based on feedback.  

The school can purchase furniture and technology based on the design all at once or in phases, depending on budget. CDW•G's classroom transformation team, which includes learning environment advisers and account managers, works with the school on revisions and ordering the furniture and technology.


Learn more about what Blueprint to DesignTM can do for you.