Improving Hybrid Work and Learning Scenarios with Logitech Scribe
This whiteboard camera offers communication enhancements for remote workers and education instructors and at-home students.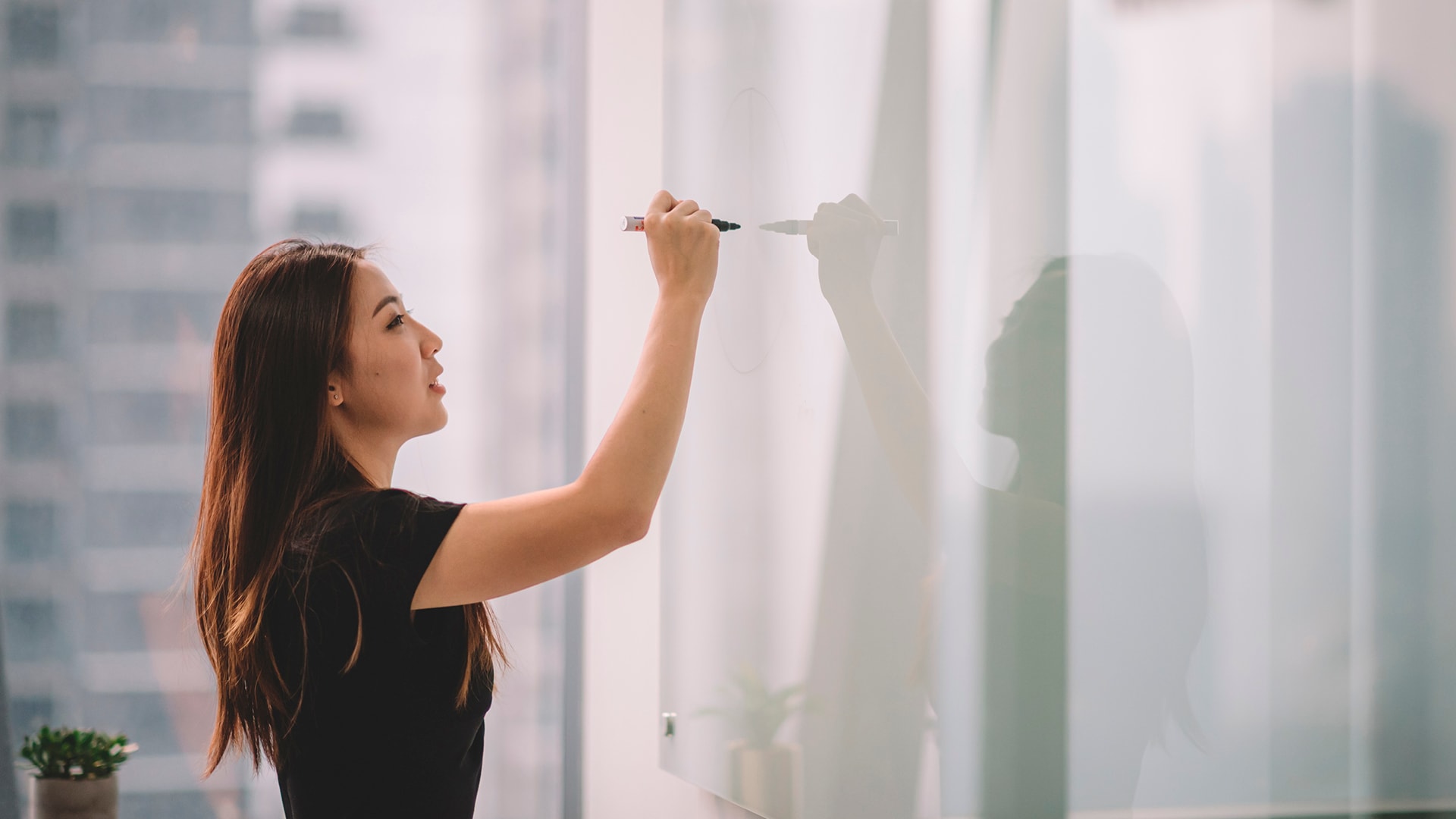 If the past year has taught us anything it is that hybrid work is here to stay in some form or another. With such a vast change in work structure comes many new ideas, strategies and possibilities for how we continue to effectively work together while the physical distance between us becomes our new standard. In my role as a technical architect here at CDW, I am constantly looking for that next idea, that next solution or that next device that helps us tell the best story about how to simply and efficiently connect people in the digital space. 
Discover how CDW services and solutions can assist you with your digital workspace.
In May 2021, Logitech introduced a new device that helps close that physical collaboration gap with their new dedicated whiteboard camera called Scribe. While the concept of a whiteboard camera is nothing new, the execution, style and simplicity of this device immediately makes it a top contender for devices in this category. I was lucky enough to receive a unit during the product's beta and provided some thoughts and feedback to the Logitech team about my experience with the device. Keep reading further into this blog for my thoughts on my experience with this device.    
As stated earlier, Logitech's Scribe device is an enhancement to a class of devices known as "whiteboard cameras." For those of us (myself included) that have one of those physical analog whiteboards in their home or office ― you know, the ones you actually write on with a dry-erase marker ― this device might be for you. One of the struggles with physical whiteboards is that, in a hybrid work environment, it can be difficult for those that are not physically in the room to see or participate in the content being generated on these whiteboards. This can create a disconnected and perhaps frustrating experience for remote attendees of a meeting. Logitech's Scribe device solves for this problem by providing a dedicated camera that is mounted above the physical whiteboard. With the use of Logitech's own software and AI capabilities, the device will actively enhance the whiteboard content and share it within the meeting.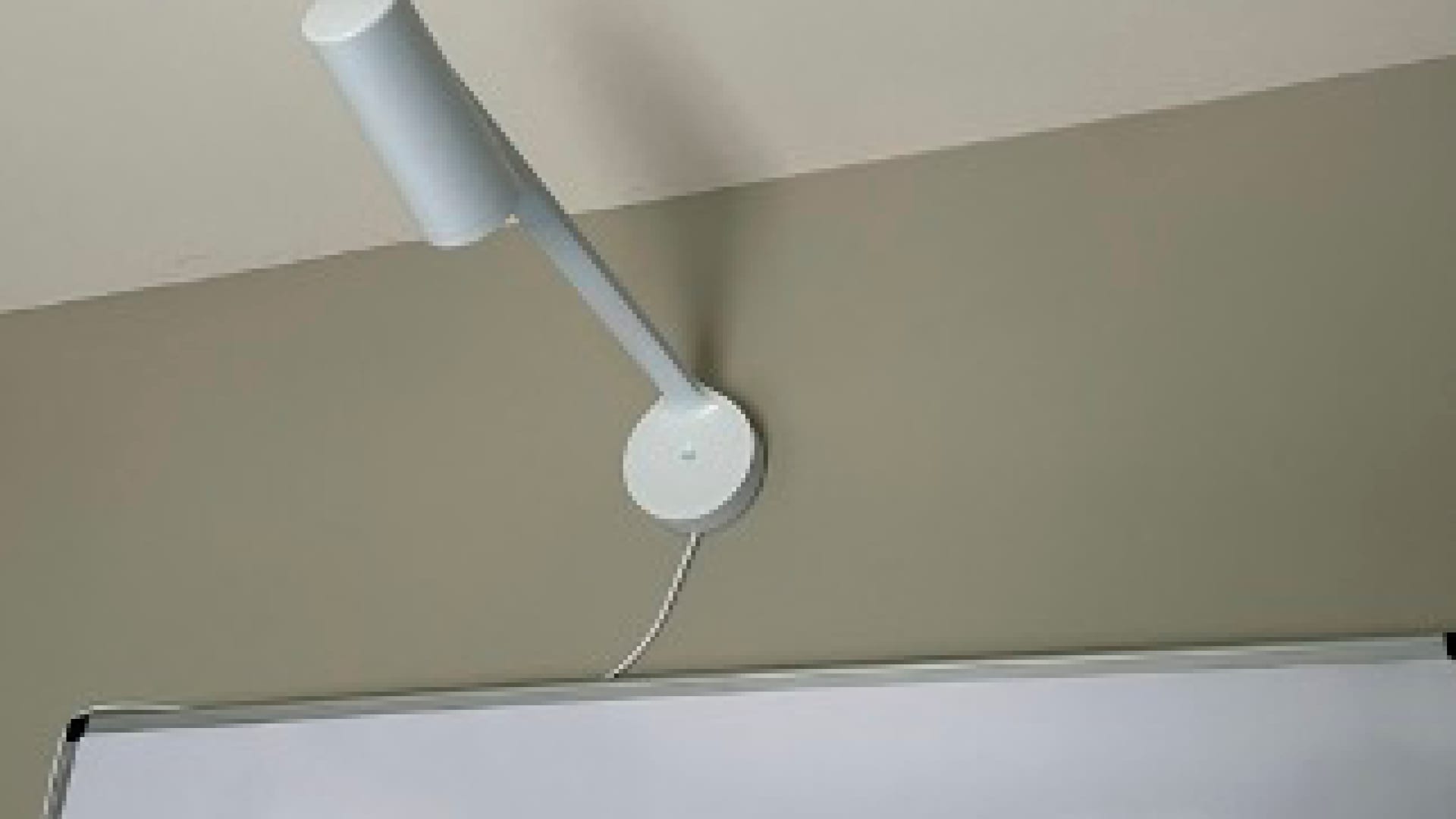 What Can Logitech Scribe Really Do?
One of the greatest attributes of this device is that it can operate entirely on its own, without the requirement of an actual meeting room device or VTC (video teleconference) device to support it.  Walk into the room with a compute device like a laptop, plug the camera's USB connection into your device, and select the Scribe as your camera input device in virtually any meeting platform. Once selected, the Scribe takes over and the content on your whiteboard becomes the star of the show. 
As a Microsoft Collaboration Technical Architect, my meeting platform of choice is Microsoft Teams. As you can see in the screenshot below, whiteboard content looks great (if you ignore my handwriting) in a meeting when sharing this content directly from my Microsoft Teams-enabled laptop. No meeting room device is involved.  Additionally, notice the whiteboard attendee is also missing That's because the device uses built-in AI to remove the person writing on the whiteboard from the image so that all meeting attendees can read the board clearly.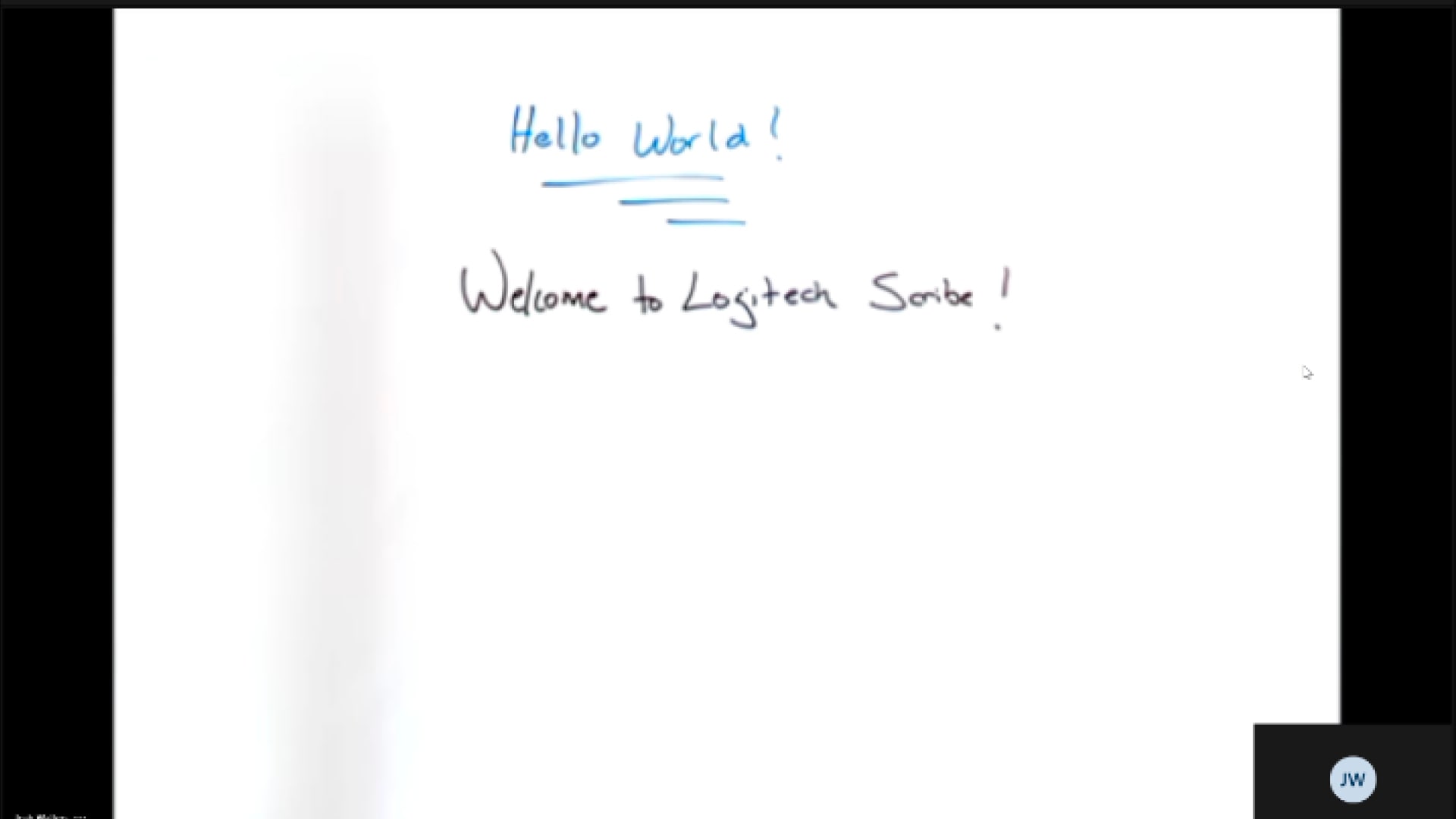 The downfall to this mode is that unless there is an option within a meeting platform to share multiple cameras from the same device, you will only receive the whiteboard video feed as shown above. You are missing any other in-room video taking place from the room that the whiteboard is in. However, for many whiteboarding scenarios, I think this is still a valuable trade-off as the content should be the focus for most meetings. For example, in a home office scenario like mine, this device can act as a perfect (and simplistic) complement to your work computer for whiteboarding from home. 
Integrating Logitech Scribe with Meeting Room Devices
Integrating Scribe with a meeting room device is really the ideal solution as the combination completes and at the same time simplifies the meeting room whiteboarding scenario. I am lucky enough to also have a few other demo devices available to me at home, and I used the Logitech Tap paired with the Logitech Meetup in Microsoft Teams Room (MTR) mode to showcase this. My MTR device recognized the Logitech Scribe immediately as a "Content Camera," which is a mode on MTR devices that allows you to share both whiteboard content and in-room video at the same time. This combination is ideal for meeting rooms where you have multiple participants in the whiteboarding room that also need to be part of the meeting experience. As you can see in the screen capture that follows, in-room video is available alongside content with my Microsoft Teams Room device. Also important to note is that the MTR device can be any Windows IoT-based MTR device that supports the "Content Camera" feature. So if you are using an MTR produced by another manufacturer, Scribe may still be for you. 
Logitech didn't stop there; they took the device a step further by simplifying the content-sharing scenario with a wireless "Share" button that can be installed near the in-room physical whiteboard. At the time of writing, this feature was not yet available for Microsoft Teams Rooms and is listed as "Coming Soon" on the Logitech support site. However, I have it installed in my office and I am patiently waiting. In the meantime, this feature is supported on Zoom Rooms today. 
Where Else Might Logitech Scribe be Useful?
I enjoy using a physical whiteboard; it feels natural and I think a lot of people feel that way as well. It's just comfortable, and with the single button share capabilities it's not intimidating for the typical end-user. That being said, I do also enjoy using virtual whiteboards like Microsoft's Whiteboard app on my touchscreen devices. For many users, virtual whiteboards can be a bit more practical because they take up less space, in many cases no space at all, and are obviously far more mobile. For the office environment where users enjoy that physical whiteboard experience, this is a great device, especially since it does not require anything other than a compute device like a laptop to operate. 
One of the key industry use cases for physical whiteboard cameras like Scribe is in education. With the anticipation that remote and hybrid learning will only continue to grow in popularity, and the pandemic accelerating the need for these capabilities, a whiteboard camera like Scribe could be a major driver to make hybrid learning more effective. I remember my college and K-12 days, and it felt like the educator was always at the front of the room writing on a chalkboard or a whiteboard. It is effective, it works, and again, it's comfortable. Logitech identifies education as one of the purpose-built and primary use cases for Scribe and focuses explicitly on these use cases via their education focused data sheet found here. 
The Future of Hybrid Work and Learning Is Bright.
We've all experienced a massive amount of change in the past year, and I think it's safe to admit that some great innovation came out of the unique scenarios many of us have found ourselves in over the past year. I anticipate we will continue to see much more innovation of this kind as we settle on what hybrid work and learning look like in the future, and Scribe is another device that helps bring that future a little bit closer to the present. If you are looking for ways to continue to revolutionize your hybrid work or learning journey, CDW is always here to help support and guide your organization.
Discover how CDW services and solutions can assist you with your digital workspace.