How CDW's Blueprint to Design Initiative Builds the Modern Classroom
Nearly 500 schools have partnered with CDW to design and deploy their modern learning environments.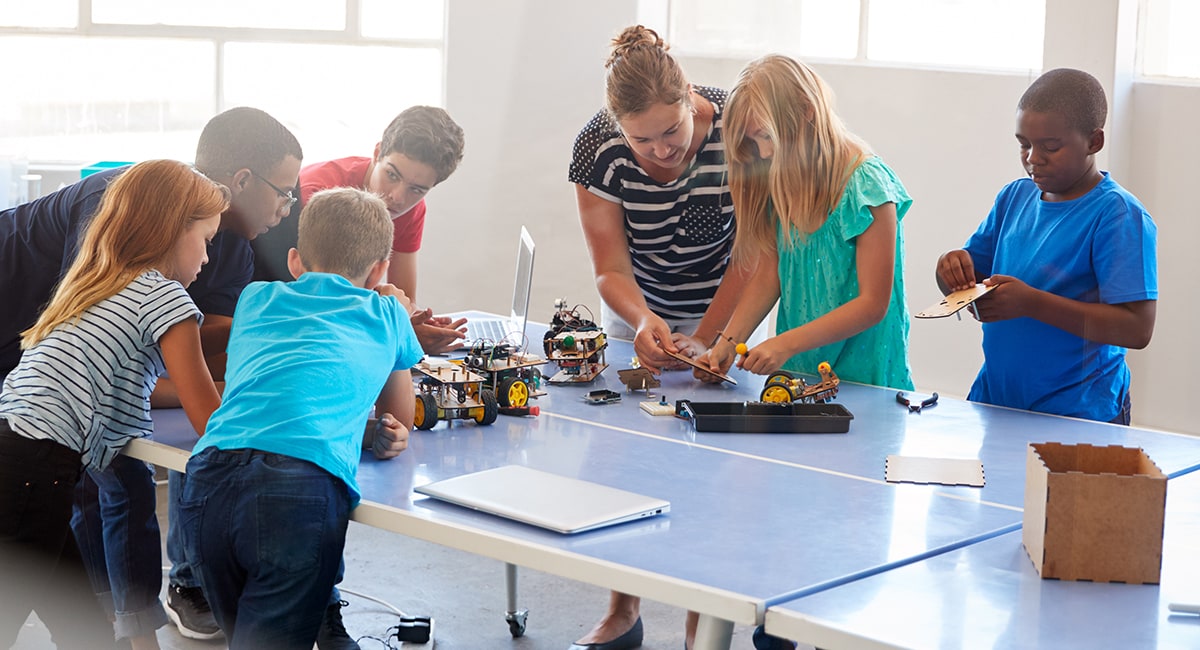 My wife and I are looking into renovating our home, but the truth is that we don't know where to start. Should we begin with the bathroom, the bedrooms or the kitchen? Do we need to bring in an architect, or can we work directly with a contractor? Can we start talking with plumbers and electricians now, or do those professionals get involved later in the game?
The problem boils down to an old truism: You don't know what you don't know. I frequently see a similar sort of confusion when school leaders set out to revamp their learning spaces. While they're often excited about the prospect of changing things up in ways that will enhance student collaboration and learning, they're usually unsure of which piece of a project to tackle first (or how to tie all the different pieces together).
That's why we created the CDW Blueprint to Design™ initiative. Unlike typical vendor engagements, this program allows schools to rely on CDW for each piece of a modern learning environment (MLE) redesign, from beginning to end. Rather than hiring an architect to design a classroom space and then coordinating among different technology, furniture and audiovisual vendors, schools can work with our team to tackle the entire project.
Interested? Request a Blueprint to Design™ consultation.
Keep reading to explore typical steps in the CDW Blueprint to Design process.
Identify Goals and Vision
The CDW Blueprint to Design process begins with a two-hour consultation with a CDW education strategist trained in space design and pedagogy. The objective of this session is for the strategist to gain an understanding of the goals and vision behind a school's project. Typically, these sessions focus on a pilot project, such as a single classroom or a larger shared space like a school library or media center. During this time, our education strategists get a feel for exactly what a school is looking for in its new space. Will students be moving their desks to work in groups? Will student devices, an interactive display or a projector be a focal point of teaching and learning? Are there any special requirements, such as a dedicated space to store robotics kits?
At the same time, we get a sense of the current power and connectivity requirements of the space and begin to think through any improvements that may be needed to support new digital learning activities.
Send Blueprints of the Learning Space
After the initial meeting, the school sends our team a blueprint (or floor plan), along with photographs of the learning space.
Develop Plans and Renderings
CDW works with experienced school designers to complete two-dimensional floor plans and color rendering options for the new space. This is the stage when our team really brings everything together — the flexible furniture, the audiovisual tools, the student devices, the classroom technology and any necessary supporting infrastructure. Rather than trying to coordinate bids from various vendors, school administrators can leave this work to us and focus on what they do best: running their schools.
Evaluate Design
After we present our design plan to educators and school leaders, they have an opportunity to evaluate the design to ensure it meets the school's needs. The design plan includes an itemized list of costs, helping to eliminate unwanted surprises. School leaders may need to lobby school board members or district-level leaders to marshal resources for the new space.
Implement the MLE
Finally, once school and district officials have signed off on the plans for the new learning environment, CDW implements the design. Districts have the option of engaging CDW for installation and orchestration services, which are especially useful for larger spaces. At one media center redesign, for instance, the project consisted of over 900 boxes of items that needed to be installed, configured and assembled. This sort of work goes beyond the scope and capabilities of most custodial and IT staffs.
The turnkey nature of this service offering is unique, and it's what has drawn nearly 500 schools so far to turn to us to design and implement their modern learning environments.
Oh, and if you hear of a similar service for home renovations, please let me know.
Watch this video to see how Rochester City School District in New York built a dream classroom for students with CDW's Blueprint to Design™ service.
This blog post brought to you by: