Article
Expert Review: Logitech Rally Plus Delivers Robust Video and Audio Capabilities
This videoconferencing system boasts several advanced features, but it is also simple to use.
The Logitech Rally Plus videoconferencing system is about as close as you can get to truly professional video and sound capture outside of a dedicated studio. Designed to operate in conference rooms of any size, the camera can zoom up to 15 times with no image loss, while microphone pods extend the range of sound pickup all the way to the back of larger rooms.
At the heart of the system is the new Logitech Rally camera, which can capture resolutions up to 3840x2160 (4K Ultra HD) at 30 frames per second, which delivers film-quality images. If you set the camera to just 1080p resolution (normal HD), you can bump the frame rate up to 60 fps. Most meetings look best in 4K, but if you need to capture motion perfectly, you can use the 60 fps option.
The Rally camera offers more than just great image quality. It's mounted on a motorized stand that lets it rotate, tilt and pan to capture the best possible image. All of that can be controlled with a small remote, but new Logitech RightSense technology is built in too, which lets the camera control itself, focusing on the speaker and recording that person with the best possible settings to optimize facial features and skin tone. This automation enables optimal viewing quality, all without a technician needed to adjust camera settings. When the camera is not in use, it points itself straight down, so it's clear that it's not recording.
Listen Closely
Sound quality is similarly impressive. The test unit came with two microphone pods and two speaker bars. The microphones are optimized to capture the frequencies of the human voice and can cancel out other noise. They also work with the RightSense technology to enhance sound by, for instance, increasing pickup power near someone who isn't speaking or preventing loud voices from overloading the recording. Each microphone can capture sounds in an area of about 14 feet.
The speakers are loud and clear, delivering sound from the other end as if remote participants are in the same room.
Setting up the system was simple, and once installed, it functioned more or less automatically when needed. It works well with a variety of videoconferencing platforms. I tested it with numerous solutions, including tools from Cisco Systems and Microsoft Skype, and it performed flawlessly.
Specifications
Video Recording Resolution: Up to 3840x2160 pixels
Camera Features: 15X zoom, 90-degree view, automatic operation 
Speaker Power: Up to 95 decibels with peak noise cancellation
Microphone Range: Up to 14 feet
Camera Dimensions: 7.19x5.88x5.88 inches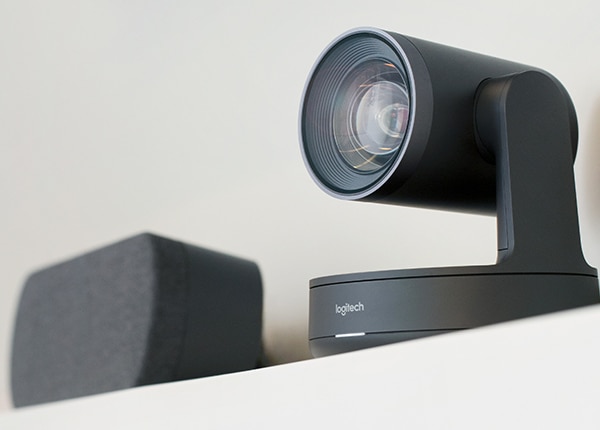 4K Quality
Participants should check their hair before starting, because the Rally camera captures every tiny detail in amazing 4K resolution. 
Automatic Director
While the camera component can be controlled with a remote, it also operates independently, keeping participants perfectly lit and in focus.
Now Hear This
The microphone and extenders have 90Hz to 16kHz frequency response for full voice reproduction with no noise.
Good Looks, and Much More
The hardware components of the Logitech Rally Plus system are impressive, but the system also has beauty to match its brains. In addition to working seamlessly with almost every videoconferencing program on the market, the Logitech Rally Plus system independently maintains optimal lighting and focus, keeping production values high while leaving users to concentrate on their meeting. 
The Logitech RightSense technology breaks down automation into three components: 
Logitech RightSight camera control: The camera automatically frames meeting participants, adjusting as needed when new people begin to speak. This includes panning and zooming to frame speakers perfectly. 
Logitech RightLight: This component optimizes light balance and color to prioritize facial features. It concentrates on capturing skin tones accurately, especially in dim and backlit conditions.
Logitech RightSound: This feature does for audio what RightSight does for video. It optimizes voices by suppressing background noise, and can automatically level voices so nobody gets talked over in a roundtable discussion.
Any organization looking for studio-quality video- and audioconferencing (without investing in a dedicated facility) should consider the Logitech Rally Plus system.

Putting Rally Plus to the Test
To test the entire system, I installed a Logitech Rally Plus unit in a small conference room that consisted of a long table with four chairs on each side. I placed LED lighting, including LEDs that could produce colored light, around the room — some in places that would backlight participants. I also placed noisy devices, such as fans, nearby. Participants in the test were given roles to play, including a very loud boss and a soft-spoken engineer.
I placed a normal video camera with an internal microphone alongside the Logitech unit for comparison. Both were logged in to the same conferencing system (in this case, Skype for Business).
As the scripted videoconference started, the test illuminated various LEDs around the room. At the same time, the fans were turned on along with a couple of white noise emitters. After a few minutes, I examined both feeds.
The feed with the standard camera and microphone showed predictable results. Backlit participants were washed out as soon as the yellow, orange or white lights near them were activated. Audio was poor for the entire performance, and lost for speakers sitting near a fan.
The recording from the Logitech device, however, was much better. Other than a brief delay when activating the washout lights, the system automatically compensated, never losing sight of participants or losing focus on their faces. 
The audio was similarly smooth, with increased pickup for the microphone near the soft talker, and leveling off for the one near the loud-talking boss. The fans and white noise could be heard, but the system lowered those sounds so that no speaker was drowned out. 
The Rally Plus optimized the meeting without the need for anyone to push any buttons or control the system. It observed the changing conditions and automatically adjusted. 
Most users holding a business meeting are not audio or video technicians. With the Logitech Rally Plus system's RightSense technology, they don't have to be to achieve great videoconferencing quality.



CDW can help you find the best Logitech solutions to unleash productivity and collaboration.