Article
Expert Review: Lenovo ThinkBook 13s Meets Users' Demands for the Modern Notebook
This laptop combines mobile computing power with ease-of-use features that avoid typical slowdowns.
Notebook computers these days must be able to do everything, especially if they are being used as part of a BYOD program. Users need them to seamlessly run all applications, integrate into business workflows, host teleconferences and perhaps provide entertainment in the form of movies or games. And of course, they need to be lightweight and easy to use.
The Lenovo ThinkBook 13s is designed with multiple uses in mind. It's powerful enough to handle almost anything and has a solid-state hard drive to boost its performance even further. Its sleek, zinc alloy case adds extra protection for unexpected bumps on the road, yet the device weighs less than 3 pounds.
Looks Good, Sounds Good, Runs Good
Somehow, Lenovo found a way to pack a 13.3-inch display into its new ThinkBook. It features an anti-glare coating that makes images look great, even in bright or outdoor lighting. This is further enhanced by Dolby Vision HDR technology, which expands contrast, increases brightness and ensures color accuracy. Everything running on the ThinkBook screen, from business presentations and photographs to videoconferences, looks amazing.
Although often overlooked in notebooks, the audio features of the ThinkBook deliver loud, highly detailed sound. The Harman speakers ensure that Skype calls are crystal clear, while the Dolby Audio keeps high-definition soundtracks playing accurately.
Considering the price, the Lenovo ThinkBook 13s delivers high-level performance. It scored high on the PassMark Performance Test benchmarks, especially for challenges such as memory task speeds and read-write tests. In real-world testing, it easily drove Adobe Photoshop, Microsoft PowerPoint, Google G Suite applications and many other advanced productivity programs.
Security is covered effectively as well. The ThinkBook 13s has a fingerprint reader built into the power button, which can be configured using Windows Hello tools. Once registered, users can authorize themselves and log in to the notebook just by turning it on. Data can be encrypted using the integrated Trusted Platform Module. Even the webcam can be blocked with a plastic shutter to prevent unauthorized snooping.
People ask a lot of their notebooks these days, and the Lenovo ThinkBook 13s is packed with features that deliver.
Specifications
Display: 13.3-inch IPS anti-glare screen with Dolby Vision HDR
Processor: Intel Core i5-8265U
RAM: 8GB DDR4
Graphics: Integrated Intel UHD Graphics 620
Storage: 256GB solid-state drive
Dimensions: 8.5x12.1x0.6 inches
Weight: 2.95 pounds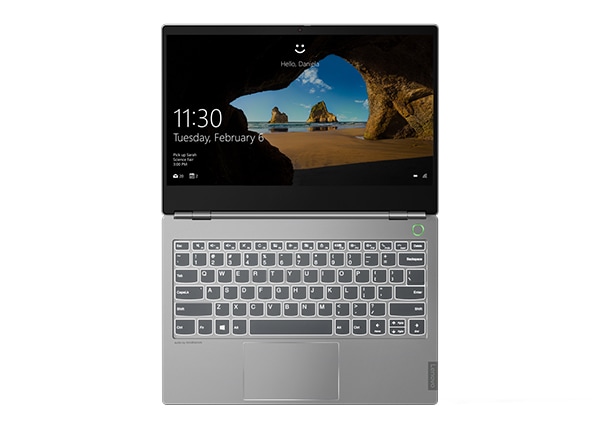 Touch Logon
Combining the power button with a fingerprint reader enables users to log on while powering up the device.

Quick Jolt
The rapid-charge feature forces power into the battery more quickly when the charge is running low.

Clever Keys
The keyboard has unique and helpful shortcuts, such as the ability to answer and disconnect Skype calls with a single keystroke.

On the Road with the Lenovo ThinkBook 13s
When Lenovo created the ThinkBook 13s, it packed great features such as fast performance, great sound and a beautiful screen into a lightweight package. But it also optimized a few extra features to make traveling with the notebook a real asset.
One of the most important factors for users who travel is power. They may lack easy access to power outlets and sometimes must go long stretches without downtime. Lenovo addressed this issue in the 13s in two critical ways. First, the notebook can provide up to 11 hours on a single charge, a claim verified using the MobileMark benchmarks and real-world testing. 
Second, the ThinkBook has a unique rapid-charge feature that is just as impressive as its long battery life. When drained (or nearly drained), the notebook initiates the rapid-charge feature, which forces power into the battery quickly when connected to a power source. The notebook can go from nearly drained to 80 percent charged in just under an hour (at 80 percent, charging returns to a normal rate for the final top-off). This lets users on the move juice up their battery quickly, even if they have only a few minutes of downtime or limited access to a power outlet.
Stand Up to Punishment
Ruggedness is also important to users on the go. Notebooks, like their owners, tend to get bumped around more when traveling compared with sitting back at the office. Each ThinkBook 13s has a strong, zinc alloy frame that is more durable than a typical notebook case. Even its hinges are rated to survive being opened and closed 25,000 times with no problems.
The ThinkBook is also sealed to protect against liquid spills on its keyboard. It can withstand an entire bottle of water being dumped on it (it's rated to survive a 60 cubic centimeter splash) without any harm to the internal components. And it's also protected against extremes in temperature and vibration that would spell doom for most nonrugged devices.
The laptop offers some convenience features for saving time as well. The keyboard has automatic call answer and drop buttons for managing Skype calls. Users can even listen to music while the ThinkBook is in standby mode, so travelers can enjoy their tunes without having to boot up.
It's nice to find so many great features for travelers in such a tiny notebook. 
For anyone who has been underwhelmed by their machine's performance on the road — or overwhelmed by its lack of portability — the Lenovo ThinkBook 13s offers an exceptional experience.



CDW can help you find the best Lenovo computers to deliver reliability and innovation to your organization.