Nutanix .NEXT Conference Highlights
Exciting new products and updates took center stage at this year's Nutanix event.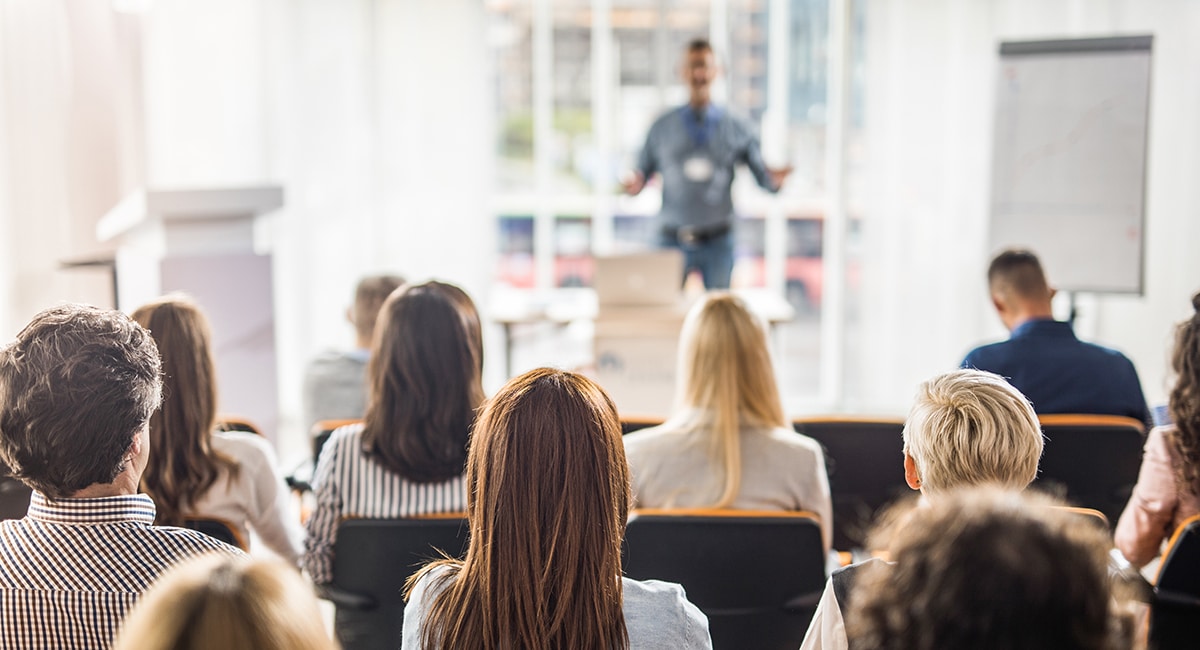 A number of us at CDW had the opportunity to attend Nutanix .NEXT 2019 in Anaheim last week. The attendance was great, the announcements were exciting, and we think it was one of the best Nutanix events yet.
One of the best parts of the show was seeing our CDW engineering team members having their customers go out of their way to visit them at our booth to say thank you and catch up. The two of us discussed many times that witnessing these interactions helps validate the product development process and the Nutanix solutions we're bringing to market.
More importantly though, those interactions highlight that our offerings are only successful because of the great people that surround us who are actively engaging with our customers. There's a huge team but to those that were at the show: Jamal Fennell, Charlotte Wilson, Kaley Cline, Drew Austin and Jordan Glamann — thank you for representing your teams and thank you for all that you do to make the CDW/Nutanix partnership a success.
New Product: Nutanix Mine
Simplifying the complexity of enterprise backup, Nutanix Mine is a new open solution that integrates secondary storage operations with the Nutanix Enterprise Cloud Platform. Through native integration with industry-leading backup vendors, Nutanix operators can manage their HCI environment and backup operations from a single console to reduce the cost and complexity of storage management. Brandon couldn't get out his phone fast enough to send a message to our Veeam Partner team about it. We are both very excited about the potential of this integrated offering as a general extension of our Nutanix and Veeam services
Although Veeam was highlighted in the keynote, HYCU, Commvault, Veritas and Unitrends look to have native integration capabilities in the near future as Mine becomes generally available. In addition to being able to use the backup solution of their choosing, the new Nutanix Mine integration gives customers of the Nutanix Enterprise Cloud Platform the ability to manage and back up all their workloads from a single console rather than having to deal with separate backup and recovery solutions. The integration is expected to be available later this year. This is a huge benefit – customers can take advantage of protection and the availability of products within the Nutanix toolset they are used to, employing one-click style deployments and management from within the Prism solutions console.
It is nice to see the features available within Prism continue to grow, a central pane of glass is so critical to what we do from both a Field and Managed Services perspective. Customers want options and Mine enables the choice of the best data backup software for their organization while eliminating the need for configuring standalone secondary storage solutions to accomplish just that.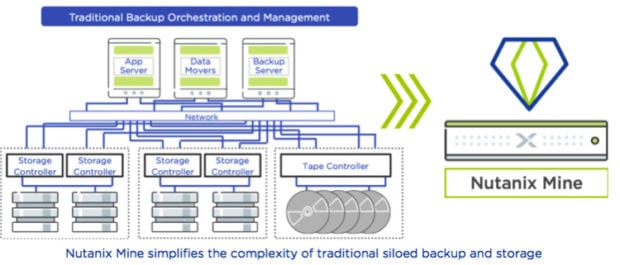 Like the rest of the Nutanix platform, Mine provides a drop in and scale out turnkey approach. Sizing can be done via the traditional Nutanix sizing tool, allowing for right-sizing from the start or scaling out as you increase your backup footprint. And with licensing, Nutanix promises to bundle licenses for Nutanix AOS Pro and your backup provider of choice into the Nutanix Mine Solution.
The current Mine offering is available in two form factors:

SOURCE: Nutanix
Look for more conversations regarding this solution soon; this was definitely one of the bigger highlights of the show.
New Product: Xi Clusters
Xi Clusters is a big step forward for Nutanix to accentuate its hybrid cloud story. Xi Clusters allows for customers to stand up AOS nodes on AWS EC2 bare metal instances and run a physical Nutanix cluster within an AWS region/datacenter. Essentially, customers get the same feature set from an on-premises deployment of Nutanix with the benefit of AWS adjacency and resiliency.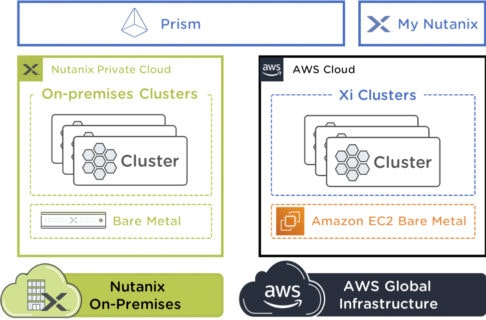 SOURCE: Nutanix
Although still in tech preview, Nutanix did devote a large section of the Day 1 keynote to demo the Xi Cluster capabilities within Prism Central. The ability to seamlessly spin up new clusters on bare metal hardware within AWS is compelling. Traditional hourly billing and bursting is available, as well as a "hibernation" feature that I haven't seen in this space. Hibernation allows customers more control of their consumption for varied workloads/use cases. We didn't get to see a lot on this feature, but more information will be coming soon.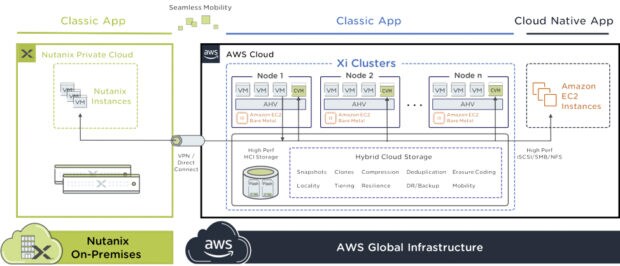 SOURCE: Nutanix
Within Xi Clusters, applications can take advantage of cloud-native services and applications. Nutanix also said that apps can be moved between Xi Clusters to AWS EC2 native environments without network reconfiguration, allowing for native network performance and minimal overhead. This is very cool and allows greater mobility for customer workloads and applications than is offered with traditional hybrid cloud deployments.
Like many others, we were excited to see this and the announcement was very well-received by the attendees. This is a space that customers are gravitating towards, and it is good to see Nutanix responding to the market and bringing their own type of solution to bear, providing more choice and possibilities to customers looking to break into the public cloud without the hassle of refactoring applications. On the other hand, witnessing a conference demo and being able to play with the technology on our own are two different things. We will continue to work with Nutanix to gain access to evaluate the feature in greater detail.
Product Announcement: Xi Frame
Xi Frame got a nice update in its deployment footprint. The compelling piece of the announcement is the ability to run VDI workloads in the right cloud for customers by now including Nutanix-powered private clouds. Total flexibility in the placement of workloads, whether it's AWS, Azure or native on-premises AHV deployments, truly means any app, any storage, any infrastructure, any browser. They hosted a live demo where they accessed an Xi Frame desktop with Chrome and did some heavy in-line video processing/editing live of a recent episode of everyone's favorite medieval fantasy show (CoffeeCupGate for those paying attention…).
We had a CDW customer come to our booth that is running a more traditional VDI on their native AHV clusters today. This customer was very interested in the evolution of Xi Frame, and it was a great conversation as two other CDW customers joined the discussion and we all collaborated on current methods and use cases and what they can do in the future. It really underscored that we (CDW and Nutanix) are really here for one reason: to help customers solve their business challenges and meet their goals.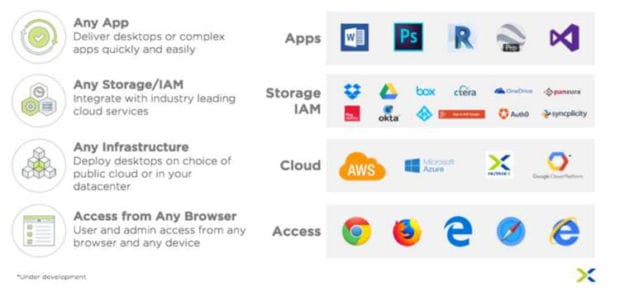 SOURCE: Nutanix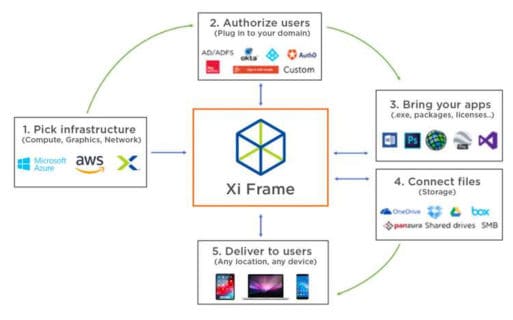 SOURCE: Nutanix
Product Announcement: Xi Leap
Most of our Nutanix service delivery around disaster recovery efforts have been focused on-premises site-to-site replication today with the occasional customers wanting to utilize Xi for a straight DR-based solution. Geographic challenges factor into our customer decisions on their DR strategy and with the announcement to expand Xi Leap into new availability zones, this conversation definitely gains some muscle. Nutanix Xi Leap is expanding beyond its current availability zones in U.S. West, U.S. East and the U.K.
Xi Leap now also provides DR services for enterprise workloads, making it even simpler to transform existing applications into a hybrid service. Automating the DR process, whether on-premises or within Xi Cloud, is a great evolution of the Nutanix strategy and Leap does a great job making this complicated topic manageable and easy to deploy. This automates a lot of what we traditionally do manually, and now gives customers the option of using the Xi Cloud for their DR target. We have seen many customers interested in DR for their Nutanix workloads over the last couple of years, and Leap does a great job of providing an easy-to-use, automated experience with both on-premises and public cloud scenarios.
HPE Partnership Announcement
Nutanix and Hewlett Packard Enterprise (HPE) recently announced a global partnership, which brings together two industry recognized leaders. Nutanix is a market leading hyperconverged infrastructure company with over $1 billion in annual sales and over 12,000 customers worldwide. HPE is a leading server manufacturer in the world with over 17 percent market share globally.
The partnership will be introducing integrated appliances featuring HPE ProLiant and Apollo servers with Nutanix software factory-installed and ready for deployment. HPE and Nutanix will also being partnering to deliver an integrated hybrid cloud as a Service. The offering will leverage Nutanix's Enterprise Cloud OS delivered through HPE GreenLake to provide customers with a fully HPE-managed hybrid cloud.
HPE will soon begin selling Nutanix's Enterprise Cloud software as a managed service through its existing GreenLake program, leveraging a pay-as-you-go licensing model. The HPE GreenLake business is a $2billion+ business in booked contracts. The addition of Nutanix to GreenLake 3.0 makes it a very appealing offer to customers looking for a more OPEX-type model with their HCI infrastructure.
This announcement today will provide our customers the freedom to choose. They can now select the optimal server platform they would prefer for their Nutanix software environment. Most importantly, it continues to allow CDW to provide the optimal solution for the customer.
Product Announcement: Xi Beam
Xi Beam empowers cloud operations teams to improve their multicloud security posture. Beam's enhanced real-time security compliance module identifies any critical cloud infrastructure vulnerabilities as soon as they happen along with specific remediation actions. Fix any security risk before it impacts the business and gain greater control of your hybrid cloud. Nutanix (with CDW account team assistance) is now offering a no-cost cloud cost and security assessment and extended, 60-day trial.
New Capabilities for Xi IoT
The Xi IoT platform now offers new capabilities — designed for AI and IoT developers — to develop and deploy IoT and AI applications in the cloud or at the edge. Streamline the development of IoT and AI applications with seamless connectivity to AWS, Google and your own data center resources, multi-language support, open APIs for development and one-click deployment, and integration with existing CI/CD pipelines. Nutanix is now offering a free Xi IoT trial that includes a quick start guide and everything you need to create and deploy AI and IoT edge solutions — all within two weeks.
Nutanix Expands Hardware Ecosystem
Nutanix customers have more hardware options than ever before, with newly announced appliances from HPE, Inspur, Fujitsu and Intel — along with support for AMD EPYC processors and Intel Optane SSD.
Final Thoughts
It was a great show and a ton of things to be excited about, not only for customers but for partners. The sessions, the announcements, the conversations – all helped to validate the great things Nutanix and CDW can do.
Contact your account manager to learn more about these products and initiatives or visit cdw.com/Nutanix for more information.