3 Key Strategies to Optimize Connectivity Between On-Premises and Cloud Networks
Discover how you can connect on-premises and cloud networks seamlessly for improved agility, efficiency and workload performance.
In the midst of the cloud revolution, IT departments eagerly embraced the idea of migrating their applications to the cloud in the hope of reaping the promised benefits, including enhanced scalability, better security and increased availability. The shift of this widespread adoption resulted in what is commonly referred to as "cloud sprawl," with applications scattered across various locations.
Consequently, organizations began questioning this approach because it created challenges, including working seamlessly between two host environments, managing cloud spend, keeping workloads secure and optimizing performance for both on-premises and cloud networks.
To alleviate the problems associated with migrating to the cloud, organizations had to take a step back and learn to align their operations, personnel, organizations and processes with their business objectives.
By developing an effective cloud strategy, organizations can achieve seamless connectivity between on-premises and cloud networks. This includes understanding what cloud environments need connectivity, knowing where the applications currently exist and which workloads need to move into the cloud. However, the engineers that build the infrastructure with cloud connectivity are not always included in the decision-making process, making it challenging to gain a comprehensive understanding of the situation.
Here are three strategies to consider to optimize on-premises and cloud networks.
Integrate with Cloud Native Products and Services That Align with Business Goals
To enhance the performance of workloads, organizations need to implement services that align with their architectural and business needs. Whether your approach involves hybrid cloud, multicloud or a single-cloud solution, understanding which cloud services best support your environment is crucial for achieving optimal efficiency.
For existing workloads being migrated to the cloud, it is important to assess whether current resources and components can be mapped onto equivalent cloud services.
Some cloud services and products can provide a secure, high-speed link between your on-premises infrastructure and the cloud. This improves network performance and reduces latency, making it ideal for data-intensive applications such as big data analytics.
Evaluate Your Requirements for Achieving Optimal Connectivity to the Cloud
Many different cloud environments exist, and when it comes to connectivity, organizations must understand what workload they are moving into the cloud, user locations and dispersion, so they can optimize their cloud performance. Additionally, they should consider which cloud platform is most suitable for their application.
To evaluate your cloud environment for optimization, it is crucial to answer these questions:


What kind of connectivity is required?
What level of security is necessary?
What workloads can I move to the cloud?
Where do the applications exist?
What are the technical requirements for meeting latency, bandwidth and network demands?
For example, if most of your applications are written for fast speeds on your infrastructure data centers, those speeds may no longer be the same if they are moved to the cloud. The cloud network can change how the applications are accessing those speeds.
Having a well-defined cloud strategy and adopting patterns and practices consistent across the chosen platform is essential for any successful communication between on-premises and cloud environments.
Leverage SD-WAN for Improved Cloud Connectivity
Software-defined WAN provides a great deal of advantages including improving WAN resiliency, application performance and network visibility, all while reducing operational costs and complexity.
One way SD-WAN reduces the operational burden for organizations is through transport independence. Users no longer need to worry about the type of connectivity they have. Additionally, they can dynamically select their preferred path based on the policies provided by the SD-WAN. They also have the option to prioritize their traffic, enabling traffic shaping and bandwidth control.
SD-WAN is particularly beneficial for network expansion in the cloud. It also offers on-demand connectivity because most SD-WAN providers have automated workflows in their orchestration tools for cloud connectivity.
SD-WAN supports cloud connectivity in many ways, including segmentation, compliance, security and bandwidth optimization, and it is helping customers improve operational efficiencies and resiliency. As a result, more and more customers seek ways to optimize their connectivity, even if they only have one or a few data centers.
Customers who have adopted SD-WAN have achieved positive business outcomes, including reducing time to connect to cloud applications and on-premises data centers, increased visibility, unified security and consistent multicloud access.
Many organizations are operating in hybrid cloud environments, but not all of them may be ready to store their workloads in the cloud. If they do choose to implement a cloud strategy that is intelligent and well thought-out, it is essential to ensure seamless and effortless connectivity for all users, regardless of their location or preferred data and connectivity options.
Ram Neema
Principal Field Solution Architect
As a Principal Field Solution Architect, Ram engages with customers to discuss their Enterprise-wide SD-WAN solution, enables hybrid work environments and cloud connectivity options and designs SD-WAN & cloud security solutions of all sizes and ranges of complexity.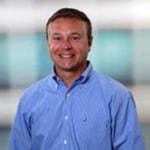 Pete Schepers has been with CDW for more than 13 years and has worked in roles on the Professional Services side of CDW and most recently as a Secure Network Access Solution Architect. Working with professional services allowed Pete to have in depth experience at deploying both small- and large-scale networks across technology spaces. The technologies include security, networking, and wireless.