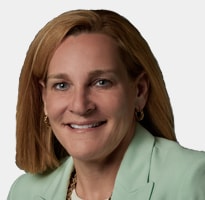 Retired President & Chief Executive Officer, FedEx Custom Critical
Virginia Addicott is the retired President and Chief Executive Officer of FedEx Custom Critical, a leading North American expedited freight carrier, a position she held from June 2007 to December 2019.
Addicott joined FedEx Custom Critical in 1999 as Division Managing Director, Service and Safety, and in 2001 became Division Vice President, Operations and Customer Service. Prior to joining FedEx Custom Critical, Addicott spent thirteen years at Roberts Express, Inc. (acquired by FedEx Custom Critical in 1999) in various operations roles.
Addicott is a member of the Board of Trustees of Kent State University. Additionally, she serves on the Board of Directors of Element Fleet Management Corp., Smither's Oasis and Akron Children's Hospital.  She is past chair of both The Boys and Girls Club of the Western Reserve and the Greater Akron Chamber of Commerce.  Addicott is a graduate of Kent State University where she earned a bachelor's degree and an Executive Master of Business Administration.