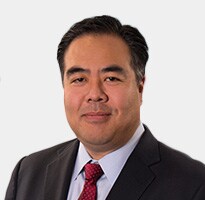 Mark Chong
Senior Vice President, Strategy and Marketing
Mark Chong is senior vice president of strategy and marketing for CDW. Chong is responsible for corporate strategy, business development and all marketing functions including analytics and insights, brand, advertising and sponsorships, campaign planning and execution, and corporate communications.
Prior to joining CDW, Chong was a partner at Bain & Company, a global management consulting firm. While there, he helped business-to-business companies develop or enhance their go-to-market strategies through his expertise in Bain's customer strategy and marketing, digital, and industrial goods and services practices. Chong also assisted clients to address issues such as corporate and business unit strategy, customer strategy, sales force effectiveness and post-merger integration and operations. Before Bain, he held executive positions at Honeywell International, where he served as vice president of strategy and marketing for the aerospace business. 
Chong earned a bachelor's degree in physics from the University of Chicago and a master's degree in business administration from the Wharton School at the University of Pennsylvania. He serves on the board of directors for Make-A-Wish Illinois.