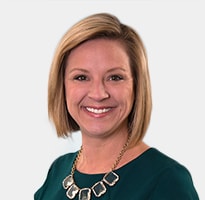 Lisa Gau
Vice President, Corporate Sales, East Region
Lisa Gau is vice president of corporate sales, East region for CDW. Gau is responsible for the short- and long-term performance goals, strategic direction, business initiatives and talent development of the segment.
Gau joined CDW in 1999 as an account manager. In 2003, she moved up to the position of field account executive, and in 2006, she became a district sales manager. In 2014, Gau took on the role of area sales director, and in January 2017, she became director of strategic initiatives. She assumed her current role in January 2018.
Gau earned a bachelor's degree in marketing and international business from Miami University. She serves on the board of directors for CDW's Women's Opportunity Network.