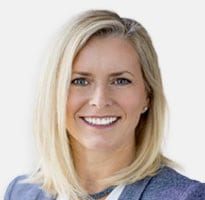 Retired U.S. Chair and Managing Partner (CEO), Ernst & Young LLP (EY)
Kelly J. Grier is the retired U.S. chair and Americas managing partner (CEO) of Ernst & Young LLP (EY), a leading global professional services firm, a position she held from 2018 to 2022. Grier chaired the U.S. Executive Committee and Americas Operating Executive and represented EY in regulatory relationships. 
Prior to serving as U.S. chair and Americas managing partner at EY, Grier was vice chair and central region managing partner from 2015-2018, Americas vice chair of Talent in 2014, and prior to that, held various positions of increasing responsibility in the U.S. and overseas, after beginning her EY career in the Audit practice.
Grier serves on the board of directors for Illinois Tool Works Inc. (ITW). Grier is also a senior advisor to the private equity firm, Permira, and serves as a director of nonprofit organizations including the Peterson Institute for International Economics, Chief Executives for Corporate Purpose and Global Forest Generation. Grier graduated from St. Mary's College, where she earned a bachelor's degree in accounting.