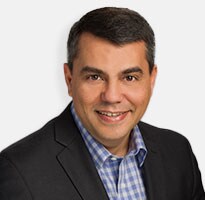 Vice President, Hybrid Infrastructure
Jehad Abdeljawad is vice president of Hybrid Infrastructure at CDW. He is responsible for the overall business strategy and execution of full stack solutions in data center transformation, hyper converged, hybrid cloud, networking and power and cooling.

Abdeljawad brings over 30 years of experience in IT enterprise architecture, governance, transformation consulting, professional services operations, services offerings, and management. He has a successful background of building solutions based Professional Services teams that align closely with sales to drive product and professional services growth. He joined the company in 2021 as part of CDW's acquisition of Sirius Computer Solutions where he previously served as senior vice president of Digital Infrastructure solutions. Prior to that, he was director of Networking Solutions at Midland Systems Integrators (MSI). Abdeljawad also held several business-development and practice-leadership management positions over the course of 10 years at IBM, including managing principal for the US Communications sector, where he was responsible for operational efficiency, business development, delivery, and profit/loss management. Additionally, he was the networking practice leader for the West region of IBM Global Services, a consulting principal, and a senior network consultant. Earlier in his career, Abdeljawad worked at Scott & White Hospital as the Director for Networking and Data Center Operations. Before that, he worked at Electronic Data Systems as a senior network engineer, providing network architecture and design for EDS outsourced customers.
Abdeljawad earned a bachelor's degree in electrical engineering from the University of Southwestern Louisiana.