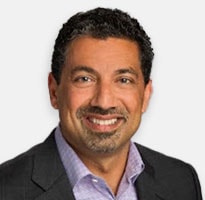 Vice President, Healthcare, Strategic Solutions
Imran Salim is senior vice president of Healthcare at CDW. Salim helps clients define and achieve business objectives by leveraging technology with sensitivity alongside competing priorities and budget restrictions unique to healthcare technology. 
Salim is a 30-year industry veteran, joining CDW from Sirius Computer Company, where he served as senior vice president of healthcare solutions. His unique approach to assisting clients has resulted in think-tank initiatives for the industry, such as Sirius' MemorialCare Technology Lab, created to push healthcare IT innovation forward. Under his leadership, Sirius Healthcare provides comprehensive healthcare technology solutions to support clients through every step of the healthcare continuum and technology lifecycle to improve quality of care, control costs, enhance security, comply with regulations, and extend reach to communities.
Salim earned a bachelor's degree in marketing and finance from California State University- Fullerton.