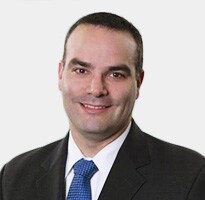 Ben Bourbon
Vice President, Government Sales
Ben Bourbon is vice president of government sales for CDW Government (CDW-G), a wholly owned subsidiary of CDW and a leading provider of technology solutions to government, education and healthcare customers. Bourbon is responsible for the short- and long-term performance goals, strategic direction, business initiatives and talent development of the teams serving our Federal and State and Local government customers. 
For the past 20 years, Bourbon has played an increasingly prominent and valuable role at CDW. He joined the company as an account manager in 1998 and quickly moved through the ranks. Since 2002, Bourbon has held several sales and field management positions within CDW-G. He was promoted to director of Department of Defense sales in 2005 and to vice president in 2012. Bourbon served as vice president of Federal sales from 2017 until 2019, when he moved into his current role.
Bourbon earned a bachelor's degree in marketing from North Park University in Chicago and a master's degree in business administration from the University of Wisconsin-Madison.