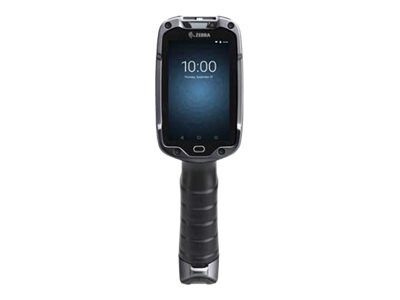 Quick tech specs
Data collection terminal
Android 8.1 (Oreo)
4" (800 x 480)
(2D imager)
SD slot
Bluetooth
rugged
32 GB
barcode reader
USB host
Wi-Fi 5
View All
Know your gear
Get all the power you need to ensure superior performance on all your voice and data apps with the ultra-powerful 8-core processor.

The 2x2 Multiple-User Multiple Input Multiple Output (MU-MIMO) technology allows access points to communicate with multiple devices simultaneously via pinpoint beamforming, boosting Wi-Fi network capacity, speed and range. And processing is shifted from the mobile device to the access point, extending battery cycle time.

The TC8300 can run for three consecutive shifts without a battery change. And extensive battery metrics make it easy to spot and retire aging batteries that can no longer hold a full charge.

The innovative scan angle eliminates the constant tilting that traditional designs require to view the screen and enter data, increasing productivity by 14% through a 55% reduction in wrist motion and a 15% reduction in muscle effort.

The TC8300 is built for day-in day-out operation in even the most challenging warehouse environments. The TC8300 continues to run, even after 2000 consecutive tumbles and multiple 8 ft./2.4 m drops to concrete. This dustproof device can also handle jetting water, refrigerated storage areas and constant temperature swings between extreme heat and subzero cold - ideal in outside yards. And Corning Gorilla Glass brings maximum scratch- and impact resistance to two of the most vulnerable device components - the touch panel and scanner exit window.

Give your workers great touchscreen experience. The 4-inch display offers plenty of space for graphics-intensive intuitive applications. Users can interact with applications with a finger - even with a glove - or a stylus.