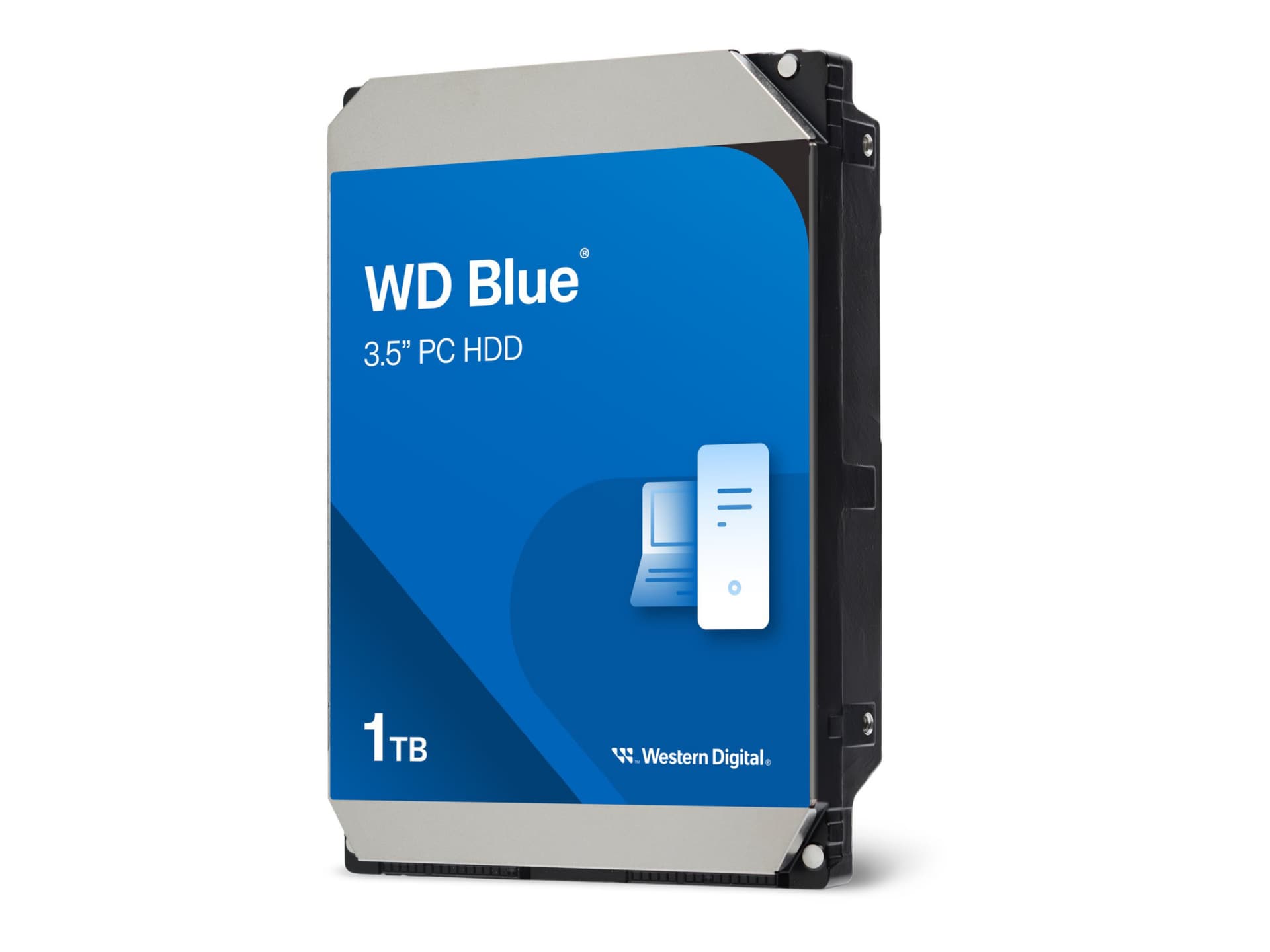 Quick tech specs
1 TB
3.5"
7200 rpm
for My Cloud EX2
internal
SATA 6Gb/s
buffer: 64 MB
View All
Know your gear
The Higher Standard In Storage

Boost your PC storage with WD Blue drives, the brand designed just for desktop and all-in-one PCs with a variety of

storage capacities.

Improve PC Performance

Give your desktop a performance and storage boost when you combine your hard drive with an SSD to maximize speed of

data access and a WD Blue drive for up to 6TB of additional capacity.

Plan for the Future

With better technology comes bigger storage needs. Digital cameras that record ultra-high definition video at 4K

resolution and 30 frames per second require a ton of storage. Handling all that media is a snap with our 6TB drive.

Trust in WD

With legendary reliability, WD Blue drives are designed, tested and built to last, and ships with a 2-year limited

warranty.


Western Digital Blue 1 TB Internal HDD
is rated
4.70
out of
5
by
20
.
Rated

5

out of

5
by
stretcher
from
Just the fix for my old computer
So happy I bought the new hard drive. Brought my old computer back to life!!!!
Date published: 2019-05-08T00:00:00-04:00
Rated

5

out of

5
by
George D.
from
Outstanding value
This was the best upgrade I could have added to a 8 year old iMac. This is the second one I've purchased with the exact same positive results. I have one more to purchase next year.
Date published: 2019-11-22T00:00:00-05:00
Rated

5

out of

5
by
null
from
The drive was fine. Nice purchase. However my assumption my current one was bad was in error
Date published: 2020-11-11T18:14:47-05:00
Rated

5

out of

5
by
meteda1080
from
Best bang for your buck HDD
What is there to say past it's best value drive out there. The whole blue line from WD has been a staple in nearly every computer build I've done.
Date published: 2017-06-07T00:00:00-04:00
Rated

5

out of

5
by
Mystic1
from
This hard drive came in handy and shipping was wonderful
Excellent hard drive so far and has been dependable for the use that I needed it for in this situation. Can't say enough about CDW shipping. They have never let me down.
Date published: 2017-11-09T00:00:00-05:00
Rated

5

out of

5
by
ITGuy
from
Working fine
It does what it's supposed to do and was easy to install and format. My computer is a lot happier with all the extra room.
Date published: 2014-05-28T00:00:00-04:00
Rated

5

out of

5
by
Chris
from
Great Hard Drives
Western digital drives still remain my favorite, I have tried others and just had too many issues. They provide Acronis free on their site for ghosting a drive if need be and the performance is great
Date published: 2016-07-27T00:00:00-04:00
Rated

5

out of

5
by
jsepeta2014
from
these are our standard replacement hard drives
I like the low cost and high reliability of these drives. They're also 2x-3x larger than our existing drives, which makes performing upgrades easier. Since we're not looking to replace all our 5 year old pc's this year, I expect to buy a few of these throughout 2016.
Date published: 2015-12-21T00:00:00-05:00
Rated

5

out of

5
by
ecolson
from
exactly what I wanted
hard drive died, this replaced it, works as advertised. not like it's on the cutting edge but works for me. Ya notice how the Prmary role in this feedback leaves out the working class. like IT runs the company or makes us any money... The industry selection is ridiculous
Date published: 2018-08-22T00:00:00-04:00
Rated

5

out of

5
by
Alexjr25
from
The brand is the best in the industry
I typically purchase the WESTERN DIGITAL brand over others because of their reliability and longevity. In the past I would purchase SEAGATE and MAXTOR drives, but after recent years of brand new SEAGATE drives failing. The time came to find a new hard-drive brand and WESTERN DIGITAL has been our go to drives for all of our computers.
Date published: 2014-06-05T00:00:00-04:00
Rated

5

out of

5
by
AJTC
from
MAC compatible
This drive meets the requirements set forth by Apple for the boot drive in a MacPro Tower (Early 2008). Easy to install and no issues with OS X installation or operation. WD drives are the standard for our HDD replacement or custom build installations.
Date published: 2015-04-16T00:00:00-04:00
Rated

5

out of

5
by
Mjhuff73
from
Actually pretty fast for a spinning hard drive
I have deployed solid-state drives throughout our organization, but I needed more storage locally in my admin workstation than I wanted to pay with SSD (to store images and tons of admin tools). I've been using this drive for over 6 months, and today I actually forgot that I wasn't using a solid-state drive. Windows boots quite fast and programs open quickly. For a spinning hard drive, this one has exceeded my performance expectations. I'd buy these again should I need to provide 1TB of local storage.
Date published: 2015-08-06T00:00:00-04:00
Rated

5

out of

5
by
hofco7
from
WD hard Drive
install was fast and easy and the OS installed very fast as well. WD makes the best drives..
Date published: 2013-12-04T00:00:00-05:00
Rated

5

out of

5
by
marcs
from
Typical Hard Drive
Nothing really special about this hard drive that differs from any other 7200 SATA drive. The price is reasonable, and the quality and reliability are those of any basic hard drives you'll find at either a Best Buy, Fry's, Staples, and etc...
Date published: 2014-02-03T00:00:00-05:00
Rated

5

out of

5
by
Danni82
from
Upgrade Current Machines
These drives are in the right price range for us to upgrade our current hard drives to larger ones.
Date published: 2017-11-30T00:00:00-05:00
Rated

5

out of

5
by
ScreenSavers
from
All Around Good Drive
I have been using these drives for a while now and I really can't complain. They work like they should and usually last for a while. I have gotten some bad ones before that didn't work out of the box or failed shortly after installing but WD's warranty is rock solid and I always get a replacement.
Date published: 2016-03-30T00:00:00-04:00
Rated

5

out of

5
by
Seth40
from
WD Hard Drive
Works as expected. No issues during install and no partitioning concerns.
Date published: 2016-06-01T00:00:00-04:00
Rated

5

out of

5
by
Sparky
from
Reliable
This is our go to replacement for desktop hard drives.
Date published: 2015-04-29T00:00:00-04:00
Rated

5

out of

5
by
cbiltz75
from
Great drive for the price.
Purchased as replacement drives for existing workstations. They work as expected and are a great value. Would order again.
Date published: 2015-05-27T00:00:00-04:00
Rated

5

out of

5
by
jaycbrf
from
Great upgrade choice.
I purchased this drive to upgrade my file server and instantly noticed an increase in speed and storage. It snapped right into place and booted up instantly with no problems at all,.
Date published: 2015-02-11T00:00:00-05:00